You know me, I'm all for getting a deal.  And I find that when you use coupons and combine them with a sale, you can score some really great deals!  I've also found that a lot of times with the sale and the coupon the National Brand items are sometimes a better deal than the Store Brand items.  But what about when you run out of something and you need it NOW?  If there is not a sale or there is not a coupon available then the store brand items are probably cheaper.  And guess what?  We've found most of them work just as well.  As a matter of fact, we prefer some of the store brand items over the National brand.
I received a package of CVS Brand cold and flu items along with a comparison chart of the savings against the National Brand items.  First of all, I was absolutely amazed at the difference in price on a few of them.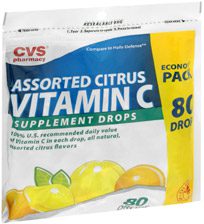 CVS Brand Vitamin C 250 mg Tablets cost only $2.99. Would you believe me if I told you that the National Brand costs $8.99!!!!  That's a difference of $6.00!  You would never see me walk out with those when I could score a CVS brand for so much less.  That's amazing.   Another item they sent me was a digital thermometer.  The CVS brand is only $5.99 but the National brand is $11.99.  That's half price.  I don't understand the big difference there.  Why would you not buy the CVS one?? I mean it's not like they taste different.  It's only taking your temperature, that's all!
A few of the other items we received were…
CVS Hand Sanitizer Spray with Aloe  is only $1.99 compared to the National Brand for $4.99.  A huge difference to just sanitize my hands.  I'd never pay $4.99 over $1.99.
CVS Unscented Cleansing Wipes are only $1.99 compared to the National Brand for $2.49.  Not a huge difference but if I didn't have a coupon for the National Brand, I'd be grabbing the CVS one for sure!
CVS Pain Relief Tablets regular strength 100 ct are only $6.49 compared to the National Brand for 8.49.   Again not a huge difference but unless I had a coupon and I was getting ECB's back on the national brand purchase, I'd be grabbing the CVS ones too!
CVS Cough Drops Cherry 30ct are only $1.19 compared to the National Brand for $2.69.
CVS Severe Cold Relief Multi-Sympton 12ct Caplets are only $5.99 compared to the National Brand for $6.99.  With a coupon they would probably be the same.  But with a coupon and a sale the national brand would be less.. but if it's not on sale why not save the $1.00.  For us they worked just as good.
CVS Tussin Cough for Adults & Children 8oz is only $6.79 compared to the National Brand for $8.79.  I almost always buy the store brand for this, unless of course a sale and coupons will yield me a cheaper one.
CVS White Facial Tissue Travel pack is only $.59 compared to the National Brand for $.99.  Half price… isn't that a no brainer??  I don't like using stiff facial tissue and yes some of them can be pretty stiff but I've found that the CVS ones are just as good as my regular brand, Kleenex.  As a matter of fact, I often buy the CVS ones, especially if they are on sale.  As long as they aren't like sand paper, I could care less what the name on the package is….. I just don't want to waste my money!
So what do you think?? There can be some pretty good savings when you buy the CVS Store brand items over the National brand, don't you think?
All the products they sent us for review we liked just as good and the total cost of them was $34.01 compared to $56.41.  That is a difference of $22.40.   That's a big enough difference that I'm going to at least try them.
Disclosure: I received a variety of CVS Brand products to facilitate my review.  This did not influence my post and as always my words are my own.