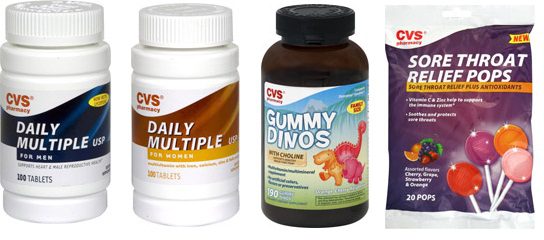 Saving money is a priority for most now a days but sometimes we all need to buy things whether we have the extra money to or not, right?  What things am I talking about?  I'm talking about Health Care products – when we are sick, we need medicine but to possibly avoid getting sick, we should be taking Vitamins and supplements to help ward off illness, right?  But they cost so much!!!
I'll let you in on two secrets (OK they may not be secrets to most of you that read my blog all the time!) you can save money on Vitamins and Supplements by either watching for the sales and ONLY purchase them while on sale OR purchase store brand items instead of the national brand.   And to make that even better, purchase the store brand when it's on sale!!!
CVS has a line of products that are just as good as the national brand and they cost so much less.  How do I know they are just as good?  Because we use them ALL THE TIME!!!  Seriously if you looked in my medicine cabinet right now, you'll see store brand items for a lot of stuff in there, including CVS brands!
They sent my family some items to try out including some vitamins for the kids, for me, for my husband and even some senior vitamin products which I passed along to my parents to try – they were happy to receive them (My dad always comes to me for items like this before he shops, to either see if I have some or to find out where the best place is to buy them and what to buy! TRUE STORY!).  They also sent us some CVS Throat Relief Pops for the kids for when they aren't feeling too well.   Basically they are throat drops on a stick!
We've been using these products over the past couple of weeks, especially the Throat Pops as my youngest has been fighting a cold/cough/sore throat on and off for a few weeks.  While we can't tell how well the vitamins are working, when I compared them to what I had already they are pretty much the same thing, just without the big price tag.
That's the thing with a lot of store brand items, they usually have the SAME EXACT ingredients so next time you are in the store take a look at both and compare.  I bet you'll be surprised!
According to the Centers for Disease Control and Prevention, an estimated 5% to 20% of the population come down with the cold or flu each season. Therefore, it's extremely important to be aware of the best stay-well products, in addition to various remedies available should the cold/flu sneak up on you. With more than 7,400 CVS/pharmacy locations nationwide, shoppers can conveniently head to their nearest store and pick-up low-cost and effective finds to keep the entire family sick-free this season. Enclosed for your review are a few products to keep you sniffle, cough and sneeze free during the winter.
We also received some Halo Oral Antiseptic for Kids which we've used before and I really thing it works well because my kids haven't been as sick as others have been this winter.
Here is some information on the items CVS sent me (obviously they can all be purchased at CVS stores and online!):
Preventative Measures
Halo Oral Antiseptic – As the first product clinically proven to kill airborne germs you breathe in – for up to six hours – Halo is an oral spray that's easy to use, with just three sprays providing protection against airborne bacteria and viruses for up to six hours (available in Citrus, Berry and Grape flavors).
According to new research released by Brigham and Women's Hospital, taking a daily multivitamin was shown to help adult men reduce their risk of cancer.  Taking a daily multivitamin can also help to make up for insufficiencies in diet and to support a healthy immune system. Try CVS Gummy Dinos Orange Cherry Raspberry Family Size for the little ones, CVS Daily Multiple Tablets For Women, CVS Daily Multiple Tablets For Men to keep Dad strong, and CVS Prenatal Gummy Vitamins with DHA & Folic Acid Gummies for the expecting mother's in the family.
Parents who like to plan ahead can now schedule immunizations – including flu shots – on CVS.com and from their smartphones on the CVS Mobile site (m.cvs.com). It's as easy as plugging in the location, entering the patient's date of birth, selecting the desired immunization and scheduling an appointment at your local CVS/pharmacy. (Reminder  – appointments aren't required, and shoppers do receive a 20% Off Shopping Pass when they visit their local CVS/pharmacy or MinuteClinic location for a flu shot.)
Symptom Relief
For the kids in the family, CVS/pharmacy Sore Throat Relief Pops are an effective, great tasting way to treat your child's throat discomfort associated with coughs, cold & flu.
CVS Tussin CF Adult Cough & Cold Liquid is also a powerful remedy to for relief of a cough, stuffy nose, and chest congestion/mucus. The non-drowsy formula is pharmacist recommended and can be compared to national counterparts.

(1) Koupon Karen reader will win a variety of CVS Brand Vitamins and Supplements!

To enter the giveaway, use the rafflecopter widget below. You can now sign in with Facebook and it will remember you each time you enter another rafflecopter giveaway. Of course Facebook is in no way associated with this giveaway, the people of rafflecopter just want to make it easier for you to enter giveaways now.
As a reminder, comments left on this blog post, Facebook or Twitter will not be included.  You must comment within the Rafflecopter Widget below.
Disclosure: I received a Free product for review. My opinions are 100% mine.