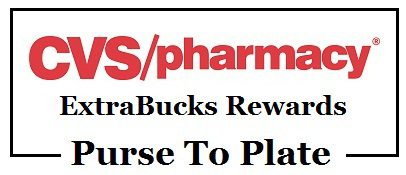 Once again this week my friend Jen from  Savor The Thyme picked up a few things at CVS because I haven't had a chance to go over the ad to see what I need or want this week.  She had some ExtraBucks Rewards from last week and she need two items that I knew she could roll her ExtraBucks Rewards with for minimal out of pocket expense and maximum savings!
Here is what she got..
Transaction #1
(1) Allegra, $9.99
Used (1) $5.00 Allegra Coupon
Used ECB's from last week – $4.99
Paid $.35
Saved $14.79
Received $4.99 ECB's + $1.00 ECB's for her bag tag!

Transaction #2
(1) Neosporin To Go, $7.99
Used (1) $1.00 Neosporin product coupon
Used ECB's from last transaction – $4.99 + $1.00
Paid $..74 (with tax)
Saved $6.99
Received $3.00 ECB's for next week

So for both items she spent only $1.09 out of her pocket and saved $21.78!  And she still has a few ExtraBucks Rewards left over from last week.
 Now head on over the Savor The Thyme to see what recipe Jen put together using her $21.78 in savings to make a meal.