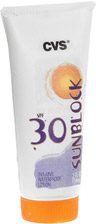 This week at CVS you will get $5.00 ECB's when you buy 2 CVS Sunscreens.  The small 2 oz sunscreens are included in this deal and are priced between $1.99 – $2.49.  If you buy 2 you'll spend $4.98 (at most) and get $5.00 ECB's which makes them FREE.  Some people are getting a $1.00 CVS Skin Care coupon when they scan their card.  If you use that this turns into a Money Maker.
I bought these last year when they ran this deal and used them for my kids.  It worked great so I plan on getting more!
Find of this weeks CVS deals HERE.
Thanks Coupon Clippin Mom!