I stopped by CVS this morning to grab a few things.  I might head back in there later on and if I do I'll post again.  I only grabbed a few things but this is a perfect example of how you take your Extra Care Bucks from the week before and "ROLL" them into something for this week. I had $3 ECB's and only paid $.35 Out Of My Pocket and have another $3 ECB's to use next time.
Here is what I got: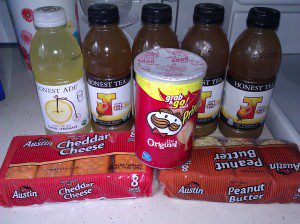 (4) Honest Tea, $1.00 each
(1) Honest Ade, $1.00
(1) Pringles To Go, $1.00
(1) Austin Cheddar Cheese Crackers, $1.00
(1) Austin PB Crackers, $1.00
Total: $8.35
Used (4) $1.00 Honest Tea printable Coupons
Used $1.00 Pringles To Go CVS Coupon from Magic Coupon Machine
Used $3.00 ECB's from last week
Total OOP: $.35 (tax)
Total Saved: $13.49
Got $2.00 ECB's from Honest Tea
Got $1.00 ECB's from Green Bag Tag
How did you do this week at CVS?? Did you roll your ECB's?