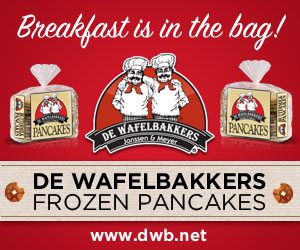 Product Name: De Wafelbakkers Pancakes
Product Information: At De Wafelbakkers, our "can do" attitude comes through in everything we do. Since 1986, we've gone beyond the average and found ways to deliver to our customers what they want and need: taste and nutrition all in one
The success of our company dates back to our founding in a bakery in the heart of Holland. Many of the same recipes and processes used then are still present in our products today. In 1984, our company began importing waffles to the United States direct from a Holland bakery. It was not long before the demand for these waffles propelled the company to begin manufacturing in the United States. In 1986, Meyer's Bakery and the Janssen Brothers joined together in a venture to create the wholesome, nutritious and tasty waffles in the US using the European waffle formula that came straight from Holland. Two custom built ovens were installed in the Meyer's Bakery located in Hope, Arkansas to ensure the quality of the product. Production began soon after.
The venture was a success and continued to grow with expanded distribution, additional brand names and co-manufacturing arrangements. The success of the waffles led to the addition of pancakes to the product line around the same time as the completion of a new modern bakery in North Little Rock, Arkansas, in 1994.
Purchase Information: at grocery stores nationwide including Walmart, Stop and Shop, H.E.B, Whole Foods, Kroger, Food Lion and more!  Check for your store here!
I never heard of De Wafelbakkers pancakes until right before I went to the She Con conference in South Beach, Miami this past May. They sent me an email saying "Stop by Our Booth" so I did exactly that. And it was the perfect stop to make. I love pancakes, (I love most food actually) but pancakes are a memory from childhood as my mom always made them. My kids also love pancakes, especially my littlest one. It's one of her four food groups (OK I'm not completely serious on that so please don't yell at me!)… but close enough. Anyways, I stopped by their booth and introduced myself and tried some pancakes…
Oh- My – Word … are these fresh? Or frozen? FROZEN. Crazy I know but so good and so fresh. My favorite was the Sweet Potato and the Buckwheat Berry, but that doesn't mean I didn't like the rest of them. I chatted with the awesome people who run De Wafelbakkers and they sent some pancakes to my house for my family to enjoy. Of course, my family really enjoyed them. My oldest loves the Maple pancakes the most and my youngest pretty much loved them all.  They were super happy. As a matter of fact, the little one has been bringing them to camp for lunch this summer. Remember I mentioned pancakes was one of her four food groups? lol
Right now Coupons.com has a $1.00 off De Wafelbakkers Pancake printable coupon. Grab it now before it's GONE!
Well now the awesome people of De Wafelbakkers want you all to get a chance to try their awesome pancakes so they are generously giving away coupons to some lucky Koupon Karen readers! Just continue reading if you want to enter to win. BUT first you have to see this video. Pancake hording is becoming a problem….as you'll see below……
WIN IT
(10) Koupon Karen reader's will win a coupon for some FREE Pancakes!

Entry is simple! You just need to answer the question below by leaving a comment on this site! You can even gain up to 5 bonus entries for doing each additional item listed (just make sure that you leave one entry for each one — up to a total of 6 comments). As a reminder, comments left on Facebook, Twitter or other posts will not be included.
REQUIRED ENTRY
Visit De Wafelbakkers.com and tell me which variety you'd like to try most.
BONUS ENTRIES:
1. Follow @KouponKaren on twitter and tweet the following "I entered to #win some De Wafelbakkers Pancakes @KouponKaren and you can too! https://wp.me/pMKCI-8t3 #giveaway"
2. "Like" Koupon Karen on Facebook
3. "Like" De Wafelbakkers on Facebook.

3. Comment on any other post on my blog (giveaway posts don't count) then come back here and let me know what post you commented on.
4. Sign up to receive Koupon Karen daily emails or add me to your favorite reader.
Details: This giveaway is open to US Residents and will remain open until August 18th at 11:59 p.m. EST . Any comments left after this time will not be counted. The winner will be selected randomly and will be notified via email and will have 48 hours to claim their prize.
Disclosure: I received the same prize pack as the winner. My opinions are 100% mine.