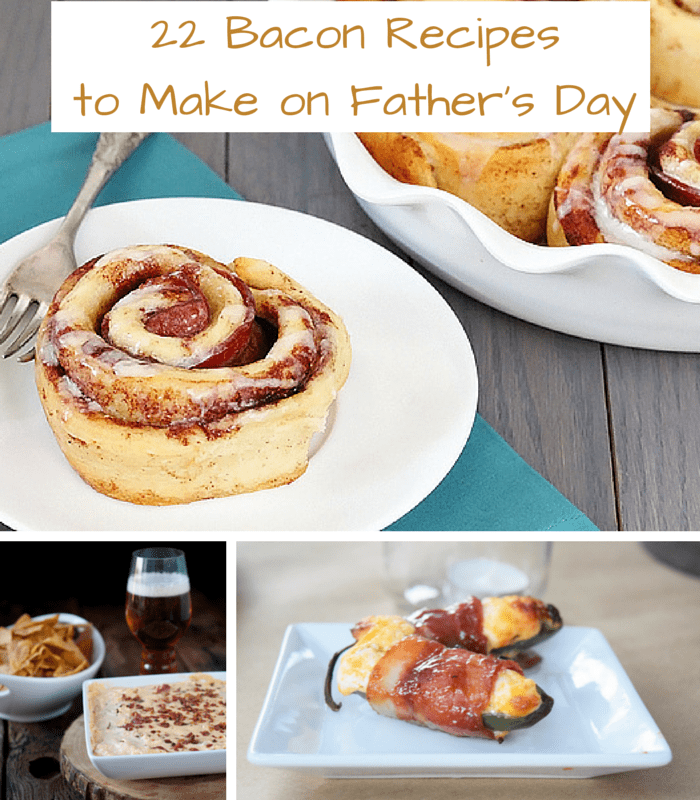 I don't know very many men who don't like bacon. My husband would cook himself bacon every single weekend!  I don't enjoy it as much as him but I know others do as well and bacon has become an insanely popular item and topic.   Make that special dad feel manly and please his taste buds at the same time on Father's Day by trying one of these Delicious bacon recipes!
22 Delicious Bacon Recipes for Father's Day
Bacon Crackers | Debbie Doo's – Start the father being celebrated off with a snack of bacon crackers! Don't let him eat too many though, he will get too full to try these other great recipes!
Candied Bacon Chocolate Chip Cookies | The Girl Who Ate Everything – This sweet and salty crunchy treat is perfect for those dads who love cookies. I know my husband will devour them and it'll probably become one of his favorite Bacon Recipes!!
Cheddar Bacon Stuffed Pretzel Buns | Yammie's Noshery – Try this new twist on a bun! Instead of a normal bread roll with dinner, make these cheddar and bacon stuffed rolls made with pretzel bread!
Zesty Bacon Wrapped Shrimp | McCormick – Is the father being celebrated a seafood fanatic? Use this zesty recipe for a great bacon and seafood combo!
Candied Bacon Ice Cream | David Lebovitz – My favorite ice cream has always been the flavors that mix salty and sweet together in an even combination which is exactly what this recipe does.  It's not gross as some might assume.
Beer and Bacon Dip | The Beeroness – A great precursor to any meal is a good dip.  This dip is addicting but not too filling so dinner isn't ruined.  This is one of those Bacon Recipes to take with you to a party!
Sweet and Spicy Chicken Bacon Wrap | 101 Cooking for Two – Here's a great main course recipe that uses bacon to give chicken an even more savory taste.  It's super juicy and spicy, don't forget the milk!
Bacon Fried Mozzarella Sticks | Oh, Bite it! – No dinner is complete without an appetizer.  Try these bacon wrapped cheesy sticks for the mini meal before your big meal!
Bacon-Wrapped Pork Tenderloin | Recipe Tin Eats – Here's another great main course option that can be thrown in to cook and forgotten about until it's actually time to eat it! Great for a busy day.
Bacon Jam | Dinner with Julie – Now, this one was a little strange when I first heard about it but I've been surprised before and I was surprised again.  Bacon just has that level of saltiness that matches a sweet combination perfectly. This would be great for breakfast on toast!
The Bacon Weave Taco | Dude Foods – Now this was super cool! Try this taco shell made out of bacon and show of your cooking skills!
Bacon-Wrapped Smokies | Crazy Jamie – My sister and I made these for the most recent Super Bowl and they were a huge hit.  We had everyone asking for the recipe.  Smokies are fine by themselves but the bacon just makes the flavors pop.
Maple Caramel Bacon Crack | The Domestic Rebel – The name says it all about how addicting this stuff is.  Almost like peanut brittle but not as sugary and easier on the teeth.
Bacon Pancake Dippers | The Sewing Rabbit – Here's another breakfast idea! Great for an easier cleanup.  Combine pancakes and bacon to make a little dipping treat.
Bacon Cinnamon Rolls | Gimme Some Oven – I don't know why this wasn't thought of sooner, it's simply brilliant.  Wrapping up bacon inside a cinnamon roll for again, that nice salty sweet mixture.
Beer Candied Bacon | See Brooke Cook – I tried some of this at a friend's wedding just last month and knew I had to include it with these bacon recipes.  It was hard to put down even when you were full. Easy and fast to make too!
Bacon-Wrapped Jalapeno Poppers | Mini Pie Kitchen – I have a small addiction to jalapeno poppers in the first place and bacon as well so this recipe just about gave me a small heart attack in excitement.  This is another great appetizer option!
Smoked Bacon Wrapped Onion Rings | Grilling 24×7 – This is another one of those brilliant ideas.  Bacon is so universal but I never thought about wrapping onion rings in it! I think my husband was the most excited about this recipe, especially since he got me a new deep fryer for Christmas.
Loaded Maple Bacon Donut Fries | Beyond Frosting – The picture of these fries was inviting and repulsing all at once but oh my word, you will love it.  It's exactly like dunking your fries in a shake except better and not as much work.
Chocolate Bacon Bomb Pie | Wine and Glue – Here's a great dessert option that I can say is a sweet chocolatey mixture that melds very well.  We all liked it best cold.
Bacon Caramel Brownies | Bakerita – Now these were definitely better hot, right out of the oven.  I can't describe how good these gooey brownies were with a slight salty crunchy taste from the bacon.
Pancakes n Bacon Cookies | The Cozy Apron – These cookies sound like they would be a perfect breakfast cookie.  They combine the taste of bacon, pancakes, and syrup for a delightful snack or dessert.  I don't think mama would be too happy if these became breakfast, though.
Which one of these bacon recipes will you make for the father being celebrated in your life?