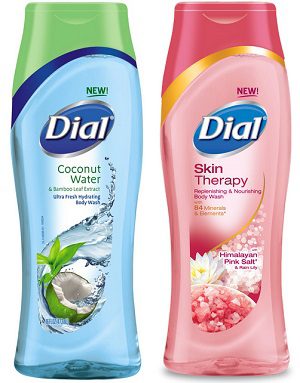 This post is Sponsored by Dial but my opinions are 100% my own!
I have THREE New Dial Body Washes to share with you today!
Let the power of Himalayan Pink Salt revive your skin! Known for "trusted clean," Dial introduces two new body washes: Dial Skin Therapy Replenishing Body Wash and Dial Skin Therapy Exfoliating Body Wash, both feature mineral and element packed Himalayan Pink Salt. Mined in the Himalayan foothills of Pakistan, Himalayan salt contains 84 minerals & elements and is prized as the latest culinary trend for its energizing qualities.
Dial provides what your skin needs to feel soft, healthy and clean. Stimulating skin with Dial Skin Therapy Body Washes will leave you feeling revitalized, refreshed and ready to make the most of your day. Rejuvenate and replenish your skin with the multiple benefits found in Himalayan pink salt!
Dial Skin Therapy Replenishing Body Wash with Himalayan Pink Salt and Water Lily contains a skinnourishing formula that cleans, softens and renews
Dial Skin Therapy Exfoliating Body Wash with Himalayan Salt and Exfoliating Beads increases cell turnover on the skin's surface to renew smooth skin
These both smell amazing and I feel refreshed after using them because even the bathroom smells so good!  Dial body washes give me a good lather, which is always important to me and neither of them bothered my skin, but I have pretty normal skin that gets dry from time to time.  My daughters usually use kid friendly body washes but they really want to use the "pink one" since it arrived so I let them use it over the weekend and they loved it!  I may have to start sharing my body washes with them!
For skin so incredibly hydrated others will notice is Dial's NEW Coconut Water Body Wash!  It's the first body wash to bring the ultra-fresh hydration of coconut water into your very own shower. Dial gives your skin what it needs to feel healthy and clean.  Dial Coconut Water Body Wash will leave your skin feeling clean, fresh and hydrated. You'll be ready to face your busy day with a radiance of the tropics.
Dial Coconut Water Body Wash hydrates to leave skin feeling clean & healthy
Coconut Water is known to be rich in electrolytes, including: Sodium, Magnesium, Calcium, Potassium, and Phosphorus, to help replenish and hydrate
By using Dial's clean-hydrating formula with real coconut water, the rich lather provides a double benefit:

hydrates skin, providing the essential moisture and nutrients needed to keep you looking and feeling your best
rinses clean with no filmy residue
Leaves skin so incredibly hydrated people will notice!
The Coconut Water Body wash brings me back to the beach with the awesome scent of Coconut.  It's always a summertime favorite scent of mine so I'm excited to use this now that the warmer weather is coming.  I've only used it for a few days now but my skin does feel soft and smooth.
You can pick these up at stores about $4.99 for an 16-ounce bottle!

(1) Koupon Karen reader will win some Dial Body Wash!

To enter the giveaway, use the Giveaway Tools widget below. This is a new widget I'm trying and I hope you like it. Please let me know if you have any questions about it or problems with it! Of course Facebook is in no way associated with this giveaway!
As a reminder, comments left on Facebook or Twitter will not be included. You must follow the instructions on the widget about the proper way to enter.
Disclosure: I received a Free product for review. My opinions are 100% mine.