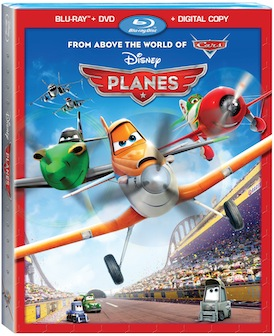 This post is Sponsored by Disney but my opinions are 100% my own!
If you missed it in the theaters over the summer you will be happy to hear that Disney PLANES soared onto Blu-ray, DVD and On Demand November 19, 2013 so you can now watch it in the comfort of your own home!   I was fortunate enough to have been invited to the Los Angeles premiere of PLANES and watched it with the stars of the show in the audience along side of me.  It was a great trip and a fabulous event.  Oh and I loved the movie!  It started off a bit slow but then picked up the pace and was extremely entertaining with lots of highs and lows and a lot of comedy!
About PLANES
The world of Cars takes flight in Planes, Disney's high-flying animated comedy revved up with action and adventure.  Join Dusty, a crop duster with sky-high dreams and a once-in-a-lifetime chance to take on the world's fastest flyers in the greatest air race ever. Dusty has a huge heart but two big problems…he's not exactly built for speed, plus he's afraid of heights.  His courage is put to the ultimate test as this unlikely hero aims higher than he ever imagined. With a little help from his friends, Dusty finds the courage to be more than he was built for—and the inspiration to soar.
Now it was time for my girls to watch it and they loved it.  They kept thinking that the CARS characters were going to show up but I told them this is a completely different movie and separate from CARS.  They loved it, which I knew they would.  What move made by Disney, do  kids not like?
This isn't a Pixar movie and it's pretty obvious it's not however it's well made and beautifully done.
Along with the Blu-ray we do have some Bonus Features which we always love.  They've included some deleted scenes, a chance to meet the racers, Klay's flight plan and more.
This Blu-ray would be a great stocking stuffer for your little one and a great movie for the entire family.
Stay connected with the latest news and information about "PLANES":
"Like" us on Facebook: https://www.facebook.com/DisneyPlanes
Follow us on Twitter: https://twitter.com/DisneyPictures
Website and Mobile Site: http://movies.disney.com/planes
Disclosure: I received a Free product for review. My opinions are 100% mine.