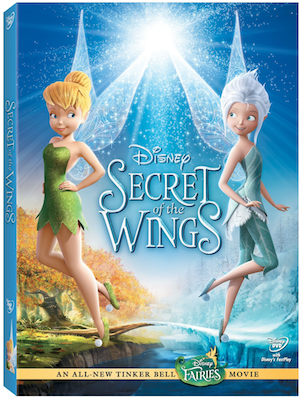 Product Name: Secret of the Wings

Product Information: The Walt Disney Studios unveils an all-new, original full-length CG-animated feature film, "Secret of the Wings," starring Tinker Bell, one of Disney's most beloved and iconic characters, along with her fairy friends (Fawn, Iridessa, Rosetta, Silvermist and Vidia) and introducing a sparkling new winter fairy, Periwinkle. Debuting on Blu-ray™ Combo Pack, DVD and Digital on October 23, 2012, the film marks the first time ever Tinker Bell will fly on Disney Blu-ray 3D.
For Tinker Bell and the other warm season fairies, the Winter Woods remains a mysterious and forbidden place. "Secret of the Wings" takes audiences on an amazing journey of discovery with Tink, into this forbidden world where she discovers a magical secret that changes her life forever.
A magical fairy adventure for the whole family, "Secret of the Wings" features a spectacular voice cast including Academy Award®-Winner Anjelica Huston (TV's 'Smash'), Timothy Dalton (TV's 'Chuck', The Living Daylights), Lucy Liu (TV's 'Southland', Charlie's Angels), Raven-Symoné (TV's 'That's So Raven'), Megan Hilty (TV's 'Smash'), Pamela Adlon (TV's 'Californication'), Matt Lanter (TV's '90210'), Debby Ryan (TV's 'Jesse') and Mae Whitman (TV's 'Parenthood'), and introducing the sparkling new winter fairy, PERIWINKLE, voiced by Lucy Hale(TV's 'Pretty Little Liars'). A DisneyToon Studios production, the film is directed by Peggy Holmes, co-directed by Bobs Gannaway, and produced by Michael Wigert. John Lasseter serves as Executive Producer.
"Secret of the Wings" is Disney's highly-anticipated all-new movie in the Tinker Bell Disney Fairies film franchise. These beautifully animated films have ranked at the top of the home entertainment charts every year they have been released.
In addition to the all-new feature film, the spectacular animated release includes a host of exciting bonus features that extend the viewing experience, taking audiences deeper into the magical world of Disney Fairies. (More details forthcoming)
To celebrate the upcoming release of "Secret of the Wings," Disney has launched a new destination in Facebook for parents to stay updated on Disney Fairies news as well as receive the best new content and activities that they can share with their children. Audiences can become a fan now at: https://www.facebook.com/DisneyFairies.
Secret of the Wings FILM SYNOPSIS:
Journey with Tinker Bell and her fairy friends into the forbidden world of the mysterious Winter Woods, where curiosity and adventure lead Tink to an amazing discovery and reveal a magical secret that could change her world forever.
My Thoughts:  What a great movie.  I cried at one point.  Yup – I'm a sap when it comes to movies.  The girls and I were so excited when this arrived because they are big Tinker Bell fans and so am I.  My little one was Tinker Bell for Halloween a couple of years ago and they both met her in Disney.
I don't want to give any of the movie away so I'm not going to tell you what the 'secret of the wings' is but I was wondering throughout the movie what the title meant and then when it happened I knew!  It's a great movie on friendship and team work.
The Blu-ray comes with some great bonus material including two music videos which the girls loved – The Great Divide with the McClain Sisters (they are big fans of China Ann) and Dig Down Deeper by Zendaya.  But they especially loved the short Pixie Hollow Games  Bonus Adventure.  As did I!
I love that they can put so much more on Blu-ray and DVD's now.  Makes it more fun than just watching the movie.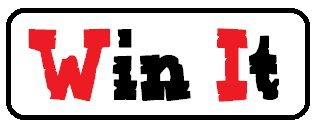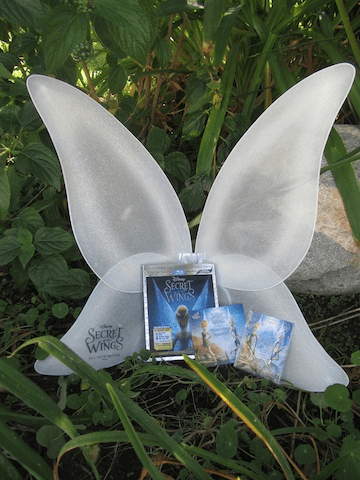 (1) Koupon Karen reader will win a Secret of the Wings Prize Package that includes:
1 copy of the Secret of the Wings Flitterrific 4-disc combo pack (3D Blu-ray/Blu-ray/DVD/Digital Download)
1 pair of wings
1 Secret of the Wings zipper pull
1 fairy-sized Secret of the Wings storybook pamphlet
To enter the giveaway, use the rafflecopter widget below. You can now sign in with Facebook and it will remember you each time you enter another rafflecopter giveaway. Of course Facebook is in no way associated with this giveaway, the people of rafflecopter just want to make it easier for you to enter giveaways now.
As a reminder, comments left on Facebook or Twitter will not be included.
Disclosure: I received a Free product for review. My opinions are 100% mine.