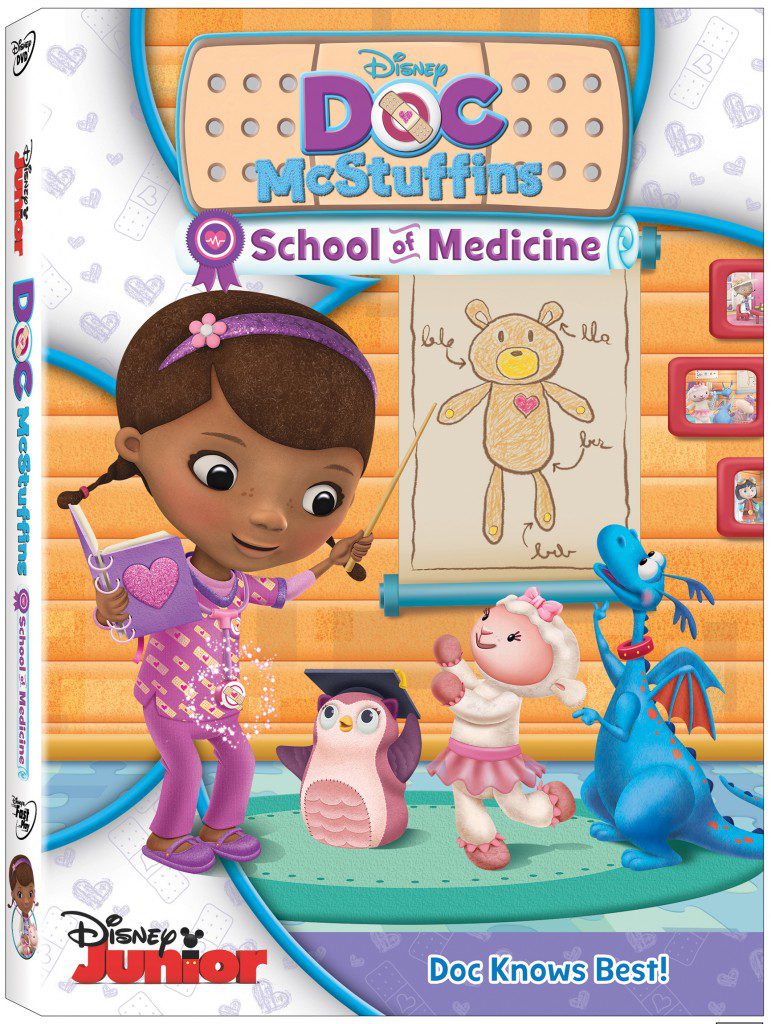 This post is Sponsored by Disney but my opinions are 100% my own!
My 7 year old is still a HUGE fan of Doc McStuffins and honestly I can't blame her because she is adorable.  Her sister tries to say she's too big for it but I see her watching it with her sister.  And enjoying it!
For those Doc McStuffins fans in your house, you'll be excited to know that Doc McStuffins: School of Medicine is being released on Disney DVD on (TODAY!) Tuesday, September 9th 
- and it Includes a FREE Exclusive Doc McStuffins Dress Up Playset!
About Doc McStuffins: School of Medicine
In "Doc McStuffins: School of Medicine," a compilation of engaging Doc McStuffins stories, the many specialties in which doctors practice medicine and health care are highlighted for young kids to comprehend.  In her playhouse clinic, Doc is an optometrist, helping her stuffed owl toy, Professor Hoostburgh, to see clearly again.  As a dentist, she fixes a tooth on Donny's toy shark Mr. Chomp and, as a radiologist, Doc takes an inside look at Daisy's arm after a Roller Disco fall.  Then, Doc accidentally sprains her own ankle, so it's up to her toys to provide the care and compassion to Doc herself and with rest,  patience and plenty of cuddles, she will be as good as new, singing  "The Doc is in."
The cast includes:
Kiara Muhammad (as Doc McStuffins)
Loretta Devine (as Hallie)
Lara Jill Miller (as Lambie)
Robbie Rist (as Stuffy)
Jess Harnell (as Chilly)
Jaden Betts (as Donny McStuffins)
Kimberly Brooks (as Mom McStuffins)
Gary Anthony Williams (as Dad McStuffins)
Here is a clip from Doc McStuffins: School of Medicine:
Episodes:
Chilly Gets Chilly / Through The Reading Glass (Optometry)
Hallie's Happy Birthday / Shark-Style Toothache (Dentistry)
Think Pink / You Foose, You Lose (Sports Medicine)
Disco Dress Up Daisy / The Glider Brothers (Imaging/Radiology)
Celestial Celeste / Run Doc, Run! (Imaging/Radiology)
Disclosure: I received a Free product for review. My opinions are 100% mine.