This post is Sponsored by Lindt but my opinions are 100% my own!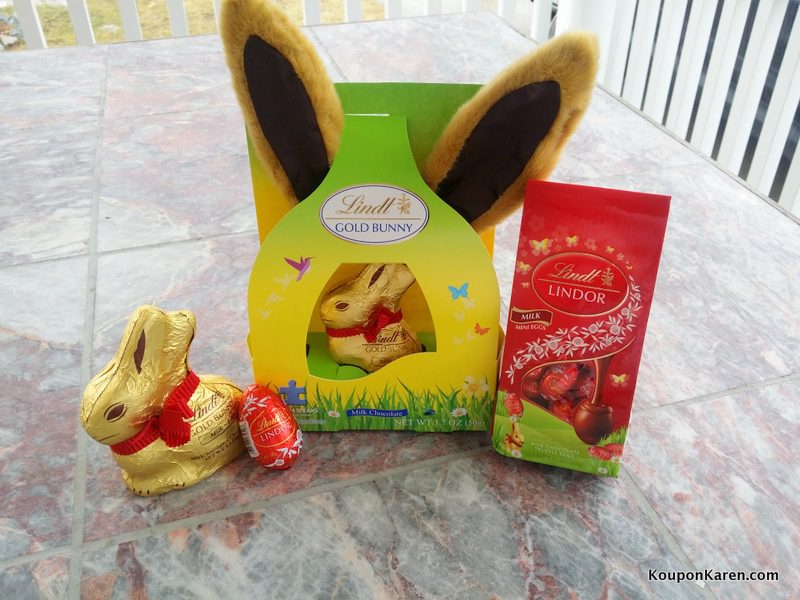 Easter is a sure sign that Spring is here and to celeberate that, Lindt always has some fun chocolates to share with your loved ones at Easter Time.  I love Lindt chocolate and have loved it for a long time.   It's very hard to stop myself once I start eating Lindt chocolate so I limit it to special occasions – like Easter!
Lindt Chocolate for Easter
Of course Lindt has some new products for Easter in addition to the iconic Lindt GOLD BUNNY (10 cents from each 3.5 oz bunny purchased will benefit Autism Speaks till April 5!!!), Lindt is debuting a few new offerings:
Lindt GOLD BUNNY (3.5 oz and 7 oz): The iconic Lindt GOLD BUNNY is the perfect centerpiece for any Easter basket or celebration. This premium, hollow 3.5 oz bunny is available in Milk, Dark and White Chocolate, and the hollow 7 oz Lindt GOLD BUNNY is available in Milk Chocolate. SRP: $3.99 and $7.49

Lindt GOLD BUNNY All Ears (1.7 oz): Get playful this Easter season and dress up with Lindt GOLD BUNNY. The iconic, hollow 1.7 oz Milk Chocolate bunny comes packaged with plush GOLD BUNNY ears so you can bring the Easter spirit to life. The Lindt GOLD BUNNY All Ears makes for a fun addition to any Easter basket and will provide entertainment for all at your Easter celebrations. SRP: $6.99

New! LINDOR Milk Eggs (0.99 oz): The new LINDOR Milk Eggs will make for the ultimate smooth melting indulgence to enjoy on your own or share with loved ones! Individually wrapped, the Milk Chocolate LINDOR Milk Eggs are the perfect Easter treat. SRP: $0.69
New! Lindt Little Chick (3.5 oz and 1.7 oz): Lindt Little Chick is the cute, new Easter creation for families to enjoy! Created with the finest Milk Chocolate, this playful figure is lovingly dressed with a ribbon and will be a sweet addition to all Easter celebrations. Lindt Little Chick is available in a 3.5 oz Milk Chocolate hollow figure or in a package of five mini Milk Chocolate hollow figures. Available exclusively at Target. SRP: $3.99 each
You can find these all in stores now and they will make the perfect Easter gift for anyone in your family.  Or yourself!
Disclosure: I received a Free product for review. My opinions are 100% mine.