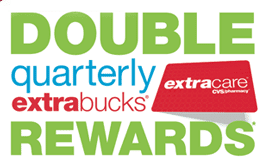 The double quarterly ExtraBucks begins today!!!

Starting September 16th CVS is giving us more quarterly ExtraBucks!   You will be able to earn 4% instead of 2% from September 16th through December 15th!   Shoppers can earn double quarterly ExtraBucks Rewards when you buy your favorite household goods at CVS/pharmacy, and you will be able to see these earnings reflected in your January 1 quarterly ExtraBucks Rewards payout!
Exciting, right?
BUT This is VERY IMPORTANT – You won't get them automatically, you have to sign up for the Double Quarterly ExtraBucks.  Here is how…
Visit CVS.com/DoubleBucks
Enter your first name, last name, email address and ExtraCare number.
Press submit!
That means More FREE CVS money!!
Any questions?  Let me know!