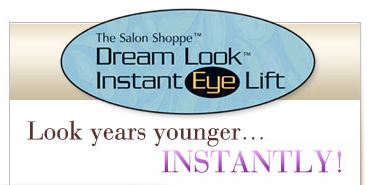 Product Name: Dream Look Instant Eye Lift
Product Information: Most people would love to take a few years off of their age and will do whatever is takes to look that way. In 2010 alone, there were more than1.6 million cosmetic procedures performed, with just a couple of the most popular being Botox and eyelid surgery. The Dream Look Instant Eye Lift can solve the same issues that a cosmetic surgery would, without having to go under the knife and spending thousands of dollars on top of that.
The Dream Look simply lifts your lids to minimize droopiness, wrinkles and bags on or around the eyes, as well as give your lids a bigger and better looking shape, which ultimately presents a younger look. It's an easy 1-2-3 step process with amazing results. By just applying gel to each of the small strips included and placing it on the crease of the eye lid, you will see a difference instantly.
Providing only a temporary fix to droopy or tired eyes, the Dream Look is designed for daily use and to act as a substitute for any kind of cosmetic eyelid surgery. The lifts are invisible and practically disappear once they are placed on the lids. Dream Look lifts can be worn with or without makeup and keeps the face and eyes looking brighter and more alert throughout the day.
Purchase Information: The Dream Look Instant Eye Lift is avaialbe at CVS, Walgreens, Rite Aid and many other major retailers nationwide.
Product Price: $19.99
Disclosure: I received the above Free Product for review. My opinions are 100% mine.