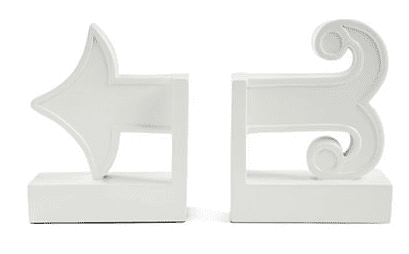 This post is Sponsored by JCPenny but my opinions are 100% my own!
We have a lot of books in our house.  A LOT OF BOOKS.  My husband is a reader and always has about 3 books going at once.   He even keeps a book in the trunk of his car just in case he has to wait somewhere.  He's also impatient so a book helps with his patience.  Fortunately he also re-reads books so he definitely gets his our money's worth.
I enjoy reading too but I'd rather read on  my iPad.  I can't get him to switch over to digital books, at least not yet.  I'm still working on it because we are going to run out of places to put the books!  We had the bookshelf built-in a corner of our bedroom when we moved into our house.  I love this book shelf and it holds a lot of books.  There is another wall in our room that I'd like to eventually also have lined with bookshelves but that's not a priority so it'll have to wait.
The girls also both LOVE to read and have a huge library already.  I go to the thrift store when they have their 50% off books sale and get books for their library.  They cost next to nothing and the girls love them.  There is so much to learn from reading so I'm glad we are a family of readers and I hope the girls always love to read.
I also love to make the albums and photo books so the girls can go back and re-live their childhood.  They are fun to look at now and I keep them out where they can be seen and shared.  But all these books and photo books just lying around don't look as pretty as they could be.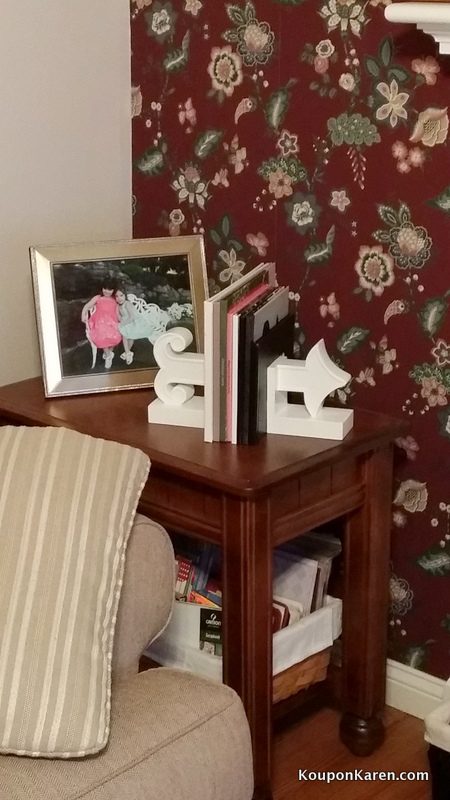 We have some end tables in our living room that I had a pile of picture books I made of my girls.  A pile doesn't look as nice but I leave them there because everyone loves to look through them.  It also reminds me that I need to catch up on making more books.   These cute Arrow Bookends from JCPenny fit perfectly and work well in holding up the albums.  I will probably change them out from time to time with either albums or books.  But they are a great fit for our room and 'dress it up' a bit, don't you think?
Happy Chic by Jonathan Adler Katie Arrow Bookends
These arrow bookends add a playful vibe to your bookcase or desk. Perfectly weighted, they prop up your favorite books or magazines.
Happy Chic by Jonathan Adler exclusively at jcpenney
stylized arrow design
solid white
sturdy base
set of two bookends
And they won't ruin your nice furniture because they have a nice felt bottom which wont scratch the surface when they move.  The bookends are made of Resin and measures 6½x5x3″H.   If this is something you like, you can purchase them for $42 at JCPenny or perhaps catch them on sale for less!  They would look great in your home and even make a fabulous holiday gift.  Perhaps for that hard to buy for person!
Be sure to follow JCPenny on Facebook and on Twitter.  And if you are looking for some great ideas for trends, styles or just anything, check out the JCPenny Pinterest board!  Lots of ideas and great products there too!
Disclosure: I received a Free product for review. My opinions are 100% mine.