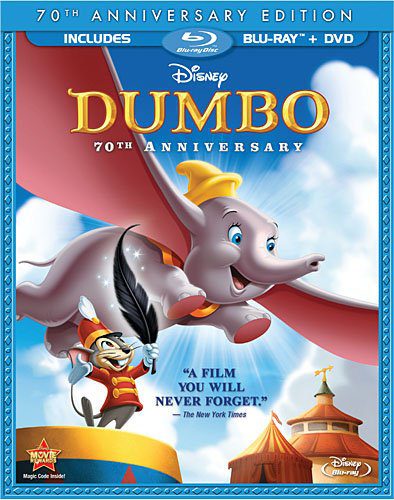 Product Name: Dumbo 70th Anniversary Edition
Product Information: "Walt Disney Studios Home Entertainment invites audiences to let their spirits soar with the release of the beloved animated classic Dumbo, for the first time ever in high definition as a 70th Anniversary Edition,  on September 20, 2011. The Academy Award®-winning (1942, Best Music, Scoring of a Musical Picture) favorite will take flight for the first time with a premium restoration in stunning Blu-ray™ high definition featuring pristine 7.1 Digital Theater System High-Def Surround Sound, allowing fans to see more, hear more, interact more and share more of this timeless adventure about believing in yourself.
Released theatrically in 1941, Dumbo, Walt Disney's fourth animated film, was an immediate success with audiences and critics alike. In addition to its Academy Award® for Best Music, Dumbo was also Oscar®-nominated for Best Song, for the haunting lullaby, "Baby Mine." Additional songs from the film, written by renowned composer Frank Churchill and lyricist Ned Washington, have become popular standards. They include the infectious "When I See an Elephant Fly," sung by a chorus of hip crows who befriend Dumbo and his friend, Timothy Mouse, and "Pink Elephants on Parade," which accompanies Dumbo's feverish dream-sequence.
Film Synopsis – In celebration of this landmark film's 70th anniversary, experience the daring adventures of the world's only flying elephant with a dazzling all-new digital restoration and brilliant Disney Enhanced High Definition Theatre Mix Sound. The inspirational tale of Dumbo, the courageous baby elephant who uses his sensational ears to soar to fame with the help of his clever best friend Timothy Q. Mouse, will thrill and delight audiences of all ages. And now, the award-winning music and empowering messages about friendship and belief In yourself reach new heights in this must-have Blu-ray high-definition presentation of Walt Disney's classic Dumbo!
Bonus Features
DVD:
Deleted Scene – "The Mouse's Tale
Deleted Song – "Are You a Man or a Mouse?"
Taking Flight: The Making of Dumbo – A journey back to the origins of the film as everybody's favorite baby elephant takes wing.
The Magic Of Dumbo: A Ride of Passage – Witness the excitement and magic of Disneyland's most popular ride through the eyes of a child.
Audio Commentary with Pete Docter, Paula Sigman and Andreas Deja
Sound Design Excerpt from The Reluctant Dragon
Original Walt Disney Television Introduction
Blu-ray – Everything on the DVD plus:
Cine-Explore
Disney View
"What Do You See?" Game
"What Do You Know?" Game
"Celebrating Dumbo" Featurette
Animated Short: "The Flying Mouse"
Animated Short: "Elmer Elephant"
Movie Download (Standard Definition & High Definition Versions):
Deleted Scene – "The Mouse's Tale"
Deleted Song – "Are You a Man or a Mouse?"
"Celebrating Dumbo" Featurette
Purchase Price: Dumbo: 70th Anniversary Edition will be available for purchase as a 2-Disc Blu-ray + DVD Combo Pack (with the suggested retail price of $39.99 U.S./$44.99 Canada), a 1-Disc DVD (with the suggested retail price of $29.99 U.S./$35.99 Canada), High Definition Movie Download (for the suggested retail price of $39.99 U.S./44.99 Canada) and/or Standard Definition Movie Download (for the suggested retail price of $29.99 U.S./$35.99 Canada). All versions come packed with a variety of special bonus features including such features as deleted scenes, interactive games, audio commentary, behind the scenes details and more.
Purchase Information: You can purchase it online at Amazon
.
I honestly can't remember if I've ever seen Dumbo, I'm sure I did when I was little but it doesn't stand out in my mind so I was very happy to receive the new 70th Anniversary Edition.  The girls were excited because they had not seen it before.  The bonus features were great especially the games because it really got them involved in the movie.  I love what Blu-rays can do!
Disclosure: I received a copy for review. My opinions are 100% mine.