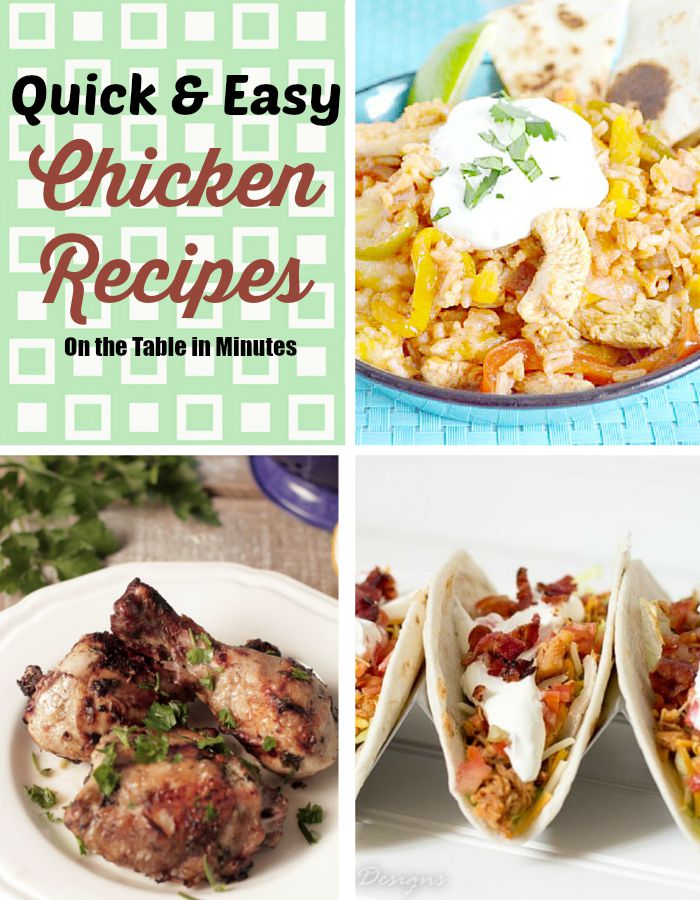 My kids are very picky eaters but when it comes to chicken, they will eat it just about any way I make it.   So needless to say I cook chicken a lot and I'm always on the look out for new chicken recipes, but especially quick and easy chicken recipes.  Below are 13 chicken recipes that are quick and easy to make to help any night of the week.
Quick and Easy Chicken Recipes
Easy Fajita Chicken Bake | The Pinning Mama – Want a quick and easy Mexican chicken dish for dinner without the hassle? Check out this spin on fajitas and you won't be sorry!
Cheesy Chicken and Rice Casserole | Favorite Family Recipes – My family has made the soup version of this for years and you can make a lot in very little time. It's extremely good and cheap to make!
Creamy Chicken and Herb Skillet | Iowa Mom Eats – This recipe is so easy, you can literally just dump it in the pan, throw it in the oven, set a timer, and leave it to do other tasks. This type of recipe is essential to getting back in to the swing of crazy schedules with school.
12-Minute Chicken and Broccoli | Gimme Some Oven – You can't beat a 12-minute meal especially when it feels like you only have 2 minutes to spare! This is a classic dish that's healthy and packed with flavor!
20 Minute Healthy Chicken Burrito | Redefined Mom – Burritos are easy but making a healthy burrito is not as quick.  Check out this yummy recipe that's quick and healthy!
Stuffed Chicken Parmesan | Sweet C's Designs – I love stuffed chicken recipes and this one is delicious while also being fast.
Easy 3-Ingredient Ritz Cracker Chicken | Stockpiling Moms – Feeding kids can be difficult because they can be picky. You will have everyone at the table loving this recipe.  It had a delicious flavor and a crunch to go along with it!
Cheesy Chicken Rice Bowl | Southern In Law – The chicken casserole above is similar to this except this is the other version I mentioned! This has been a huge hit every time we made. Tons of flavor, healthy, and the recipe is easy extremely easy to make!
Lemon Herb Grilled Chicken | Scratch Mommy – Now, it might not seem easy to grill up chicken, however, you don't have to use the actual grill! This chicken recipe is easy and quick and highly recommended!
BBQ Chicken Tacos | Jade Louise Designs – These only take 15 minutes and are a great twist on the traditional taco!
Tex Mex Chicken Fajita | Flour on My Face – This is a simpler version of fajitas that tastes just as great in my opinion!
Mini Chicken Pot Pie | Pillsbury – These take about 25 minutes to actually cook in the oven but the prep time is quicker than that! Throw them together before the kids get home and put them in the fridge or freezer so they're ready to pop in the oven!
20-Minute Mexican Chicken Flatbread | Buns in My Oven – This has sort of a Mexican pizza feel to it and the kids will love it because it does look like pizza but only mom knows it's healthier and quick!
Which one of these quick chicken recipes will you try first?