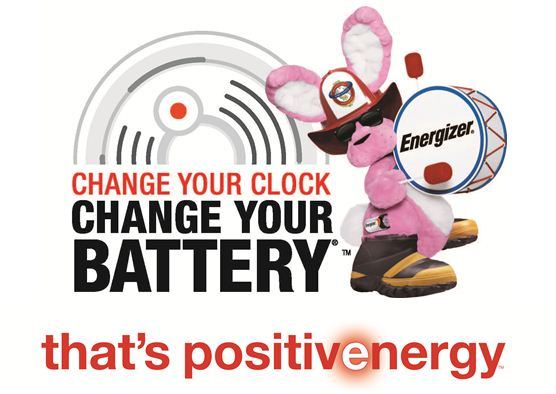 This post is Sponsored by Energizer but my opinions are 100% my own!
Believe it or not, it's almost time to turn the clocks back.  I can't believe we are heading into November.  This year flew by.  November 3rd is the day to set our clocks back and hour and it's also the time of year when Energizer, the International Association of Fire Chiefs, and fire departments nationwide join forces for the Change Your Clock Change Your Battery® program.  This program raises awareness of the importance of having working smoke alarms and carbon monoxide detectors to help to keep families safe in their homes.  This program is in it's 26th year and the message is still an important one.
Sadly, thirty-eight percent of fatal fire injuries occur in homes with no smoke alarms, while 24 percent occur in homes in which at least one smoke alarm is present but fails to operate, frequently due to dead or missing batteries.*
SO this is the perfect time to change the batteries in your smoke detector – the same time you change your clocks.  Plus, from now through November 3rd, you can visit the Energizer Bunny® Facebook page and click on the Fire Safety Info Tab.  You will have the chance to enter a sweepstakes to a really nice Family Safety Kit valued at over $167!! .  Energizer will be giving away one Family Safety Kit per day on their Facebook page.   In addition you can find fire safety tips, a home escape plan that you can download and draw your family's home escape plan, as well as a coloring and activity sheet.
It's not just the fire alarms that are important, but the carbon monoxide detectors are just as important.  We are lucky to have a friend of ours still in our lives today because he could have died from Carbon Monoxide poisoning.   If it wasn't for his detector, he would have died.   And the interesting part is, he didn't think the detector was working properly when it started beeping because he had no idea there was any carbon monoxide in the air.  He questioned it even though he knew the batteries were new because he always changed them.  What he didn't know was that his roommate had started her car and left the garage door closed while he was asleep.  The carbon monoxide detector woke him and  she was gone.  Since there is no odor to carbon monoxide, he had no idea it was in the air.  It wasn't until a few hours later when she came home and he thought to ask her if something happened that day, that he found out what she had done.  That's when he began opening windows and airing out the house.  In further talking with her, he found out she ran the car for a lot longer than she thought she did so there was a lot of it still in the house.  He was sick later that night, but nothing compared to how bad it could have been.
But did you notice how I said the carbon monoxide detector woke him up?  Had it not woken him, he would not have asked her about it and would have never have opened the windows to air out the house.  He probably would have died.  I'm so grateful that his alarm worked, even thought he questioned it.  Thankfully it all worked out well in the end.
Besides the giveaway on the Energizer Facebook page, you can enter one below as well!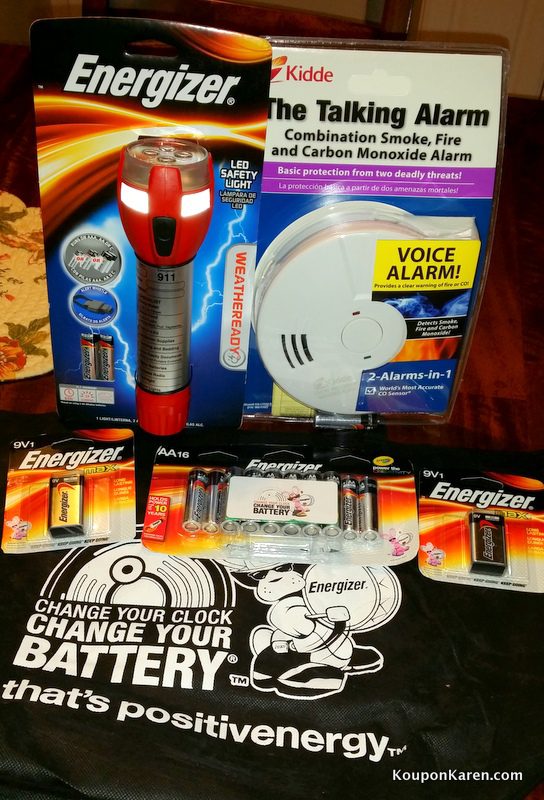 (1) Koupon Karen reader will win an Energizer Family Safety Kit (valued at approximately $60) complete with a reusable grocery tote containing:
One 16-pack Energizer® MAX® AA Batteries years
One 1-pack of Energizer® MAX® 9 volt batteries
One Energizer® Weatheready® LED Safety Light flashlight – Waterproof flashlight powered by AA, AAA or C cell batteries
One Kidde Battery-Operated Combination Carbon Monoxide and Smoke Alarm
To enter the giveaway, use the Giveaway Tools widget below. Email and feed subscribers will need to click through to the site to enter the giveaway.
As a reminder, comments left on Facebook or Twitter will not be included. You must follow the instructions on the widget about the proper way to enter.   Of course Facebook is in no way associated with this giveaway!
Disclosure: I received a Free product for review. My opinions are 100% mine.