I've worked with the gal from Energizer a few times on some giveaways on the blog so I was super excited to get to meet her in person at BlogHer last week in NYC.  While I was there I got a peek at the NEW Energizer Flameless Wax Candles and they are super cool.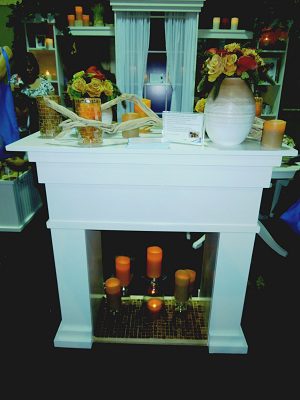 They look, feel and smell like real candles but they aren't – they run on batteries (Energizer batteries work the best, I'm told!).  So if you don't like to light candles because you are afraid of the flame or you have children or in my case a husband who doesn't like flames, then these are for you.
Don't they look like real candles in this picture??  ————->
That is how they had them on display for us at the conference and honestly I don't think I would have known they weren't real flames if she didn't tell me.
And they are just in time for the holidays.  They would make a great gift for that hard to buy for person.  And you could follow-up with a birthday gift later in the year of batteries for their candle!  Just a thought!
Here is some information about the NEW Energizer Flameless Wax Candles….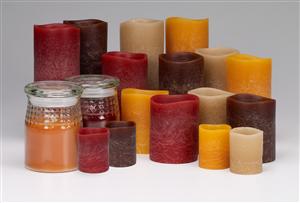 Launching in fall 2012, Energizer® Flameless Wax Candles are available in pillars, votives, tea lights and glass jars, and provide the same beautiful ambiance as traditional flamed candles with added safety and convenience. These candles – offered in a variety of colors, styles, sizes and tantalizing scents – cast a warm glow of light with a realistic flicker, creating an inviting home atmosphere.
Advanced LED technology and a convenient 4, 6, or 8 hour timer are just a few of the reasons these elegant candles stand out in the category. Candle lovers will also appreciate:
Real wax, a melted edge, along with a unique, realistic flicker for an authentic look
Convenient memory feature to set the time of day candles automatically turn on
Pillar sizes ranging from 3'' x 4'' to 4'' x 8'', along with glass jars, votives and tealights
Fragrant scents such as honey vanilla, driftwood, pumpkin spice, vanilla and pomegranate passion
I love that you can set them to a timer so they will turn on when you want.  How nice would it be one cool fall night to come home to have all your candles lite up as you walk in the house.  That would look really nice.
I think these are fabulous and I'm excited to use the ones I received at BlogHer.  I'm also hoping to be able to offer you all a giveaway of one soon.  Would you like that??  Leave me a comment and let me know what you think and I'll work on securing a giveaway for the holidays!
Disclosure: I received some FREE samples from Energizer while attending BlogHer in NYC.  I did not promise to write about them in exchange for the sample.  I choose to share these with you because I really like them.  My thoughts and opinions are 100% my own!