This post is Sponsored by NatureSweet Tomatoes but my opinions are 100% my own!
Have you tried NatureSweeet tomatoes? We've been enjoying a lot of salads this month and they always have tomatoes.  I love tomatoes and I love the pop of color they give a yummy salad.   NatureSweet, the nation's best-tasting, always vine-ripened, bite-sized tomatoes, offers a variety of salad recipes perfect for late summer dining.
I love Nature Sweet tomatoes and buy them all the time.  Well except when I have tomatoes in my garden.  However, I had never visited NatureSweet.com so I had no idea about all the amazing recipes they had to use with their colorful tomatoes.
One of my favorite ways to eat tomatoes is with cheese, basil and sometimes a nice crisp piece of lettuce.  It's the only way one of my girls will eat them.  So I make these often.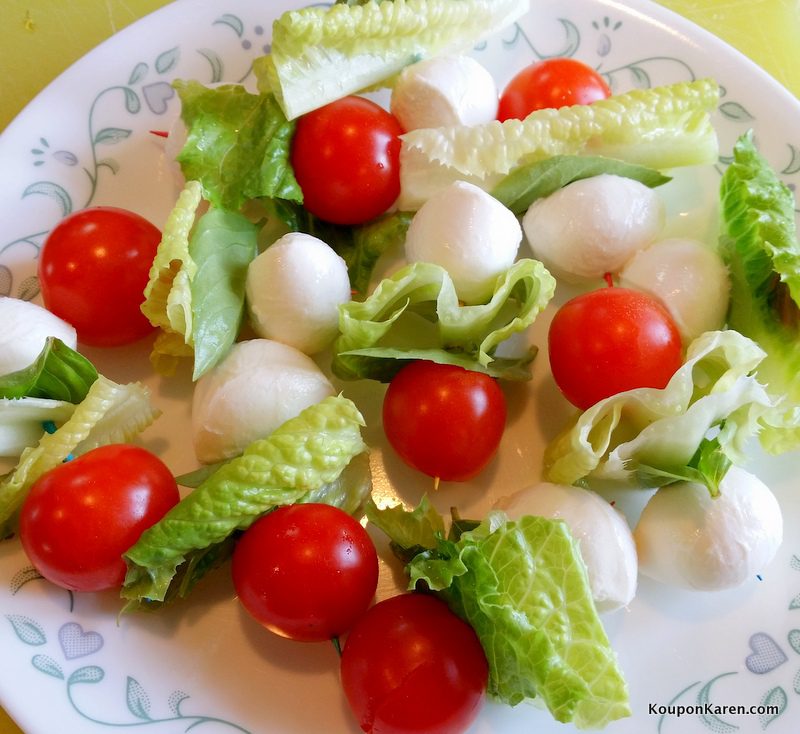 Extend Your Summer with NatureSweet Tomatoes
From Cherubs Greek Salad, which takes only 10 minutes to put together and is the perfect light lunch, to a fun antipasto-on-skewers salad recipe featuring NatureSweet SunBursts tomatoes, a few olives, your favorite cured meats (a little salami, some spicy pepperoni) and cheeses (marinated mozzarella and a little provolone). Or how about a hearts of palm salad featuring avocados and NatureSweet Cherubs?  And don't get me started with the Fried NatureSweet Glories.  I never had a fried tomato that wasn't green!
I could spend hours drooling over the delicious recipes on NatureSweet.com.
About NatureSweet Tomatoes
With NatureSweet, there is no need to pick and choose – each greenhouse-grown fruit is vine-ripened and hand-picked at the peak of freshness, maintaining the "fresh-from-the-backyard-garden-flavor" all the way to your kitchen.
There are dozens more recipes featuring NatureSweet tomatoes at NatureSweet.com – so keep cool and eat well for the rest of the summer and beyond with NatureSweet.
Disclosure: I received a Free product for review. My opinions are 100% mine.