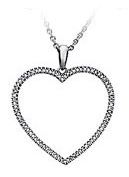 Would you like to win this Beautiful Diamond Heart Necklace valued at $357??  If so then you'll want to enter The Danforth Diamond Mardi Gras sweepstakes for a chance to win.  The sweepstakes kicked off March 8th on Bourbon Street in New Orleans by handing out thousands of royal purple Danforth Diamond medallion beads.  I've never been to Bourbon Street but I wish I had been there when they handed out those medallion beads!  Check out Danforth Diamond's Facebook page for photos of the event.
Since Danforth Diamond is committed to preserving the planet, it created the Harmony brand of recycled metals, which has the same exquisite beauty as mined metals but doesn't inflict as much damage on the environment.  I love companies that are going green.
The sweepstakes runs until April 25th so you still have time, but don't wait to long!
About Danforth Diamond
Danforth Diamond is one of the Internet's leading sellers of affordable diamond engagement rings. Their collection of Harmony engagement rings and solitaires is unrivaled and offers options to fit every style and budget. Visit Danforth Diamond to learn more at: www.danforthdiamond.com.
PLEASE NOTE: I am NOT giving away this necklace, you must visit the link above to enter.  Leaving a comment here will NOT count as KouponKaren.com is NOT holding this giveaway.  Just letting you know about it! This post was sponsored by The Danforth Diamond.