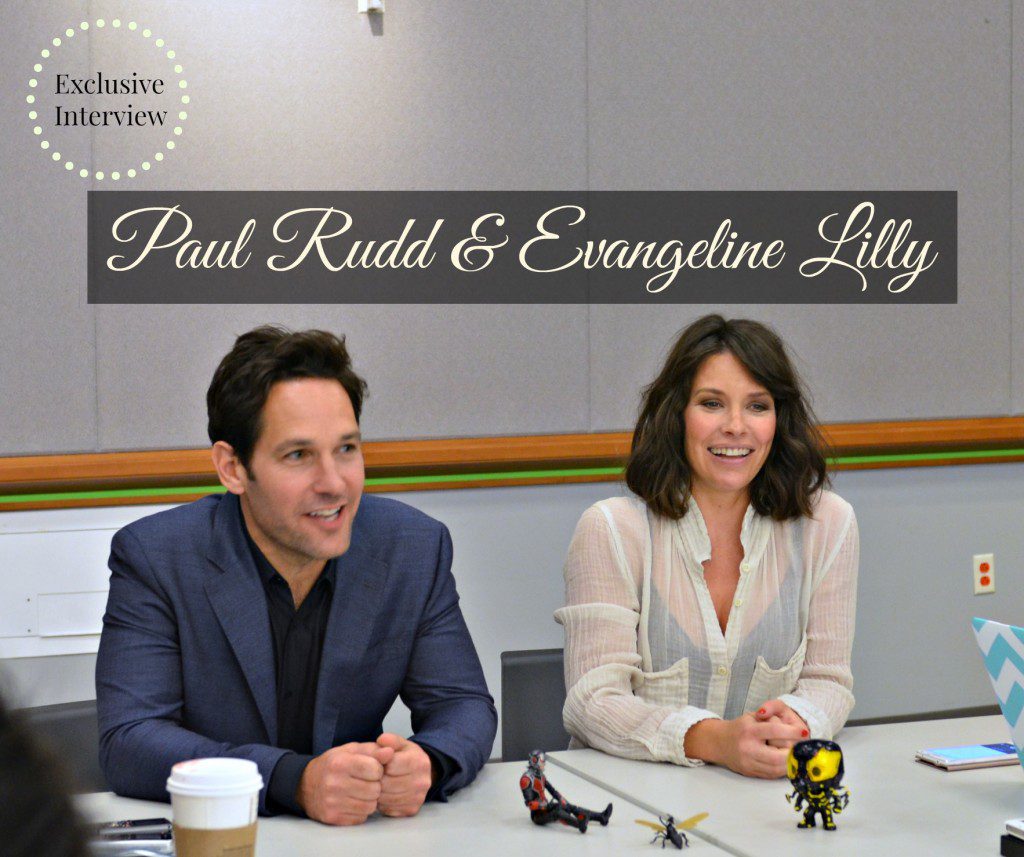 Disclosure: I received an all expense paid trip to Los Angeles California for the #AntManEvent press Junket.  All opinions are my own and were not swayed by any outside sources!
Last month, I was invited to Los Angeles for the Ant-Man press junket.  I was excited and honored to be invited to a Marvel event but I was especially excited over the awesome cast of the movie – Paul Rudd, Evangeline Lilly and Michael Douglas – to name a few!  Way back when I was in my early 20's I saw a movie called Clueless.  Perhaps you've heard of it?  No, seriously I'm sure most of my readers remember this movie and if you were about my age, you certainly remembered the adorable Josh play by Paul Rudd.  I loved watching Clueless over and over again and I'll admit, I rewound the part where Josh says to Cher "… you know your gorgeous" because the way he said it was so dreamy.  (I feel like a teenager writing this!).   I know I wasn't the only one with a "crush" on Josh.
When I heard for sure we'd be interviewing Paul Rudd, I head over heels excited to be in the same room with him, even if there were going to be 24 other blogger!  Before our interviews, we saw the press screening of Ant-Man and after seeing Paul Rudd on screen as Ant-Man, I was even more excited.   I've watched Paul Rudd for the last 20 something years and have enjoyed every movie he's been in.  He's smart, adorable, funny and a great actor.  He's also a really nice guy.  And believe me when I tell you, when he walked into the room, there was a very big applause from the 23 mommy bloggers and 2 daddy bloggers… I think Paul might have blushed!
Did you hear that Paul Rudd received a star on Hollywood's Walk of Fame?  He totally deserves it!!
And then there is the lovely Evangeline Lilly.  I watched every single season of LOST and I never gave up on Kate.  She was a strong character in that series and Evangeline's character in Ant-Man is also strong.   This role was made for Evangeline and being a big fan, I was also star struck when she walked into the room.  She's gorgeous and she was glowing!
I feel honored to have been part of the 25 bloggers that were able to sit and talk to Paul and Evangeline in this exclusive interview.  We talked about Ants, Evangeline punching Paul, working with a legend – Michael Douglas, Girl Power and their favorite moments on set.  Grab a cup of coffee and follow along below with this fun interview!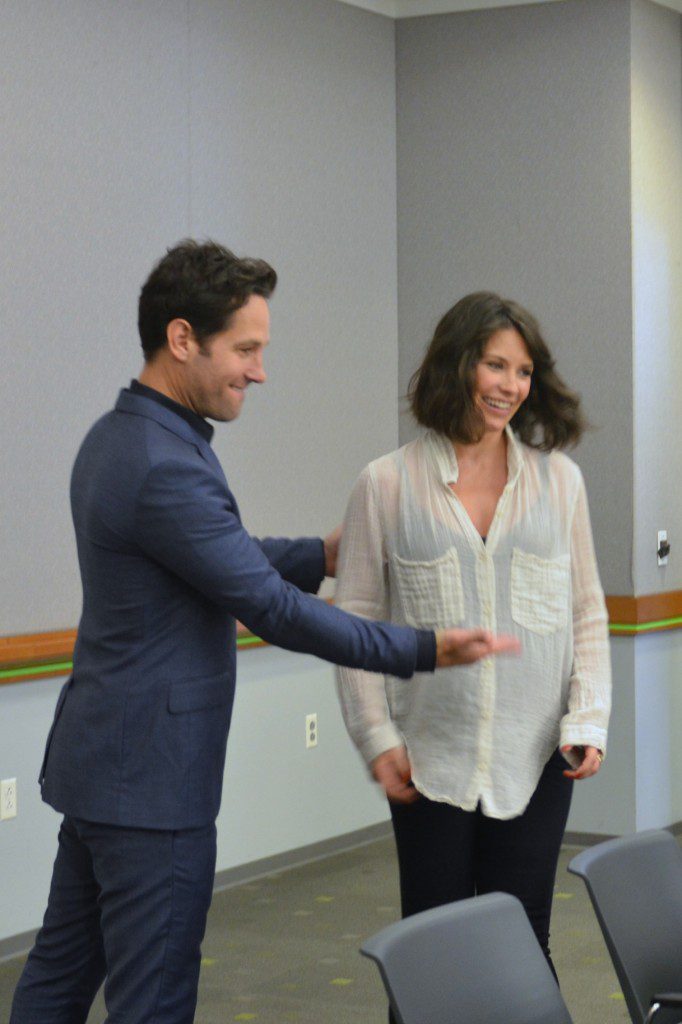 From the moment they walked in the door you could see the two different personalities emerge, yet both exactly how I expected.  We were sitting at a very long conference table and when Evangeline looked at it she joked  "I feel like we should have like a turkey dinner spread out" which of course, made us all laugh.  Then the comedian that Paul is chimed in and adds "Or the biggest game of poker in the history of poker" and the laughter continued.  I knew then we'd have a great time with the two of them for the next 20 minutes.
And let me tell you it was the fastest 2o minutes of my life.  They were both extremely friendly, funny and adorable together.  The chemistry between them is great and very natural which wasn't surprising after seeing them on-screen together.
Improv on the set of Ant-Man
As you know Paul is known for being a comedian and Ant-Man is more of an action film, then a comedy.  That being said, if you've seen all the Marvel films, you know that there is some humor in them all.  Ant-Man wasn't a "straight up comedy" as Paul put it and he knew "the action was going to be really good; the visuals were going to be crazy good" because, come on this is a Marvel movie!  He also knew there was a relationship between his character Scott Lang and his daughter and also one between Michael Douglas' character and his daughter, which was going to be "the thrust of the film" as Paul put it.   But he knew even though that would all be "very dramatic", as he put it, he also knew there would be some humor in there in the end.
And there was, and some of it was improve, and it was great!  Take my word for it!
Evangeline added "he did not stop improving and cracking jokes the entire time – there wasn't one scene no matter how serious where you didn't make me break character", she said to Paul laughing.  Then she told us "And I kept asking him what am I supposed to do when you do that?  Do I riff with you?  Do I shut up and let you do your thing?"  She then goes on to tell us that he really is "the sweetest man alive as we all know" and she points out to him just how smitten all 23 moms were in the room! "Do you see their faces?" Evangeline asked Paul. "It's Paul Rudd!!".   I think he blushed again!
Then she told us something I didn't know.  Michael Douglas was just as funny between takes as Paul Rudd was!  Evangeline goes on to say that  "At the end of every take something off-color would come out and even Michael Douglas can riff an improv.  I was the only person on set who wasn't improving" said Evangeline.   But Paul thinks she's selling herself short so I'm guessing she made them laugh as well.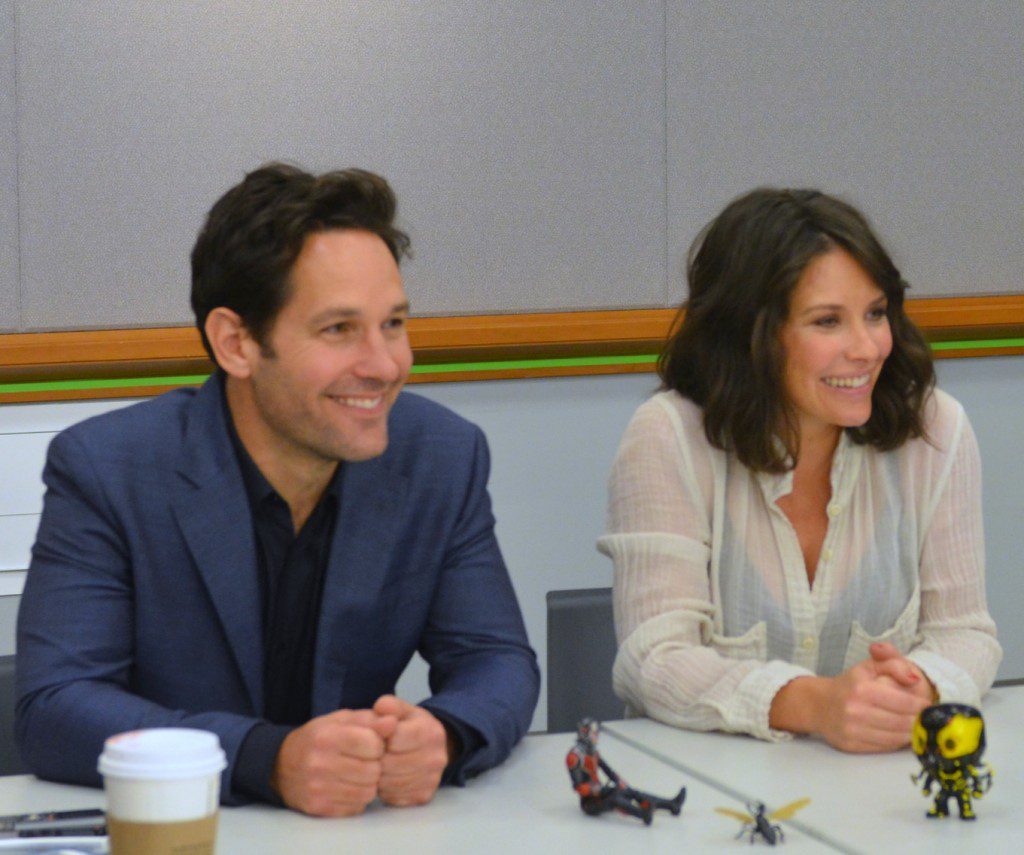 Evangeline talks about punching Paul's character
The the question came for Evangeline "How fun was it to punch him in all the action scenes?".  She said everyone seems to want to know the same thing and quickly points out that she "didn't actually punch him"  Which I sort of expected, but it was fun to watch!  Paul called it "Movie magic".
Not everything they film makes it into the movie.  But Evangeline was very happy with one take they did include and it was one of my favorite Paul Rudd funny guy moments too.  She goes on to tell "I loved one of his improvs when he said "were you aiming for the head?"  I was so glad that it ended up in there 'cause I love that line."  So did we Evangeline!  When I saw that part of the movie, I leaned over to my friend and asked her if she thought that was improv on Paul's end.  I was happy to see I was right!
At this point we were laughing with them so much that I felt like I was sitting with old friends.
Evangeline's thoughts on Girl Power and Ant-Man
Evangeline worked with Paul and Adam with writing in developing her character.  We asked her if she felt that it came out the way she wanted as far as the girl power part of it?  Surprisingly she told us that the girl power part wasn't part of her contribution.  She went on to say "That was Marvel and the boys.  What guy doesn't like a girl who can kick ass?  They like to see that on-screen, right?  What I think is important is that woman, first of all be a woman and not a girl, and that she also have all the dimensions that a male character who can kick ass would also have.  And I think a lot of the times what happens mistakenly in men's very, very meaningful attempts to make strong women is they make them strong in the way that they relate to, which is wrong."
She then continues to say "And I think that female strength has many more dimensions than that and I think that a lot of our strength comes from our women's vulnerability, our compassion, our maternal instincts, and I don't think that those things should ever be labeled as weaknesses.  And I think that's one of the things that I always look to put in and infuse these characters with is the sort of moments where you suddenly realize underneath that very hard facade, underneath what she's trying to project to the world because she feels she has to survive or she has to do what she needs to do is you know, a little girl within all of us and even within Paul, there's just a little girl who needs love and wants to give love in order to receive love and I think that's what we're all doing.  That's the human predicament is how do we give unconditional love and just not losing sight of that."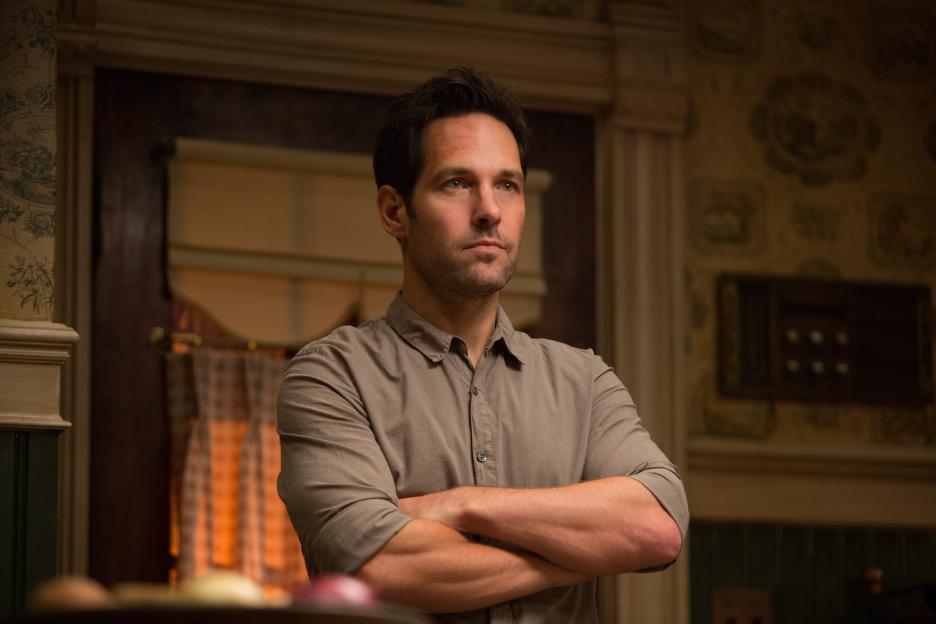 "I'm excited to learn that there is going to be an Ant Man Lego set.  I think that was the thing that I was most excited about.  I will collect some of this stuff."  – Paul Rudd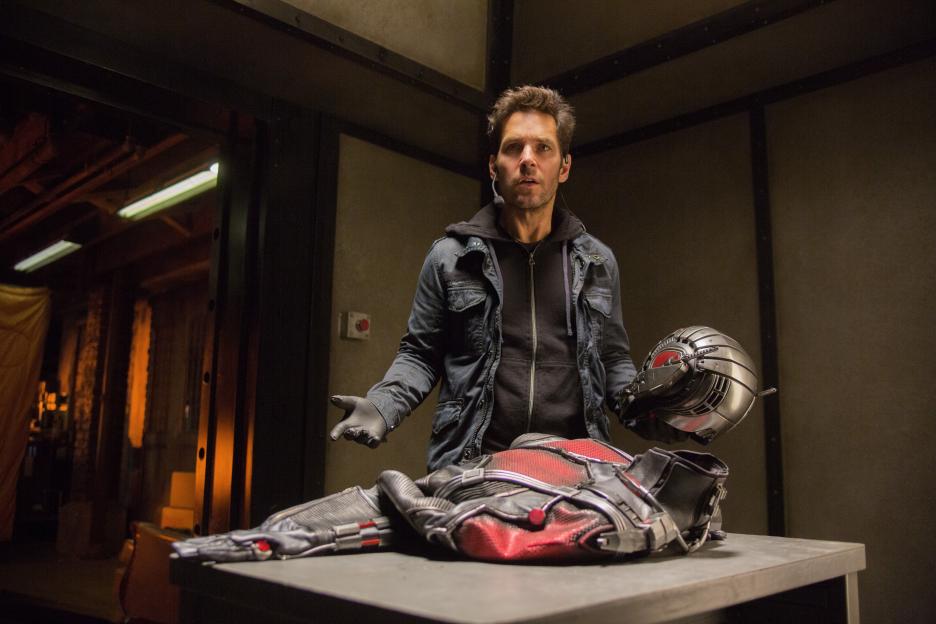 Paul and Angeline talk about working with Michael Douglas
Michael Douglas is a great actor.  He's been in so many films and has always done a great job.  He's a legend, he's a movie star!!  I'm sure even other actors are excited and nervous to work with him.  Evangeline was no exception.  She told us that it wasn't until after she was working with him a while when she witnessed "the sort of magic that is the legend of Michael Douglas and what he brings to a film set and how he performs and what he does to the energy in the room when he performs that made me suddenly sit up and take notice and go, oh my God.  I'd better bring it.  I'm working with Michael Douglas and he's a living legend and that was an honor."
Paul called working with Michael Douglas "acting royalty"!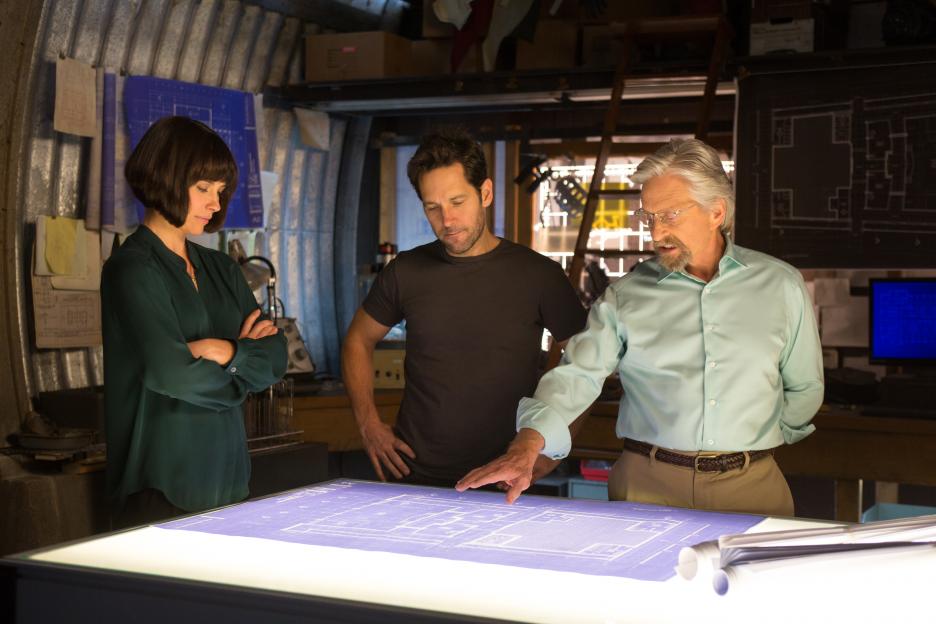 Paul talking about wearing the Ant-Man Suit for the first time
One of Paul's memorable moments on set was when he first walked onto set in the suit.  He told us "I remember the first time walking onto the set in the suit.  And, the first time I ever put it on at a fitting was thrilling.  I felt like I was 10 years old.  Every single time after that, it was whoa, I can't believe this is so cool." Paul said.  There was a "small pit crew" as he described it, helping him get into the suit.  And then he walked on set and the camera department and everyone stopped and saw Ant Man for the first time.  He said "it was totally exciting.  And I'll always remember that".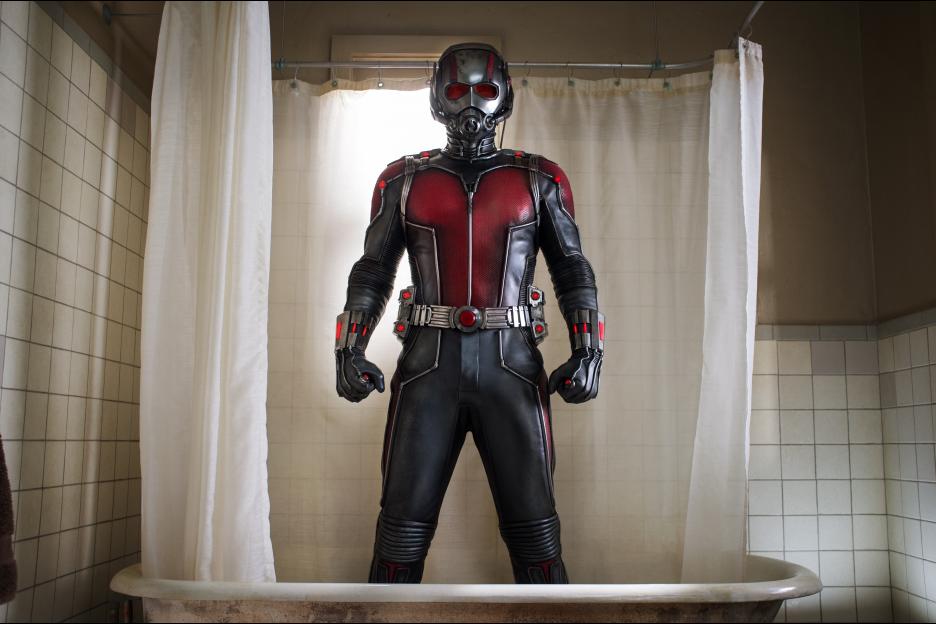 Paul and Evangeline talk about what they think is the main theme of the movie
This movie is more than just an action film.  After seeing the movie, I can agree that a lot of people are going to relate to at least one, if not more of the main characters of the film.
Evangeline told us, she thinks the main theme of the movie is redemption.  She says "I think redemption is a big theme in the film and I think redemption between father and daughter and the father/daughter relationship is the powerful theme that really anchors the film emotionally."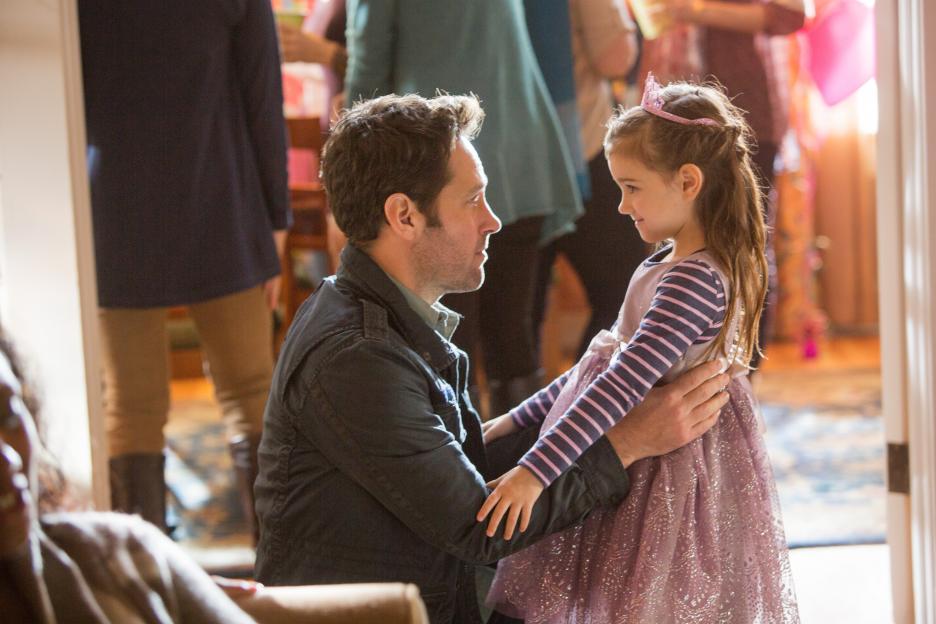 Paul added "I like this idea that we're dealing with all of this craziness with a suit that shrinks you down and controlling ants and all this kind of stuff, and yet this constant thing with parents and children, whether it's with Michael or my daughter and me and Corey and Michael, that this is the stuff that makes the movie more than just a visual spectacle."  He goes on to say "It's the thing that I think everyone will relate to – we've all had bumpy times or whatever in our relationship with our parent or our child and that's the stuff that I think people will relate to."
Unfortunately our time had to come to an end.  But before they left, they stopped to take a group picture with us.  Of course everyone wanted to stand next to Paul, but that wasn't possible.  While I'm not right next to him in the picture, he had his arm around the waist of the girl next to me and I of course, had to lean up against his arm.  Hey I'm human and he's an adorable actor and I was excited to be that close to him.  You all would have done the same thing! 😉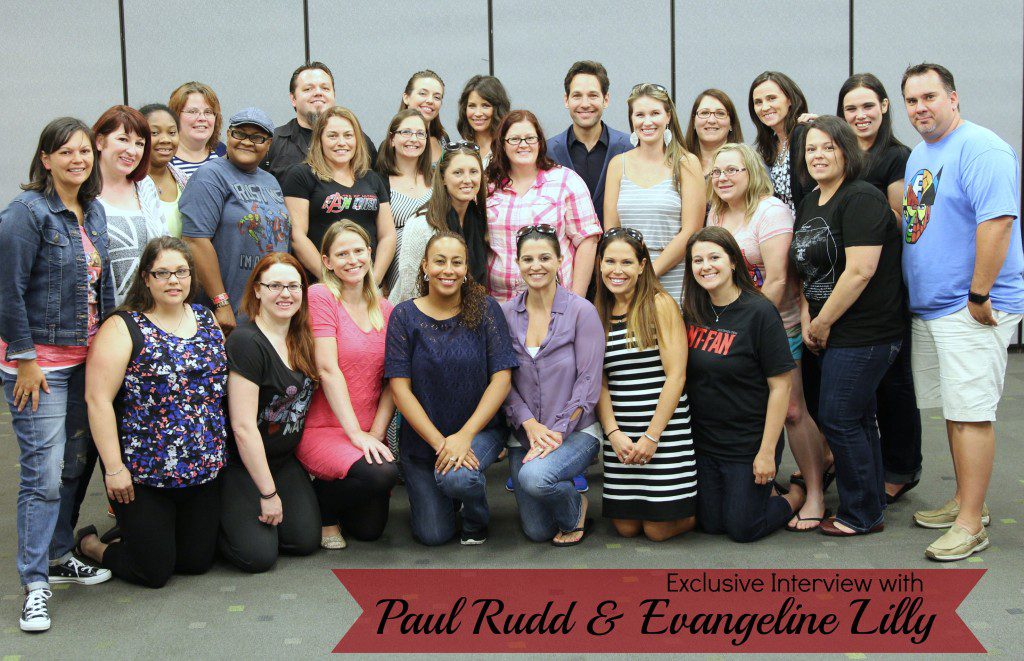 Ant-Man is in theaters July, 17, 2015.  Make plans to go see it that night.  It's great and Marvel fans are going to love it!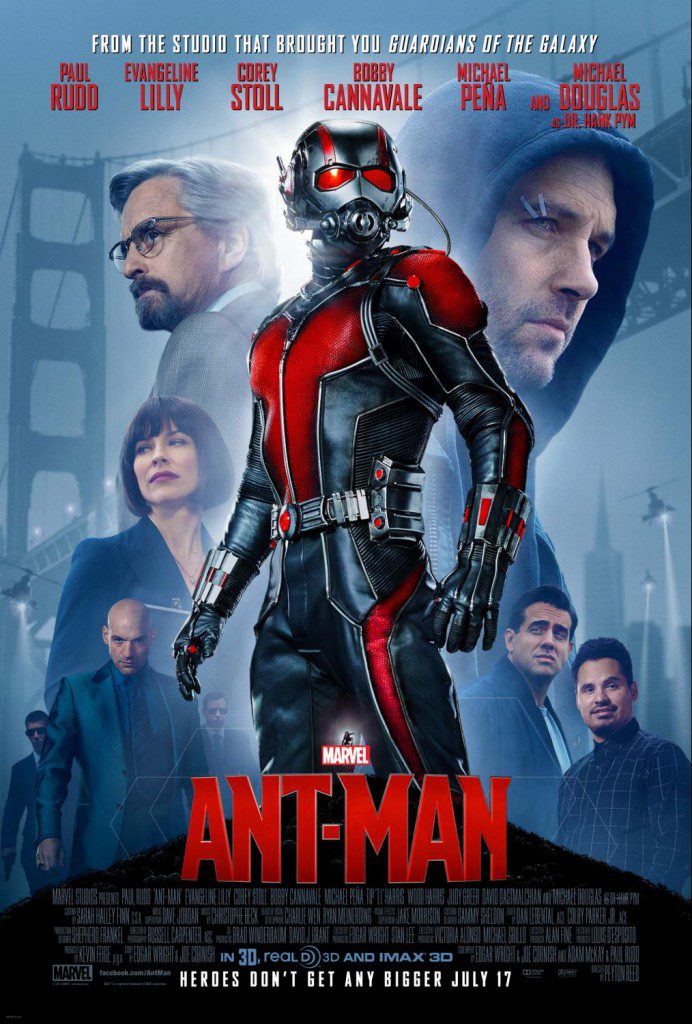 I have so much more to share from my trip to LA for the Ant-Man press junket.  Follow me along on Twitter, Facebook and Instagram with #AntManEvent and on the following social media channels:
Like ANT-MAN on Facebook: https://www.facebook.com/antman
Follow ANT-MAN on Twitter: https://twitter.com/antman
Visit the official ANT-MAN site: http://marvel.com/antman