Disclosure: I received an all expense paid trip to Los Angeles California for the #TomorrowlandEvent. All opinions are my own and were not swayed by any outside sources!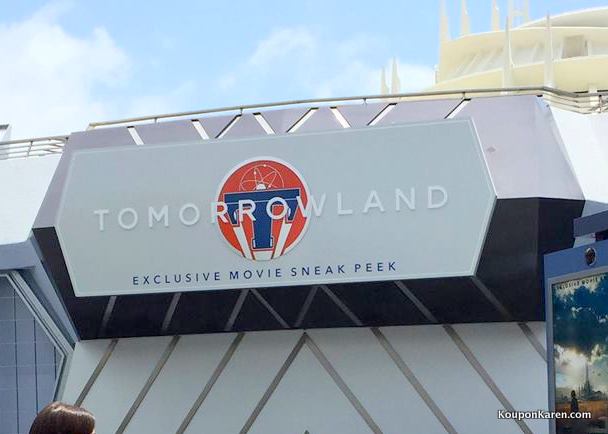 Today I'm going to share with you Exclusive TOMORROWLAND Sneak Peek that you can find in the Disney Parks along with some inspiration for the film and props that were used in filming TOMORROWLAND.
Being an East Coast girl, Disney World in Florida is our family's vacation destination.  We've been many times.  And we LOVE it there!  That being said, I've always wanted to go to Disneyland in California and figured someday we'd take the trek across to the other side of the country with the kids to go to Disneyland.
Little did I know, I would get there sooner rather than later and without my family.  Last month when I was invited to the #TomorrowlandEvent in LA, part of the trip included a day in Disneyland along with an Exclusive TOMORROWLAND Sneak Peek.  Of course we'd go to Disneyland too because there is a Tomorrowland in the park and that goes along with the movie.  It totally made sense to me.
My kids weren't very happy but I promised them, we will go to Disneyland some day!
I have to tell you that I was pretty giddy with excitement as we arrived.  I felt like a kid again.  And when they asked those of us that had never been to Disneyland before to raise our hands to receive a pin, I reached up as far as I could because I was proud to wear my "1st Visit to Disneyland" pin all day long!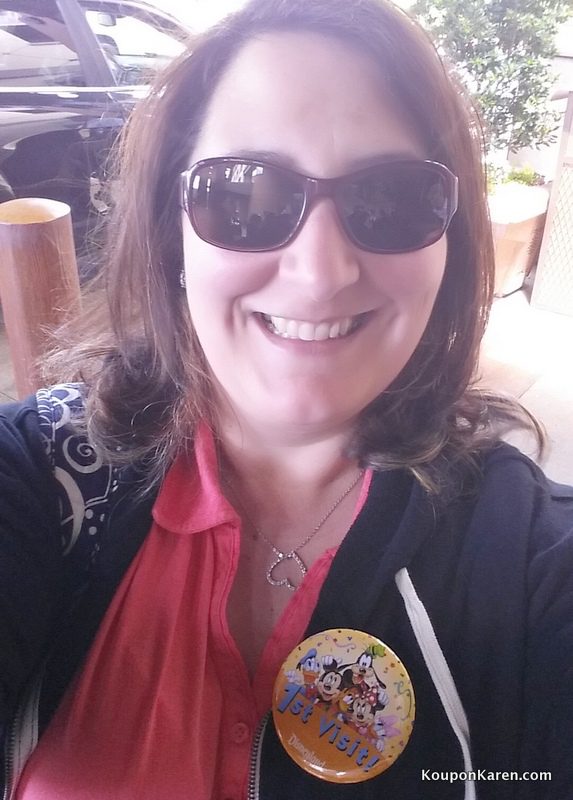 Exclusive TOMORROWLAND Sneak Peek
Before I get too far off topic I want to tell you about the Exclusive TOMORROWLAND Sneak Peek playing in Tomorrowland in Disneyland and Disney World right now.  This 12 minute movie gives you a more in-depth peek of the movie and it begins with a scene from the Worlds Fair with a young Frank Walker (played by Thomas Robinson).  This preview really pulls you into the movie, making you want to see what happens next!  Our group had already viewed the entire movie the night before, and I still wanted to watch more of the movie after this preview!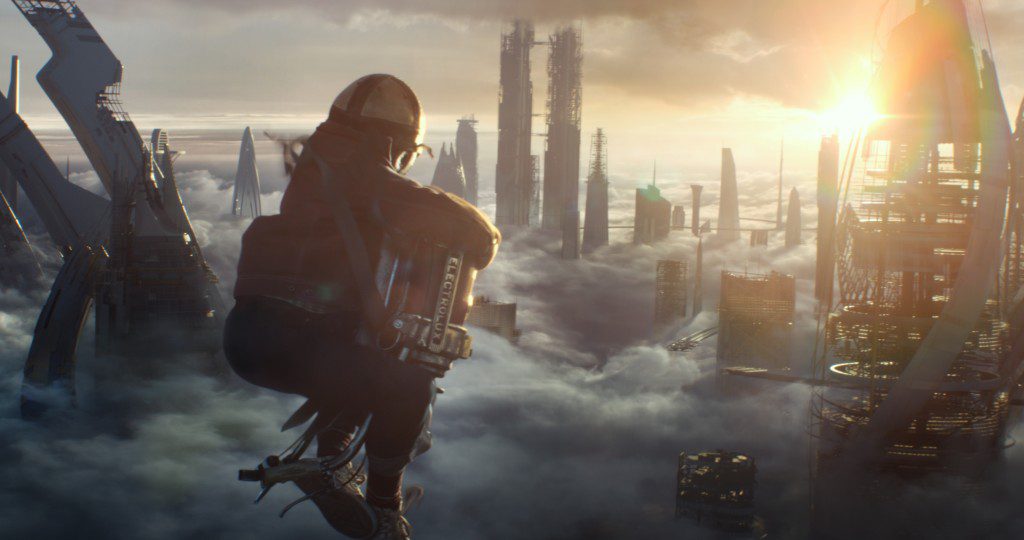 You can find the preview in the Tomorrowland theater at Disneyland right near Space Mountain.  (See it in the background of the picture at the top of the post?)  In true Disney fashion, the walls at the Tomorrowland Theater are covered with  inspiration and artwork from the movie.  There was so much to look at, that once you get inside to see the preview you'll feel like you've seen some of it already!
I snapped some pictures of my favorite things to share with you and you can see them in the video below.  Like I said above, there was so much there and this is only a small piece of it.
TOMORROWLAND Inspiration
This slideshow requires JavaScript.
Then it was time to go into the theater and see the Exclusive TOMORROWLAND Sneak Peek.  I was so ready!  And I felt like I was there inside the screen at Tomorrowland.  Like a lot of attractions in the park, this experience was more than just viewing a portion of the movie.  With the help of Disney magic, you actually feel like you are there because the theater shakes while Frank Walker is zooming around on-screen!  It's really cool!!!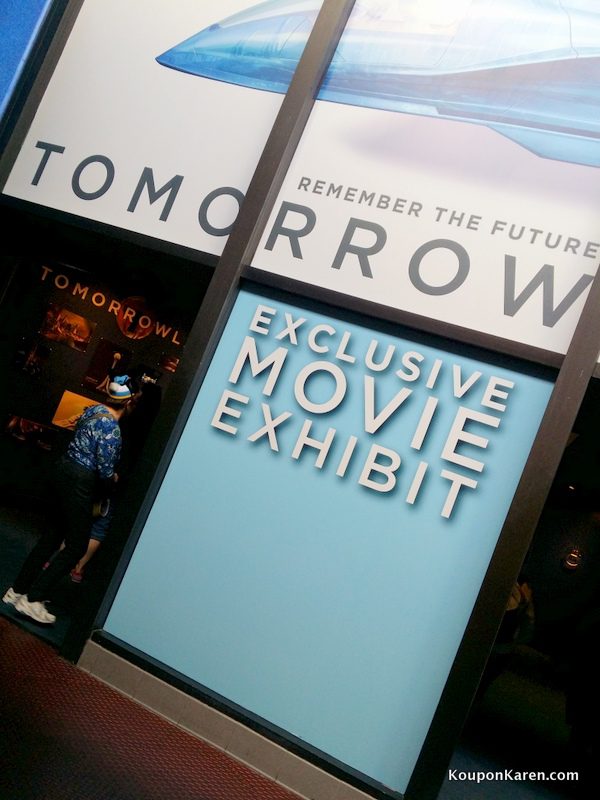 As we exited the theater, we enter the Exclusive Movie Exhibit area where they had props and memorabilia from the movie.  These props were the actual props that were used in the movie and they are already on display!  They sure didn't waste any time!  Take a look at the video below where you can see what I saw!  Lots of sneak peeks from the movie!!!
Tomorrowland Movie Props
This slideshow requires JavaScript.
Trust me, after seeing the collection of images, pictures and artifacts before the preview, then the Exclusive TOMORROWLAND Sneak Peek and then props from the movie, you'll be ready to go see the movie.   And you'll be able to soon.  TOMORROWLAND is in theaters everywhere on May 22, 2015.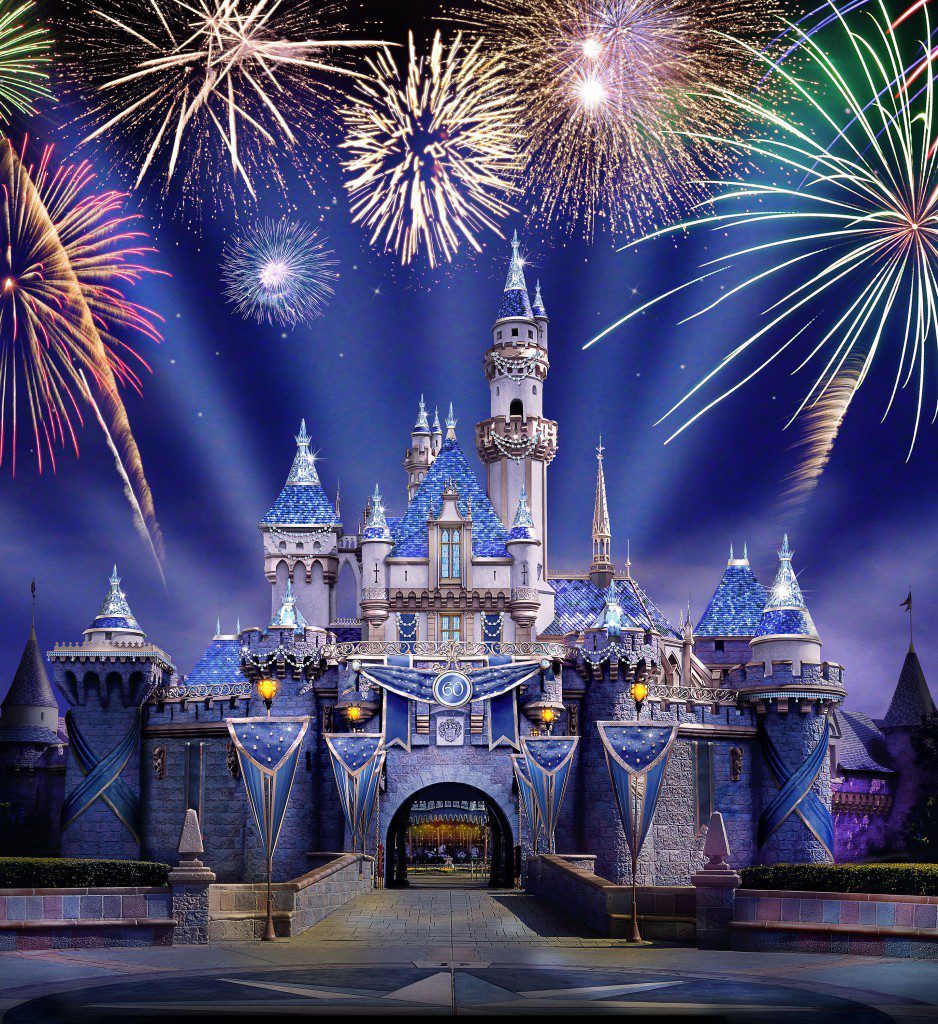 Disneyland Resort Diamond Celebration
Besides the movie release, May 22, 2015 also marks another important day for Disney!  Disneyland is celebrating 60 years of Disney magic with three new nighttime spectaculars, dazzling decor and an exciting sweepstakes that will award authentic diamonds and one-of-a-Nighttime will glitter as never before with three, sensational shows that expand the 60-year tradition of innovative and immersive storytelling: the brilliant, high-energy "Paint the Night" parade and "Disneyland Forever" fireworks spectacular at Disneyland Park, and the all-new  "World of Color – Celebrate! The Wonderful World of Walt Disney" at Disney California  Adventure Park. In "World of Color – Celebrate!," Mickey Mouse and award-winning actor Neil  Patrick Harris will tell the story of Walt Disney and the Happiest Place on Earth with film,  animation, music and spectacular fountains.
The electrifying new shows will premiere during a 24-hour party that inaugurates the Diamond Celebration, from 6 a.m. Friday, May 22, until 6 a.m. Saturday, May 23, 2015, local time.
Additional information about the Disneyland Resort Diamond Celebration will be shared in the coming months at www.Disneyland.com and www.DisneyParksBlog.com, and full official rules for Disneyland Diamond Days will be available at www.Disneyland.com/DiamondDays on May 22, 2015.
If you can't make it to the parks to see xxclusive TOMORROWLAND Sneak Peek, check out the trailer below.
Follow me along on Twitter using the hashtag #TomorrowlandEvent to hear more about my trip to LA, more cast interviews and lots more about the movie.  Also, make sure you:
Like TOMORROWLAND on Facebook
Follow Disney Pictures on Twitter
Visit the official TOMORROWLAND website
TOMORROWLAND opens in theaters everywhere on May 22nd!