This post is Sponsored by FabKids but my opinions are 100% my own!
FabKids has some great new outfits for April and Springtime!!  I love looking through their look book each month and trying to pick some outfits for my girls.  It's such a hard decision each time because there are so many of them that I know my girls would love.  And now they've added shoes on top of everything!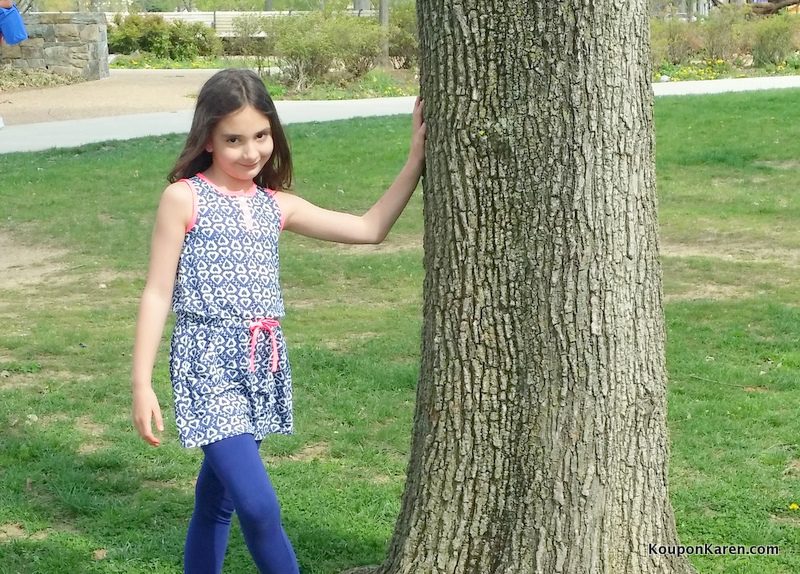 For Spring Break, we headed to Washington D.C. for a few days and the weather was beautiful!  It was the perfect weather for them to wear their new FabKids outfits for Spring along with their cute new shoes!
Allison loved this Navy Ikat Tank dress with matching navy leggings.  It has a cute pretied bow at the waist along with pockets!  The buttons on top work so you can unbutton a few for a different look.   This tank dress is super soft and washes really well!  I took it right out of the dryer and hung it up and it didn't need to be ironed.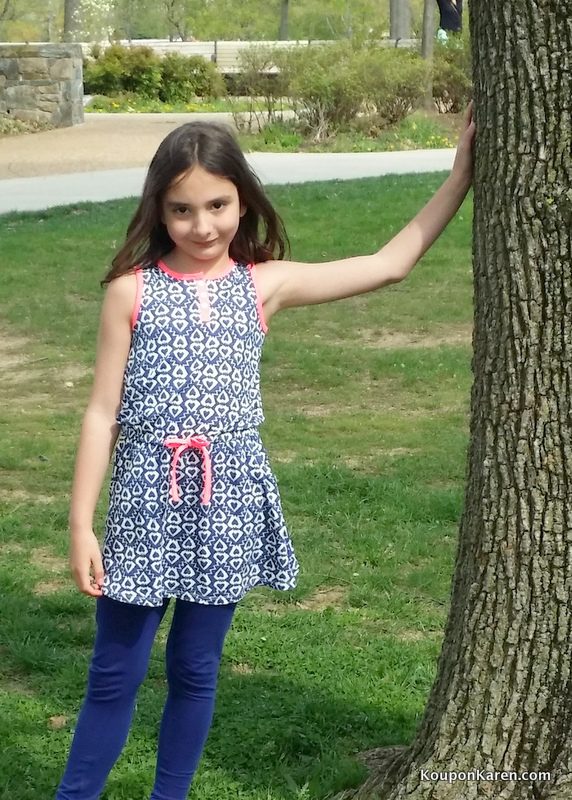 She had a lot of fun posing in this tank dress and I love the way it fits her!  It will also be perfect for wearing over her bathing suit and goes on and off easily.   The heart pattern is a favorite of mine and the color blue is just right with the pink trim.  I'd say this is one of my favorites right now.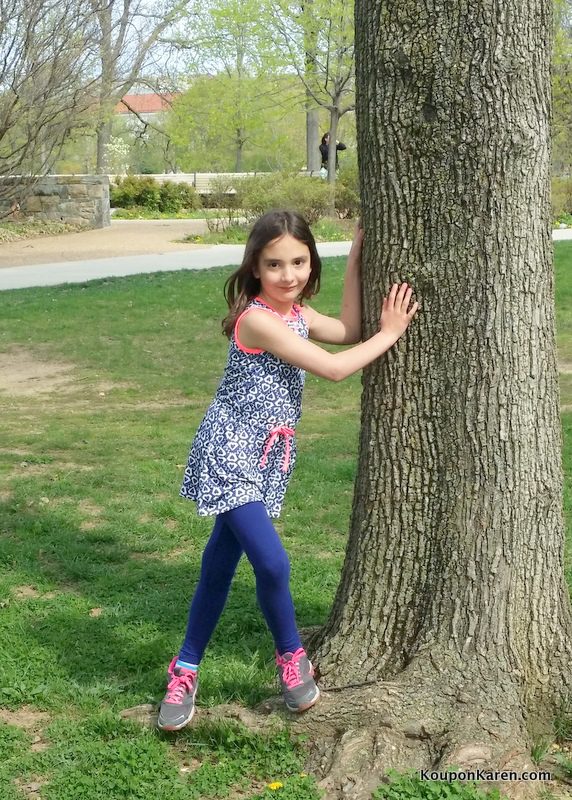 And her's too!  The day she wore this outfit in Washington D.C. we were doing a lot of walking so she didn't wear her new sandals but she did wear them the next day with another FabKids outfit from March!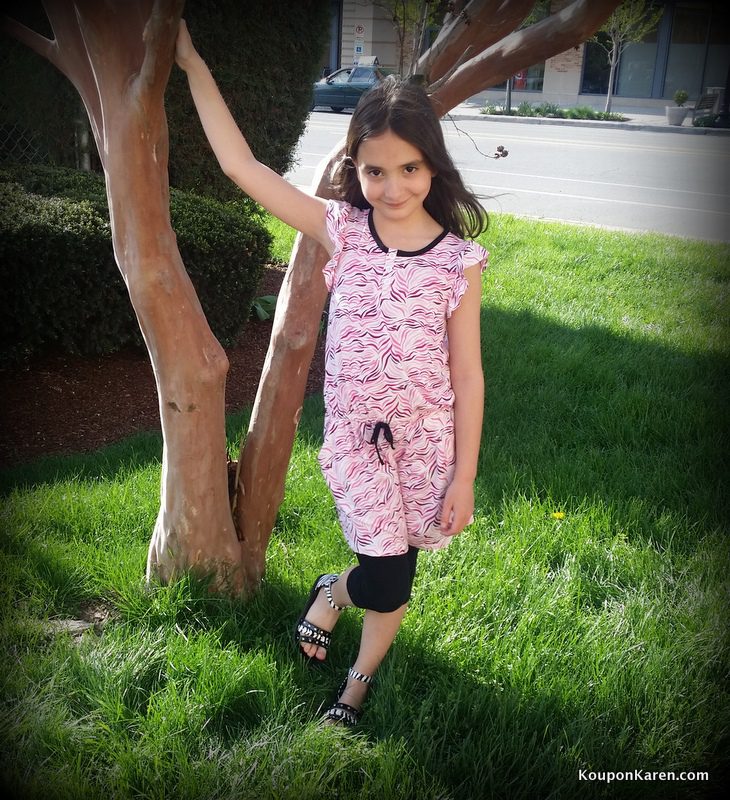 Notice the cute black zebra strappy sandals in the picture above.  She is a total Zebra print girl and absolutely loved the saddles.  They have an adjustable buckle on the ankle and studs along the top.   They are perfect for the spring and the summer and I know she'll be wearing these a lot!
My older daughter Holly picked another fun tank dress in an animal print that she loves!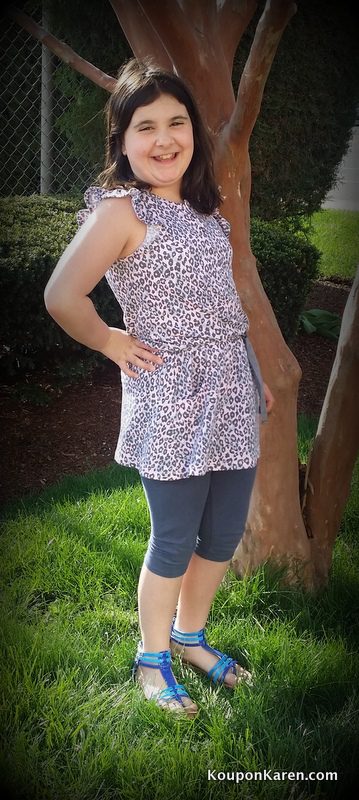 This animal print tank dress is just as fun as the one her sister has!  And it's paired nicely with the slate blue/grey capri leggings.  They are the same amazing quality of the regular leggings and she loves the way they fit slightly under her knee.  Perfect for this time of the year when it's still not quite the right time to wear shorts, but you don't always need long pants.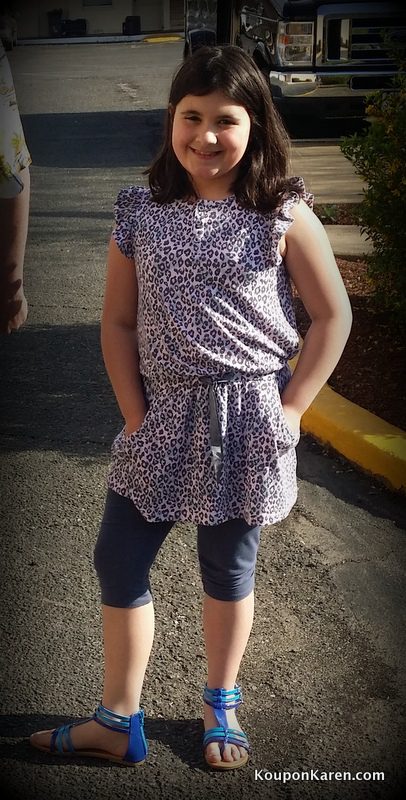 Blue is her favorite color and whenever she gets a chance to pick something out that's blue, she's all over it!  So she was excited when she saw these blue gladiator sandals! The have a zip in the back for easy on and off and the multicolor blue, make them super fun when you are 10!
This is her 2nd pair of sandals and she really loves how they fit her and she is excited to wear them everyday.
There are a lot of great new dresses on the FabKids website and I know you'll find something your daughter will love!  Plus they have boy's clothes now too and they are also super cute… or cool!  Not sure what boys clothes are called when they are nice!  😉
About FabKids
FabKids is JustFab's newest fashion club, started by a team of parents including mom and actress Christina Applegate.  FabKids is a convenient way for busy parents to shop. It's an outfit club — so parents get monthly selections of super affordable, high-quality fashions personalized for their kids.  Every outfit includes 2 pieces for just $29.95– so you can get a fabulous dress, paired with leggings OR a top and a bottom, etc.  FabKids is currently available in sizes 2-12 and All FabKids outfits ship free on all orders over $49.  You have until the 5th of every month to "skip the month" or you will be charged $29.95 on the 6th of the month, which will give you one credit to use on the website. One credit gets you an entire 2-piece outfit!   Outfits come in adorable pink boxes for girls and awesome blue packages for boys!
As you know, I've been a fan of FabKids for a long time and I'm really enjoying these monthly looks!  Right now your first outfit at FabKids is only $15.00 + FREE Shipping!  They have tons of cute clothes and my girls love them all!  If you are a regular reader of my blog, then you know this and hopefully enjoy our picks each month from FabKids.
FabKids sizes run from x-small to x-large and I find them pretty true to size.  The leggings have a nice length to them and since they fit snug,  they don't look too long.   The colors are bright and they don't fad when washed.   There are also great options for boys each month so be sure to check them out!
Shop FabKids for Fashionable Clothes
Check out FabKids today.  You'll get a 2 piece outfit for only $15.00 + FREE Shipping!
See all of our FabKids outfits HERE.
Disclosure: I received a Free product for review. My opinions are 100% mine.