"I participated in an Influencer Activation on behalf of Influence Central for Folgers. I received product samples to facilitate my review and a promotional item to thank me for my participation."
I will be the first person to admit that I am not a morning person.   My family knows this too.  They don't like it but what can you do.  We all have our best times of the day and our worst times of the day.  My worst is first thing in the morning and my best is mid afternoon.  The rest is all in between!
Unfortunately, like most of you, I can't avoid the early mornings.  While my commute to work isn't very long (my office is at  home!),  my kids go to school so I must be up and ready to help them start their day off right.  My girls are 10 and 8 and are very capable of getting themselves dressed and even making their own breakfast and lunches!  (Yes my children make their own lunches!)  But when it comes to their hair, they need my help every day.  They both have long hair and it's unruly in the morning.  COMPLETELY!   I swear something makes a nest in my youngest girls hair every night while she sleeps.  So I need to be awake, focused and happy when it's time to do her hair otherwise it's a huge battle.  I try to joke with her, talk to her about her day, tell her how cute she is – all while brushing out her hair so she doesn't realize how much it hurts!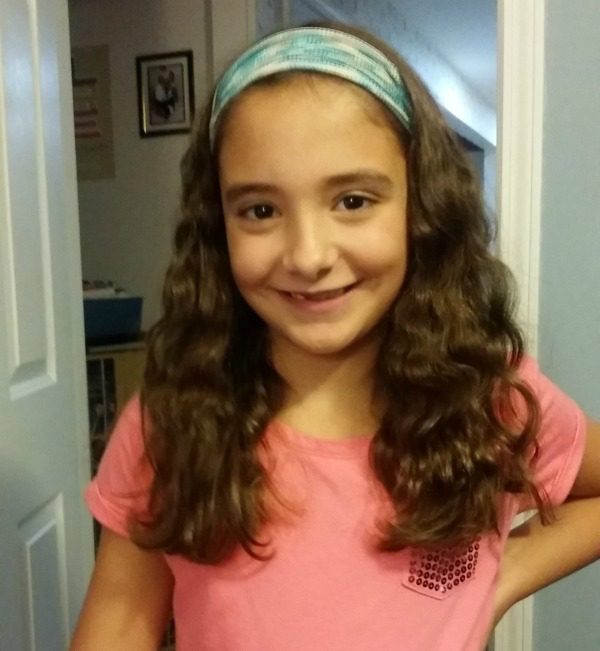 Isn't she adorable though?
Since I'm not a morning person, the happy face I put on doesn't come easy.  In order to get "there" I need to have my cup of coffee first!  And the girls know it.  They see me with my cup, and ask me if I can help with their hair after I'm done with my coffee.  Good girls! 
Having girls is so hard!!!!
Okay back to coffee!  So I love my coffee and I love the first cup straight out of the coffee pot, which is why I love my Keurig!!  I get a hot, fresh cup of coffee every single time.   Coffee is my secret weapon in the morning to get me going and my secret weapon in the afternoon to make it my best part of the day.  You see, I like to sit and have a cup of coffee right before the girls get home from school.  I am usually done with all my work and chores in just enough time to sit and enjoy the quiet time before they come home.  And I love it!
Add some FUN to your Coffee with Folgers Flavors
Sometimes my friends join me for a cup, sometimes it's just me.  But either way I love that time of the day where I have a little me time.   And Folgers now has something that makes that cup of coffee even more enjoyable.  I like my coffee black and unflavored in the morning, but in the afternoon I love to have some flavor to it so it's more like a treat.  When I first heard about Folgers Flavors I knew I wanted to try them because I could flavor my coffee the way I wanted it, when I wanted it!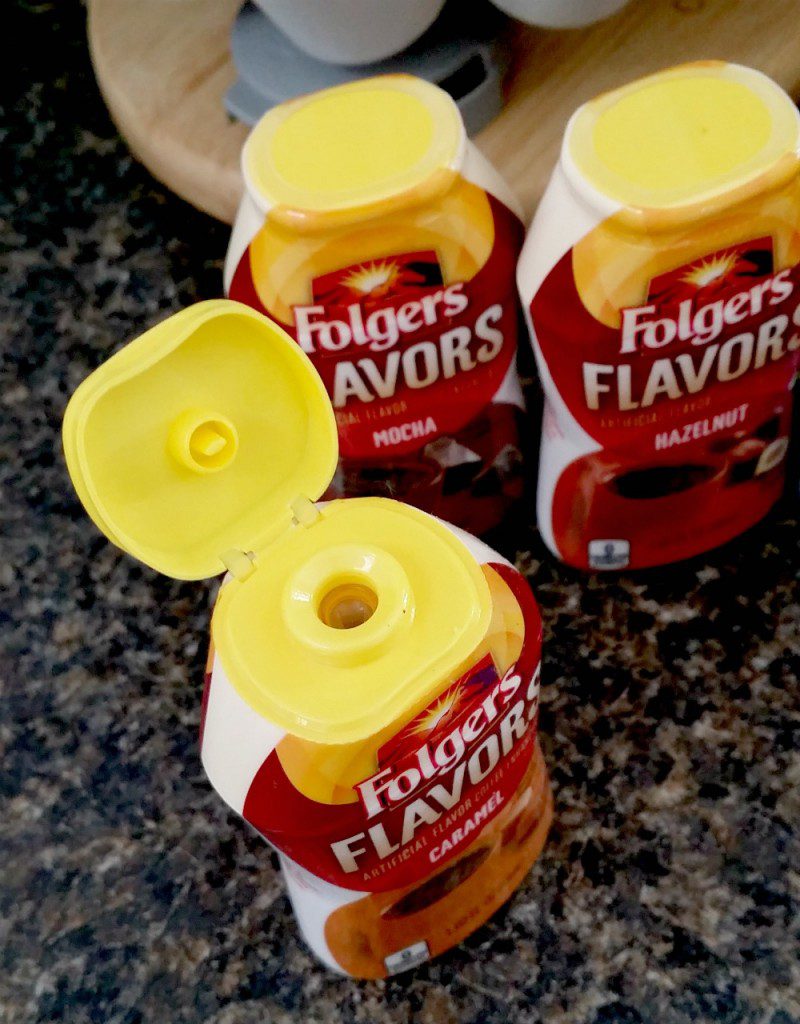 Folgers Flavors are concentrated flavor enhancers that you add to your coffee either at home, or on the go.  If your favorite coffee shop doesn't have the flavor you like most, you can add it using Folgers Flavors.  They come in a little portable squeeze containers that doesn't require refrigeration –  brilliant!   Plus they have all my favorite flavors – Hazelnut, Vanilla, Mocha and Caramel!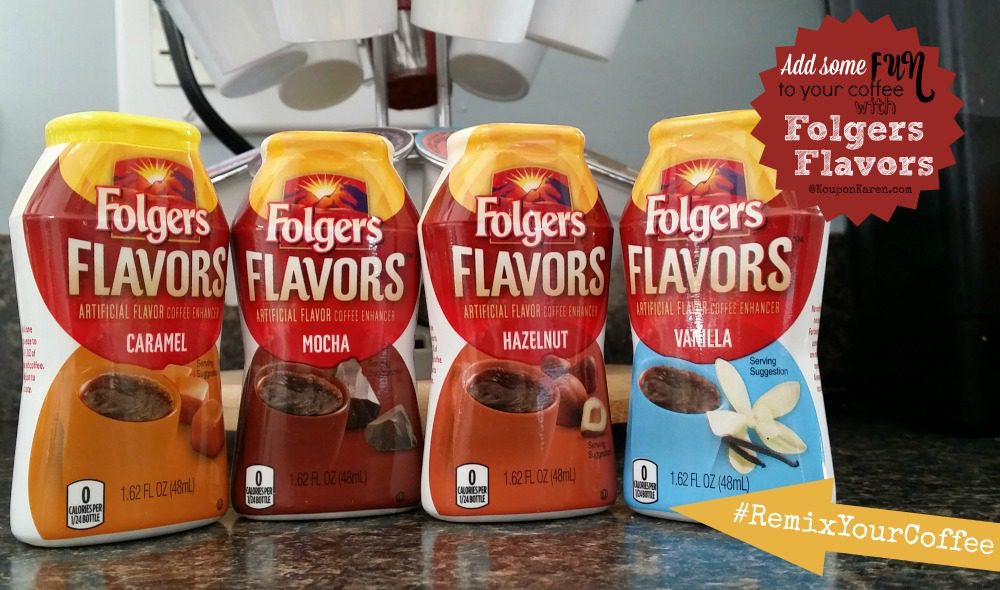 I had the chance to try them all.  My favorite flavor of coffee is Caramel Mocha.  Yes, I love them together.  So it was the first one I tried.   Not having used these Folgers Flavors before, I wasn't sure how much to use.  It really is unique for everyone depending on how much flavor you enjoy.    I added a squeeze of each of them the first time and it was enough.  However, I wanted to see if more would be even better so I added another squeeze of each of them and it was indeed, even better!  The flavor that comes from these little bottles is amazing.  It seriously tasted like it was brewed from flavored beans.  And it smelled amazing.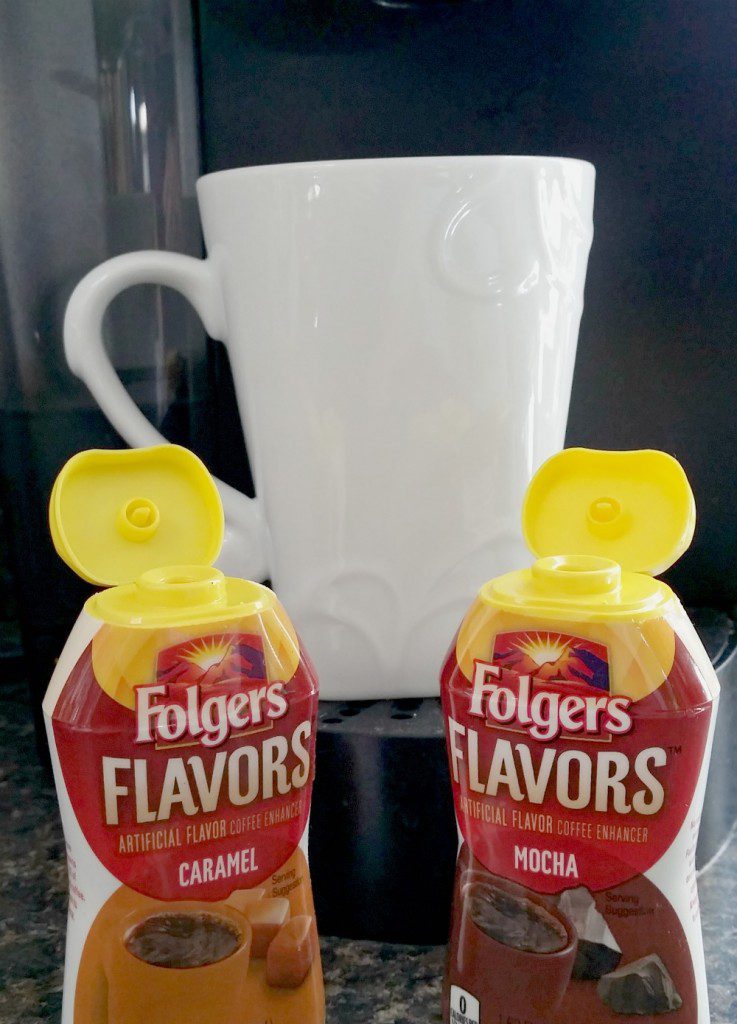 I drink my coffee black so flavored creamers to work for me.  My biggest concern with these drops was if they were creamy, would they give my black coffee, color.  I hate when that happens.  A few of the coffee shops around here don't brew flavored beans.  So if I order a flavored cup of coffee and they add flavor to it, it turns it a different color and I don't like that.  The good news is, that the Folgers Flavors don't disrupt the color of the coffee so if you drink it black, it stays black!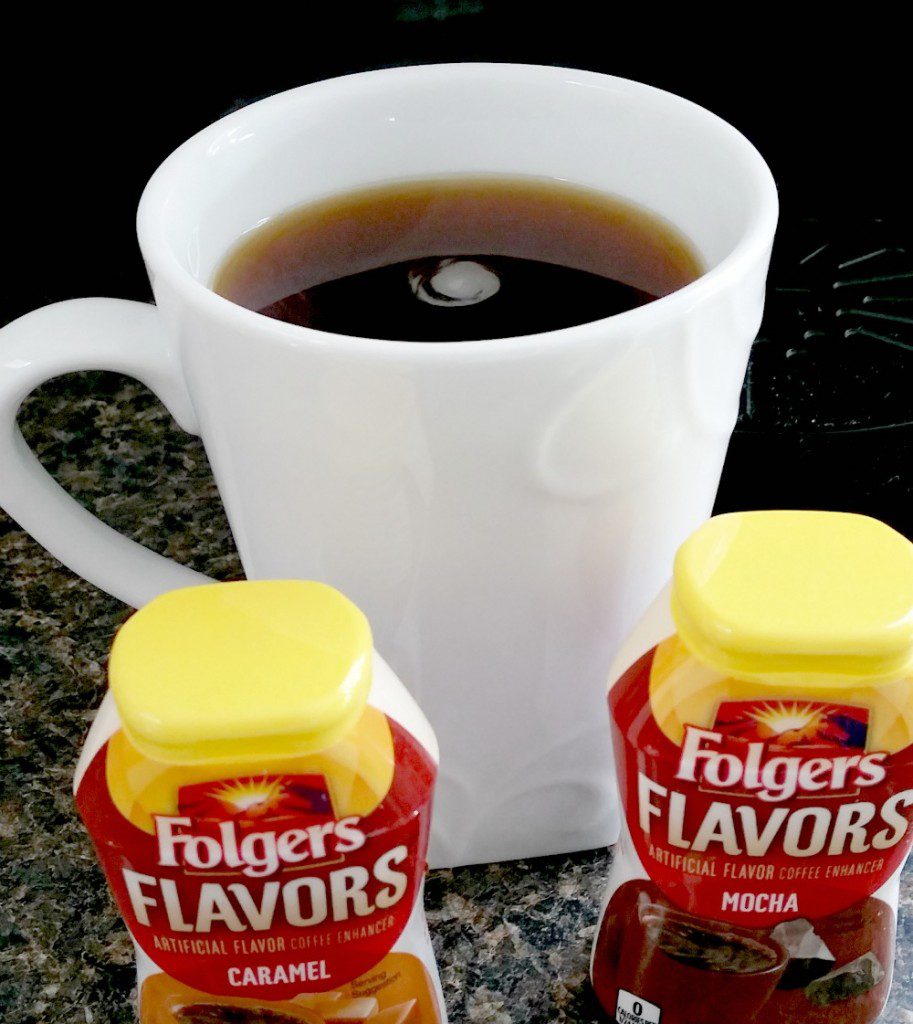 I am not sure if I'll ever buy flavored coffee again.  I may just stick to my Folgers Flavors for my afternoon coffee treat.  What do you guys think? Will you #RemixYourCoffee with Folgers Flavors?
YouTube sensation Mike Tompkins has put his unique spin on the iconic Folgers jingle and created an original a capella Folgers remix mash-up.  Check it out below…
For more information be sure to follow Folgers on Facebook and Folgers on Twitter.
Enter to win Folgers Flavors!
Want to try these? To enter, leave me a comment below for your chance to Win 2 samples of Folgers Flavors. Tell me what your favorite flavor of coffee is and what time of day do you enjoy your coffee the most?
For an extra entry tweet the phrase below and then leave me a link to your tweet.
What do you love to #RemixYourCoffee with? Tell @KouponKaren here –> http://wp.me/pMKCI-xwF for a chance to win Folgers Flavors.
This giveaway is open to US residents 18 years or older and will only be open for 48 hours.  Giveaway ends Friday, November 6th at 5pm EST. Contest entrants are only eligible to win once per sweepstake, per household as part of a campaign sponsored by Influence Central.