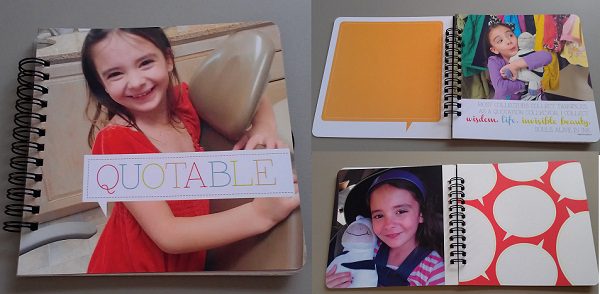 FREE $40 Credit from Paper Coterie = FREE Products
Paper Coterie is offering NEW Customers a FREE $40 credit towards their first purchase!  This is totally FREE money for your purchase.  There are a number of things you can get for FREE with this credit including a couple of  Quotable Books for only $12 each.  This is a great book to document some of the cute/funny/silly things your child or children say so you'll always remember them.
My youngest daughter is in love with Zebra's and she has her favorite Zebra named "Eeka". Eeka somehow always makes her way into our conversations, no matter what we are doing. And there is such a place as "Eeka World" and occasionally she'll tell us how things work in Eeka world. She has such a GREAT imagination and I want to capture this because there is no way she is going to believe me as she gets older that any of this exists. So I made a book with pictures of her and her Zebra things and I'm going to write all the things she says about Eeka and Eeka world so someday we can look back and enjoy it.
Here is how to get your FREE $40 credit….
Here is what you do….
Head on over to Paper Coterie and open an account.
Create a project

Use coupon code Welcome2012 at check out and you'll receive a $40 credit.
Place your order, that's it!
Let me know what you make!