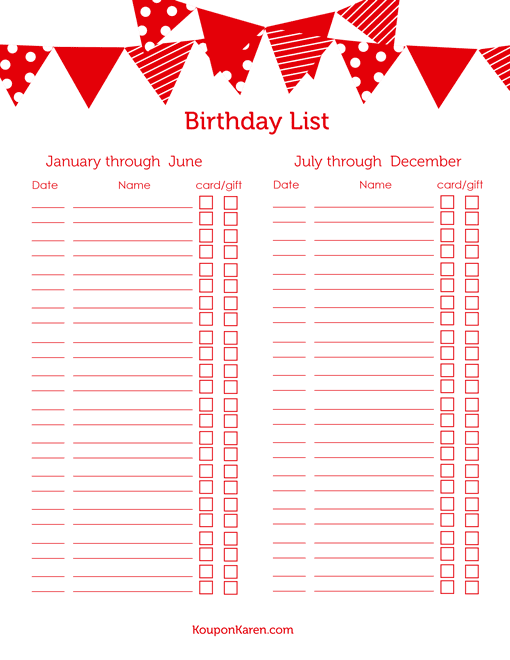 FREE Printable Birthday List
This year is all about staying organized for me!  I may have said that in 2013 too, but this time I'm getting closer!  I've spent the past year preparing to get organized with ideas and I've started and now this year it's all going to get done.
One thing I never, ever remember is Birthdays!  Well, of course I remember my closest family and friends Birthday's but I have many other friends that I'd love to at least drop a card in the mail to for their special days.  This Birthday List Worksheet will help me to do exactly that.  And I'm sharing it with you so you also can be sure to send those you love either a special card or gift on their birthday.
I suggest once you complete the list make a copy of it.  Leave one copy inside your address book this way you have all your addresses handy for mailing cards.   And then keep another copy with you whenever you are out shopping in case you find a great deal for someone on your list.  By seeking out deals through out the year, you could possibly save about 50% off your Birthday gift budget!   Once I purchase a card and/or a present, I can check them off!
How can you save 50% off gifts?
If you know what you need to buy or who you need to purchase a gift for, you can shop early when you see sales, markdowns or clearance items.   When you combine all those with coupons, discounts or additional offers you'll easily be able to save an average of 50% off all your purchases.   Planning ahead always guarantees that I save at least that if not more.
This worksheet is a PDF file that you can download then print to use —>  Birthday List Worksheet
When you download it you'll notice the print is RED – my favorite color, but set your printer to BLACK & WHITE to save on your color ink.