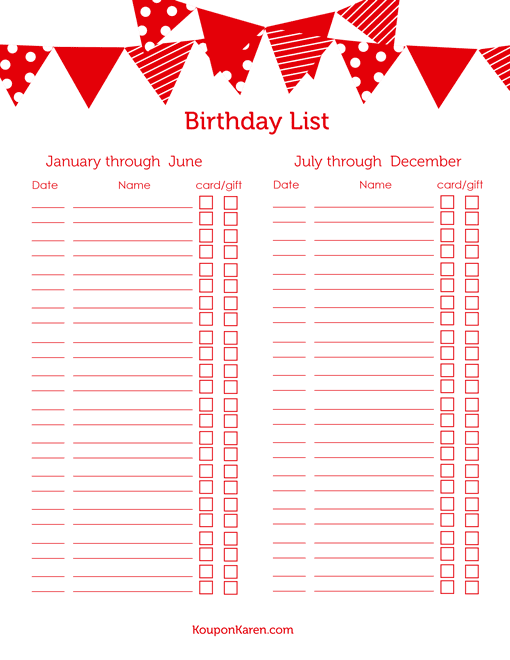 FREE Printable Birthday List
This year is all about staying organized for me!  I may have said that last year too, but this time I'm getting closer!  I've spent the past year preparing to get organized with ideas and I've started and now this year it's all going to get done.
One thing I never, ever remember is Birthdays!  Well, of course, I remember my closest family and friends' Birthday's but I have many other friends that I'd love to at least drop a card in the mail to for their special days.  This Birthday List Worksheet will help me to do exactly that.  And I'm sharing it with you so you also can be sure to send those you love either a special card or gift on their birthday.
I suggest once you complete the list make a copy of it.  Leave one copy inside your address book this way you have all your addresses handy for mailing cards.   Keep another copy with you when you are out shopping in case you find a great deal for someone on your list.  By seeking out deals throughout the year, you could possibly save about 50% off your Birthday gift budget!   Once I purchase a card and/or a present, I can check them off!
How Do I Shop For Birthday Gifts?
Buying your loved one a birthday gift may sound like a no-brainer at first glance. However, it actually requires you to put in a lot of thought and effort. While there's no one-size-fits-all gift that everyone will love, here are a few tips that can help you find the perfect gift for a special person, depending on their personality and preferences:
Be a sponsor for their birthday party. If your receiver is throwing their birthday party, you can offer to sponsor the partial expenses of their celebration. Also, you can volunteer to purchase materials and decorations for their cake, food, and venue, like these cute 30th birthday cake toppers that any 30-year-old celebrant will truly appreciate.
Look into their hobbies and interests. Every individual has a few hobbies and interests they enjoy engaging in during their free time. Knowing the birthday celebrant personally is important so you can get them a gift aligned to things they love to do. For example, if the receiver loves gaming, you can give them new gaming peripheral. To ensure you get them a more appropriate gift, you can also consider asking them for a wish list.
Make it memorable. You can never go wrong with going back to the celebrant's past and giving them a physical representation of that memory. For instance, you can have their childhood picture painted by a professional.
Get a gift card or certificate. If you're uncertain about finding the right gift, and you're worried about wasting your money, consider giving your loved one a gift certificate. Since a specific amount is already pre-set for their shopping, they'll have the freedom to choose their own gift. Preferably, get a gift card that your receiver can redeem online to avoid inconvenience.
How can you save 50% off gifts?
If you know who you need to shop for, you can shop for sales, markdowns, or clearance items.   When you combine sales with coupons, discounts, or additional offers you'll easily be able to save.  You'll possibly even save an average of 50% off all your purchases.   Planning ahead always guarantees that I save at least that if not more.
This worksheet is a PDF file that you can download then print to use —>  Birthday List Worksheet
When you download it you'll notice the print is RED – my favorite color but set your printer to BLACK & WHITE to save on your color ink.