This is a Sponsored Post written by me on behalf of Linens 'N Things. All opinions are 100% mine.
I am really big on getting Free Shipping when I shop online otherwise I consider it in the price of what I'm buying.  It may not be a good deal if you have to pay a lot for shipping.  However, I hate when you have to spend a lot to get the Free shipping.  That's not always practical if you don't need much.  It would probably cost less to drive to the store then to pay the shipping.
So when an online store offers Free shipping with a low minimum purchase, I'm all over that!
Now through June 1st, you will receive FREE Shipping on orders over $26.00 at Linens 'N Things when you use coupon code MOMBLOG.  This coupon code is exclusive to bloggers and their readers.  It's not advertised on the site!!  $26.00 is a perfect amount because I can easily hit that limit and not break my budget.  Linens 'N Things has so many items for the home such as bedding, bath, home decor and not to mention a lot for outdoors and gifts too.
I  like to keep a lot of twin sheet sets on hand since both my girls have twin beds.  There is nothing worse then when they are sick and I run out of sheets in the middle of the night and the washer can't go fast enough.   I love these cute Laura Ashley cupcake sheets: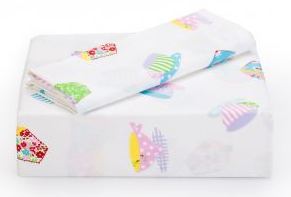 The twin set is only $29.99 and since it's over $26.00 I'll get FREE Shipping!  I know the girls will love these.
Have you purchased from Linens 'N Things?  If not would you take advantage of this FREE Shipping code?
This offer expires June 1, 2010.