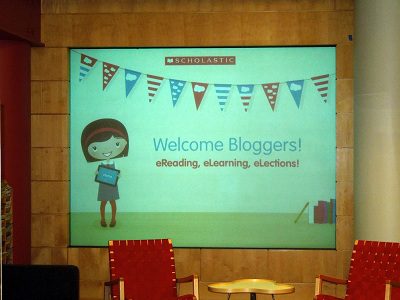 While in NYC last week for BlogHer, I was invited to the Scholastic headquarters for breakfast and a presentation of a new app they have to help kids with reading.  I received the invite last-minute because a spot opened up so I didn't have a chance to play with it before the breakfast so it was all new to me.
And I loved it!
It's called Storia, it's FREE and it's available for download on the iPad and on PC.  That's all for now but they are working on other devices soon.  You also get 5 FREE books when you download it.  You don't get to choose the books – everyone gets the same 5 but they are good books and my girls have been enjoying them this week. You can then purchase more books from the Scholastic Store online to add to your library and lots of them are very affordable.
The stories are interactive and your child can either read them herself or have them read to her.  When they are read to her the words they are saying are highlighted as the story goes on.  I think this is great for those children learning to read or having trouble pronouncing words.   My youngest is heading to Kindergarten in a couple of weeks and she loves seeing the words that are being read.  It will definitely help her read better.
As a parent you know exactly what your children are doing within the app.  You can create libraries for your children so you can follow along.  You can see how long they've read the books, what words they've looked up in the dictionary (a feature my 7-year-old loves) and how many interactions they've done.  You can also move the books between libraries if you'd like.   So if you have smaller children, as they grow you can move the books from your older children's library to theirs.  I love that part!
There are so many ways to use Storia to help children read.  While at the breakfast we listened to a presentation by Christy Crawford who is a technology teacher at P.S. 51 (The Bronx New School) and she shared these for great ways to use Storia:
1.     To assist a multilingual child or late reader – Christy's own son had trouble with his speech, and the read-aloud function of Storia helps kids connect the words with the sounds.
2.     As a motivator for reluctant readers – the one-on-one interaction of Storia gives reluctant readers who may be embarrassed to participate in class the confidence to read on their own. Christy used to bring dogs into the classroom for the students to read to, but now they read with Storia!
3.     As a personal tutor – Reading comprehension games and questions throughout the text quiz your reader as they go along. PLUS the parent controls allow you to see how long your child has spent reading, which words they looked up, and which books they read the most.
4.     To get your kids to beg for more non-fiction – Storia recently partnered with National Geographic to offer a greater selection of non-fiction titles for all ages. Plus, videos bring the text to life and get kids excited about reading non-fiction!
Storia can be downloaded for free at www.scholastic.com/storia, and remember you receive 5 free eBooks to get you started!
If you try it out let me know what you think!