This post is Sponsored by Dunkin Donuts but my opinions are 100% my own!
Dunkin' Donuts now has French Vanilla and Hazelnut Swirl!  I love Dunkin' Donuts.  I have for a very long time.  I think the first coffee I drank was from Dunkin' Donuts!!!  And they have so many great choices, more than they had when I was growing up.  I think back then all you could get was regular and decaf.  And maybe Ice coffee in the summer?  Not even sure they offered it in the winter.  And to eat, they had donuts and I think I remember maybe croissant sandwiches.  But that's about it.  Now?  There are so many options and they keep adding to them.
French Vanilla and Hazelnut Swirl now at Dunkin' Donuts
And they are at it again with their newest editions to their Swirl family!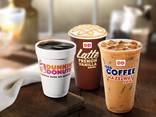 This August, Dunkin' Donuts introduced some delicious new menu items – French Vanilla and Hazelnut Swirl at Dunkin' Donuts for coffee beverages.  I recently fell in love with their Swirl flavors in my iced coffee and now I'm really excited about these two flavors, especially French Vanilla!
Have you tried the French Vanilla and Hazelnut Swirl yet?  If you haven't, you have time because the French Vanilla and Hazelnut Swirl are permanent additions to the Dunkin' Donuts' coffee menu.  You now have even more options to customize your coffee the way you like it most.  Or try something new.  These rich and creamy flavor swirls can be added to Dunkin' Donuts' hot and iced coffee, lattes or Frozen Coffee Coolattas to create a sweeter, more indulgent beverage. Other flavor swirls currently available include Caramel and Mocha – and I love those two together!
In honor of the new French Vanilla and Hazelnut Swirl, I have a special Dunkin' Donuts gift package to giveaway to one lucky reader!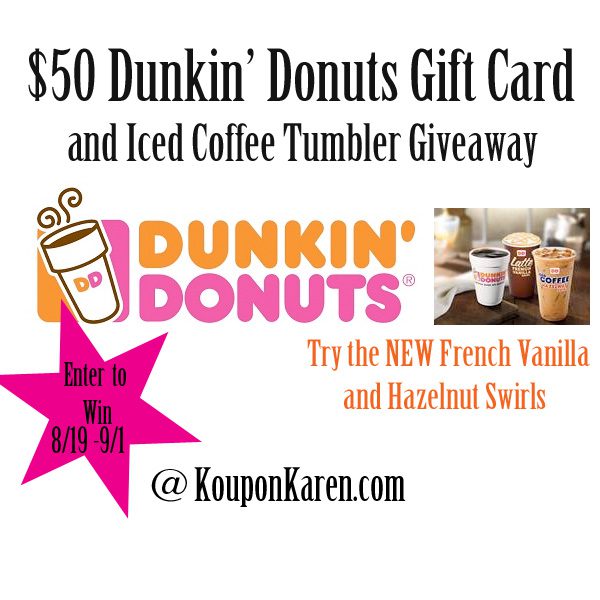 (1) Koupon Karen reader will win a $50 Dunkin' Donuts card and  and Iced Coffee Tumbler!
To enter the giveaway, use the Giveaway Tools widget below. Email and feed subscribers will need to click-through to the site to enter the giveaway.
As a reminder, comments left on Facebook or Twitter will not be included. You must follow the instructions on the widget about the proper way to enter. Of course Facebook is in no way associated with this giveaway!
If you are looking for more giveaways, be sure to follow my Fun Giveaways Pinterest board!
Disclosure: I received a Free product for review. My opinions are 100% mine.