Shopping on a budget for your significant other can be difficult, but these 100 Free Or Frugal Christmas Gifts For Your Spouse are fun ways to give them something that doesn't cost much or anything at all.  Many gifts are simply given of your time and effort, and those often mean more to your spouse than anything else.  Other small items on this list can be purchased for under $5-$10 and thus are easier to manage on a budget.  Even if you only give them a few items this year, the thought behind your gift is what counts.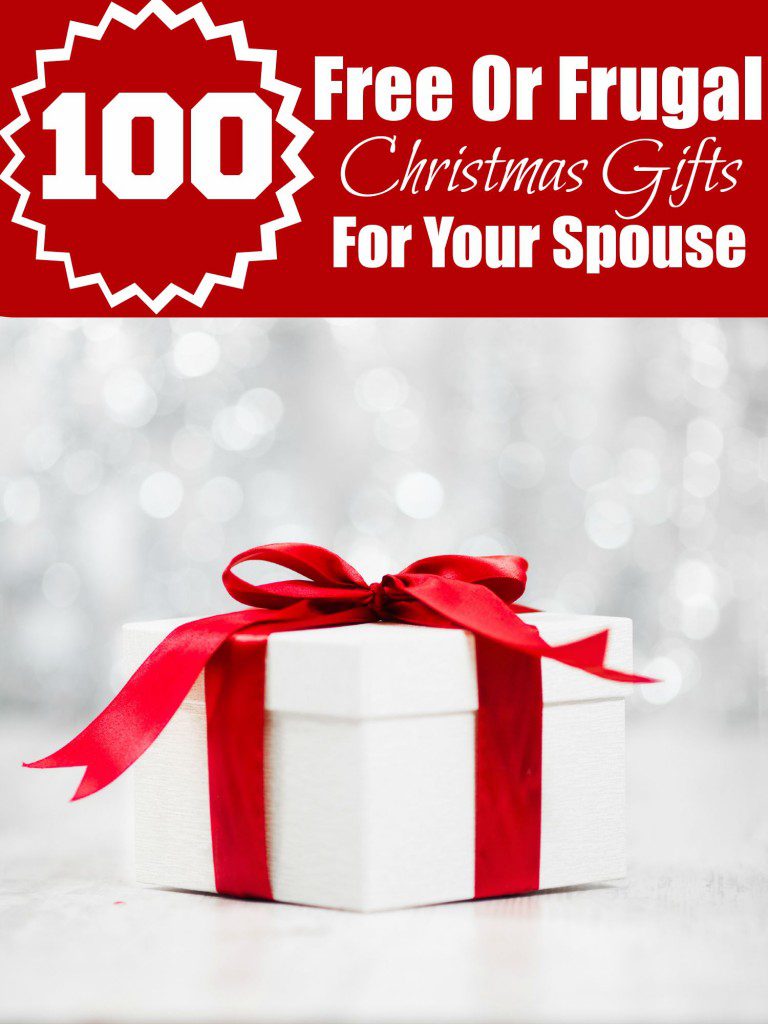 100 Free Or Frugal Christmas Gifts For Your Spouse
This list of free or frugal Christmas Gifts For Your Spouse includes tons of items that are easy to make, do or buy for that person you love.  From the handmade products to the cute custom mug or puzzle, this list has a ton of options to give as gifts that are under the $5-$10 frugal gift range.
Give them a massage.
Give them a manicure or pedicure.
Make them a "mixtape" of your favorite songs.
Watch their favorite movie.
Take them out for dessert.
A new key chain.
Lip Balm.
Fun magnets
Business card holders (for their desk or wallet)
Sewing kit (Small for emergencies for their desk/bag)
Hand lotion.
Desk calendar.
Wall calendar.
Coupon Booklet for free time, diaper duty, laundry duty, their favorite meal, etc.
Intimacy without question or complaint.
Photo collage or scrapbook.
Video memories of kids.
Cook their favorite meal.
Make homemade bath products, beard oils, lotions, or lip balms.
New tech gloves.
Inexpensive battery phone chargers.
A novelty wallet
Stationary
Custom cup sleeve (think coozie for hot travel mug)
Fun hats (homemade knitted or inexpensive novelty)
Paperweights for the desk (collectible pieces are often inexpensive)
Jewelry: earrings, necklaces, bracelets, pins
Favorite brand of pen or pencil for their desk.
Ebooks for their Kindle or eReader
New personalized travel mug
Hair accessories (headbands, barrettes, clips)
Their favorite candy
Earbuds
Sunglasses
A book of poetry
A handwritten book of love letters.  One for every day of the year.
Wash, wax, and detail their car.
Run a bubble bath with candles and soft music.
Give them a foot massage.
Rent a chick flick or action movie and watch it at home with them.
Take romantic pictures.  They don't have to be nude, but provocative pictures of yourself to share with your spouse can be a great gift.
Record yourself singing your song.
Create a scrapbook of your relationship thus far.
Make a bacon bouquet (cook bacon in the shape of roses on skewers and serve).
Make a gift basket for their hobby.  Include items that help with their craft or hobby and notes giving them free time to do a project.
Colorful Umbrella
Paint, sculpt, build, or craft a gift.
A new lunch box.  There are dozens of inexpensive ones to choose from on Amazon.
A new bag, tote, or purse.  Check out Amazon as well as local vintage, thrift, or discount stores.
A jar of date ideas.  Create one date night idea for each week of the year.
An indoor picnic.
Fast food gift cards.
Unique Picture Frame.
Purse holder (fun hooks that sit on edge of the table to keep purse off the floor)
Pocket-sized perfume or cologne (often generic scents are under $5 at retail stores, or even come free with purchase at some locations)
Fun flashlight.
Homemade custom coasters (use small pieces of tile, sharpies, and a sealer for an easy custom set).
Homemade hand warmers for their pockets.
Start their car on cold mornings.
Buy them a website domain for their dream job, hobby, or career. (Often only $.99 on GoDaddy)
Frame their favorite quote, scripture, or poem.
Preserve their treasures in a shadowbox.  (Movie or concert tickets, photos, and even pieces of clothing from your relationship, childhood, or kid's lives).
Send love emails to a special account for every day of the year.  Tell them to read one per day for the following year.
Emergency/First Aid kit for their desk (include candy and treats)
A manicure set
Makeup bag
Nail polish
Laptop or Tablet bag/cover (discount stores have basic ones for $5-$10 and you can embellish/paint yourself.
Swiss Amy Knife or similar.
Flash drive or SD cards
Candles.
Essential oils for aromatherapy.
A night out at a museum or gallery.
An evening listening to a local band.
Photo mouse pad.
Gourmet coffee or tea.
A potted plant (succulents are often popular year-round)
Bookmarks (homemade or purchased)
Journals and pretty pens.
Research genealogy and create a family tree for them.
Vintage or first edition books.
Mini makeup kit or compact.
Coloring books and crayons (yes for adults!)
Charms for a bracelet.
Personalized photo calendar.
Have friends contribute video messages to create a video of encouragement for them.
Board Games
Fun card games from childhood like Go Fish, Old Maid, and Uno
Custom painted wine glass.
Jigsaw Puzzle
Phone case
Magazine subscription
Yoga mat, resistance bands, or dumbbells (if they have asked or already work out – don't give to someone who doesn't exercise already – they could be offended).
Wine glass charms
A fun memory jar (place strips of paper with memories written on them into a mason jar for them to go through and read when they feel down.)
A book on their wish list (many books are $5-$10 in paperback)
Unique chopsticks for the foodie ($5-$10 on Amazon or World Market for various colors, designs and materials)
Clean something in your home that often bothers them (the junk drawer, the closet, office nook or bookshelf)
A throw blanket or shawl.
Fuzzy socks or slippers
Which one of these Free or Frugal Gifts For Your Spouse do you like most?