Tara Travis is a Stampin Up Demonstrator and she emailed me this really cute and fun Valentine Gift that is good for anyone, but it's also fun to do with the kids.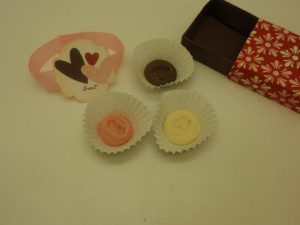 Hand Stamped Chocolate!
Get a bag or two of melting chocolate in the craft aisle and a few cheap UNUSED rubber stamps.  Then follow these simple instructions:
Heat up the top of the chocolate wafer
Tap the stamp on a paper towel with some olive oil
Then put the stamp onto the melted chocolate and leave it there
Put the chocolate and the stamp in the freezer until set, and then remove the stamp!   You can grab some cute, inexpensive packaging  and wrap up the chocolate and give it as gifts!
Visit Tara's Stampin Up Website or her blog Stamp With Tara for more ideas!
Be sure to check out the Valentine Gift Guide for lots of Gifts for Him and Her!