Guest Post by Jennifer Leal from Savoring The Thyme.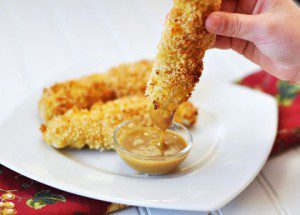 Let's face it, chicken is a budget friendly protein and staple in most American homes but can get dang boring. We all need ways to make it more interesting, stretch our dollars yet not compromise on it being a healthy recipe that the whole family will enjoy.
Below I present some of my healthy favorites and trust me; all of these darlings are so yummy, that your neighbors will be jealous and the kids (and hubster) will be begging for more. Plus, you probably have all the ingredients in your fridge and pantry.
Whether you call them Chicken Fingers or Chicken Tenders, these babies will satisfy kids and grown-ups alike! Two of my favorite recipes below are guaranteed winners!
Classic Honey-Mustard Fingers gets a twist with Panko bread crumbs.
Pretzel Coated Chicken Fingers would most likely cause the kids to squeal with delight.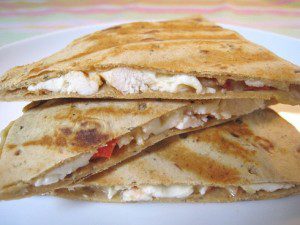 Quesadillas are an item that most kids are more than happy to devour so let's use up the chicken still on the roast and get creative with Chicken and Hummus Quesadillas. This recipe is a great way to introduce hummus into a diet and provide a unique tasty twist. Now, stop rolling your eyes at me as my son is the pickiest ever and I simply said quesadilla and he ate his serving.
Then he asked what was in it.
For more healthy, fun recipes & food related ideas, be sure to join in the conversation on Facebook.
Photo credit: Copyright Jennifer Leal