Jen from Savoring The Thyme is back this week with more delicious frugal recipes that include items that may be on sale at your stores.   All these recipes are featured on her blog, and besides a few guests post – she makes them all herself!   Hope you like her choices and let me know if you make any of them!
This week she is focusing on something that you can hide a lot of nutrition in – homemade pancakes!!.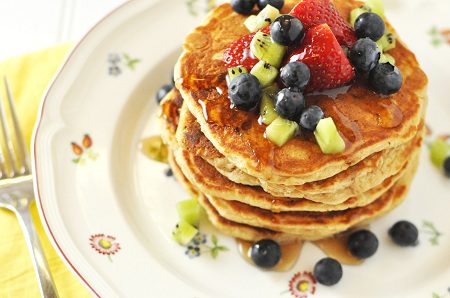 Photo Credit: Jennifer Leal, Savor the Thyme
Let's face it, we all love pancakes on Sunday mornings but they don't offer us much nutritionally speaking. However, we can get a big bang for our nutritional buck yet but still keep the cost at pennies per pancake with these two yummy pancake recipes….
The Best and Most Famous Wheat Germ Pancakes Recipe: Nope, these are not your Grandma's pancakes but they are what children have deemed to be the 'best pancakes ever.
Sweet Potato Pie Pancakes : You aren't dreaming; The title does include both the words pie and pancakes!
Haven't ever used sweet potatoes in a pancake recipe before? No worries, no one will complain.
Pass the syrup please!:
You can also join in the fun and yumminess of the Savor the Thyme Community on Facebook.
Check back next week when Jen brings us more fun and easy frugal recipes to help you plan your shopping trip and keep within your budget!