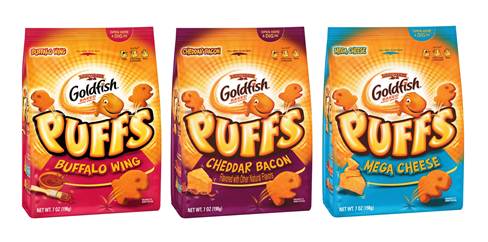 This post is Sponsored by Pepperidge Farm Goldfish but my opinions are 100% my own!
I remember when Goldfish were just made with cheddar cheese and that was it.  Now you can find them in all sorts of cheese varieties and even beyond that.  We love the graham cracker and chocolate ones too!  They are really yummy smashed up and sprinkled on top of ice cream and vanilla yogurt!
Recently I walked past a display of Goldfish Puffs and they caught my eye.  Especially the Buffalo Wing one!  That was a new flavor and I was interested in how they tasted.  But I kept going decided I'd grab them when they were on sale or I had a coupon for them.  I just can't change the way I think even for a new product that I want to try.
So needless to say when I was contacted by a Pepperidge Farm PR rep asking if we'd like to sample all three variety's of Goldfish Puffs, I was more than happy to say yes.  This was another item I new my family would enjoy just as much as me.  But what I loved even more is that they are Gluten Free!  There are so many people with food allergies, gluten being one, that I'm happy to see so many products that are available for those people.  Its frustrating enough shopping for picky eaters but then add in a food allergy and it's 10x's harder.
About Goldfish Puffs

A flavor-packed snack option (perfect for teens!) and the Goldfish brand's first gluten-free offering. These bigger and bolder Goldfish-shaped bites – available in tasty Buffalo Wing, Cheddar Bacon, and Mega Cheese varieties – provide an amped-up snack experience for longtime fans, giving them another reason to continue asking for Goldfish.
They really are much bigger than the tradition Goldfish and while they may have made them for a bigger appetite, my little girls LOVE how big and puffy they are.  We joke that they are eating a puffer fish, not a goldfish.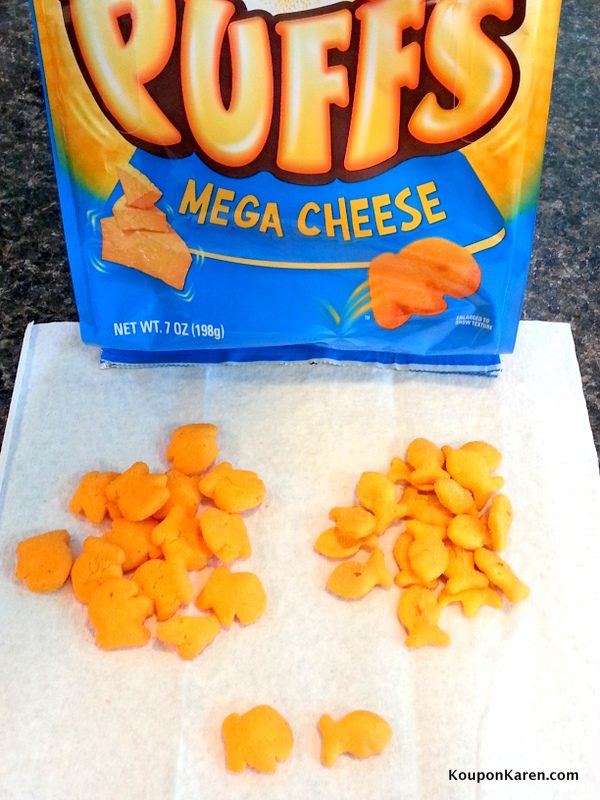 You can see from the image above, the ones on the left are the Goldfish Puffs and the ones on the right are the regular goldfish.  What you can't really see in this picture is how puffy they are which makes them even bigger than the regular ones.
These were packed with flavor and crunch and the kids loved them.   The mega cheese was the favorite among the kids and they had a lot of cheesy flavor.  My favorite was the Buffalo Wing. They were spicy but not too bad.  I love spicy food so these were perfect for me.   We will definitely by buying these again – over and over!
You can find them at your local grocery store for about $2.99 a bag.

(3) Koupon Karen reader's will each win all three varieties of Goldfish Puffs!

To enter the giveaway, use the Giveaway Tools widget below. Email and feed subscribers will need to click through to the site to enter the giveaway.
As a reminder, comments left on Facebook or Twitter will not be included. You must follow the instructions on the widget about the proper way to enter.   Of course Facebook is in no way associated with this giveaway!
Disclosure: I received a Free product for review. My opinions are 100% mine.