Product Name: Master Lock Products
Product Information:  "While Master Lock might not have a physics expert on-hand to help students with their science homework, the company has hired a new specialist on student life to help students safely and securely navigate this school year in style. The Master Mind, a suave and funny college grad, will be introduced to fans on the Master Lock® Facebook page beginning July 18 via a humorous online video series in which he, along with his clever Little Sister, will set out to answer students' most frequent, awkward and perplexing questions. Master Lock also invites students and parents to submit their own questions to the Master Mind and participate in a daily sweepstakes through September 16 at www.Facebook.com/MasterLock for a chance to win back-to-school must-haves, including popular Master Lock school and campus security products to help families prepare for the upcoming school year.
Visitors to the Master Lock® Facebook page will also have the opportunity to enter into daily and weekly prize drawings, conducted each weekday from July 18 through September 16. Prizes include back-to-school essentials for any student, such as an iPad®, high-end ear buds, messenger bag or backpack, bank gift cards and Master Lock® security products.
Fans can enter daily, including weekends, and all entrants will automatically be entered in a grand prize sweepstakes for the ultimate back-to-school prize pack valued at $2,500, to be drawn on September 19."
My Thoughts:  I received some Master Lock products for  my review and I was pretty impressed.  It's been a long time since I've used a pad lock and boy have them come a long way.  They sent me three products which I will talk about individually.
But first I want to tell you about the awesome Master Lock website.  You can open up an account and store all your lock combinations on it so if you ever lose them, you can easily retreive them online.  I think this is great for couples because I know my husband never remembers anything I tell him so this would be perfect for him since I know he'd forget what ever combination I made.  It's simple to sign up and you can keep as many as you need in your account.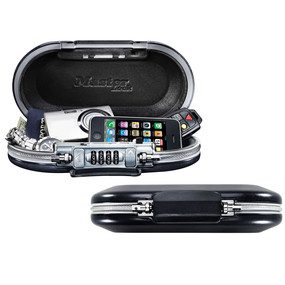 My favorite product that I received is by far the Master Lock Safe Space.  I travel a few times a  year and I'm very nervous about leaving things behind in the hotel room.  Sometimes I lock things in my suitcase but something simpler than that would be nice.  That's where the Master Lock Safe Space comes in.  It's small enough to take with you yet big enough to keep valuables in like your phone, ipod or wallet.  It has a combination lock that's super easy to reset but it also has a cable that allows you to attach it to something stationary before you lock it.  I thought that was the coolest function of all, otherwise someone can just take the safe and blast it open.  But not if they can't take it!  Very cool and I will use this next time I travel for sure!
Product Price: $19.99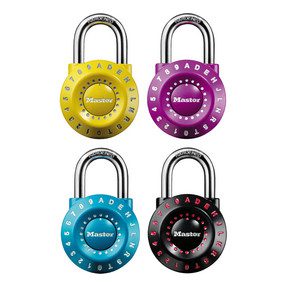 Another product they sent me was the Master Lock Precision Dial in pink.  This looks like a traditional combination lock but it's not because it has numbers and letters that you can use for the combination which is pretty cool!  I think this is so much easier to remember especially for high school students.  And I love how it comes in pink! This lock is also very easy to set because it comes with a reset tool.  You can use numbers, letters or a combination of both for the lock combination.  You can even make up a word for the combination.  Pretty cool!
Product Price: $10.95
And the third product they sent me for review completely blew my mind.  It's the absolute coolest thing in the world.  It's the Master Lock Speed Dial.  I was a little puzzled at first because there was no numbers on the lock, just arrows.  But then I began to read the instructions and realized that not only were there no numbers, but the dial moved back and forth and up and down which was the reason for the arrows.  How cool is that?
That means the combination isn't numbers or letters, it's movement.  I've never heard of anything like it.  Maybe I live under a shell, I don't know but I love it.  The combination can be set to any number of movements in any sequence and it can even be used with one hand.  It also has matching passcode indicators (letters, numbers, colors, shapes, symbols) included for added customization.  You just put them over arrows to help you remember the sequence.
Product Price: $13.39
WIN IT
(1) LUCKY Koupon Karen reader will win a prize pack from Master Mind which includes the The Speed Dial, The Precision Dial and The SafeSpace.
Entry is simple! You just need to answer the question below by leaving a comment on this site! You can even gain up to 4 bonus entries for doing each additional item listed (just make sure that you leave one entry for each one — up to a total of 5 comments). As a reminder, comments left on Facebook, Twitter or other posts will not be included.
REQUIRED ENTRY
Leave a comment.  Tell me what your favorite Master Lock product?
BONUS ENTRIES:
1. Follow @KouponKaren on twitter and tweet the following "I entered to #win Master Lock Prize Pack @KouponKaren and you can too! https://wp.me/pMKCI-9oS"
2. "Like" Koupon Karen on Facebook
3. Comment on any other post on my blog (giveaway posts don't count) then come back here and let me know what post you commented on.
4.  Sign up to receive Koupon Karen daily emails or add me to your favorite reader.
Details: This giveaway is open to US Residents and will remain open until September 20th at 11:59 p.m. EST . Any comments left after this time will not be counted. The winner will be selected randomly and will be notified via email and will have 48 hours to claim their prize.
Disclosure: I received the same prize as the winner for review. My opinions are 100% mine.