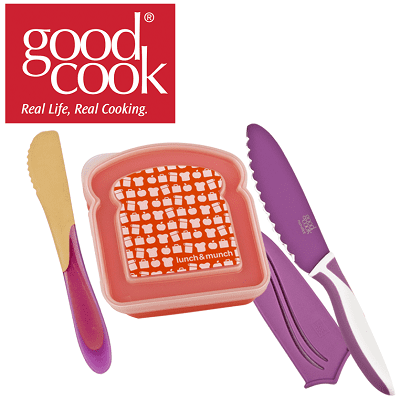 Product Name: Good Cook PB&J Spreader, Sandwich Knife and Sandwich Keeper
PB&J Spreader –  Peanut butter and jelly sandwiches are now more fun than ever with this spreader especially made for it! Make the perfect PB&J sandwich with this dual-sided spreader. The spreader features a silicone side for spreading on the jelly and a plastic side with a serrated edge for smoothing on the peanut butter and cutting the sandwiches in half.
Color-coded ends prevent mixing contents in jars
All-in-one tool reduces washing multiple utensils
Easy to use and safe for kids
Sandwich Knife – Cut through a hearty loaf of bread and spread on the mustard with this sandwich knife; it's the perfect knife for sandwich making. Serrated edge effortlessly cuts tomatoes, lettuce, or cheese. The wide blade surface is great for spreading condiments while the nonstick coating keeps food particles from sticking.
High carbon steel blade retains sharpness.
Safety sheath helps to protect the blade and keep it sharp.
Soft grip, ergonomic handle for better control even when web.
Size: 5 inches
Sandwich Keeper –  Pack a sandwich for lunch, school, work or picnic in this sandwich box. Save on plastic bags as the stay-shut attached lid and snap closed clasp keep lunch fresh longer. The full-size container can hold a well-stuffed triple-decker club filled with lots of cold-cut meats and veggies.
Durable heavy duty plastic is long lasting and resists breaking or cracking with repeated use.
Reusable container fits most lunch boxes or cooler bags.
Dishwasher Safe.
There is a PB+J Spreader Giveaway on the Good Cook Facebook page Starting today, September 7th until September 12th.  The first 50 people to register  each day at Noon (ET) will win a free Good Cook PB+J Spreader!  Good Cook will be giving away 250 and of the new PB+J Spreaders.
We eat a lot of PB&J in this house – the girls love it!  I like to add a Banana to my Peanut Butter but they stick to the original with Grape Jelly.  As far as they are concerned, those two belong together.   They also like to spread the peanut butter on themselves and this PB&J spreader is perfect for them to use because the handle is big enough for them to wrap their little fingers around and grab onto nicely.  But the cool thing was they could use the same spreader for the Jelly and the Peanut Butter and not mix them in the jar.  I hate that!  Just turn the spreader to the other end for the jelly.  And they are color coded too, just in case you need some help with it!    After she made it, I then cut it with the same spreader with the nice serrated edge.
My youngest loved making her sandwich today with our new spreader.  I love how safe it is for her to use and how easy it was to wash!
The non-stick Sandwich Knife we received is also another handy tool when making sandwiches.  If you are adding some lettuce or a tomato to your sandwich and you are spreading on some mustard, you only need one too -this one!  You can do it all with the same tool and it even comes with it's own cover to protect the blade and keep it sharp.  Love those!
We also received a sandwich keeper that will definitely come in handy for school.  It's great for not just sandwiches but other snacks that need a bigger bowl.    It's cute and functional!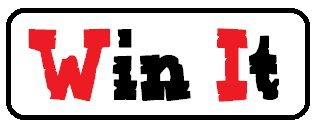 (3) Koupon Karen reader's will each receive a PB&J Spreader, Sandwich Knife and Sandwich Keeper!

To enter the giveaway, use the rafflecopter widget below. You can now sign in with Facebook and it will remember you each time you enter another rafflecopter giveaway. Of course Facebook is in no way associated with this giveaway, the people of rafflecopter just want to make it easier for you to enter giveaways now.
As a reminder, comments left on Facebook or Twitter will not be included.
Disclosure: I received the same prize as the winner for review. My opinions are 100% mine.