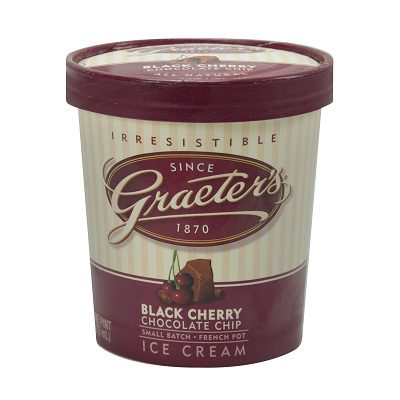 Graeter's Ice Cream's Newest Flavor – Black Cherry Chocolate Chip
Graeter's ice cream is making 2013 a little sweeter with the addition of its newest flavor, Black Cherry Chocolate Chip. The new flavor will be available online at graeters.com on February 1st and hitting grocery stores this spring.
The first new Graeter's flavor in 3 years, Black Cherry Chocolate Chip, is all-natural black cherry ice cream made with heavy cream, pure cane sugar and loaded with fresh black cherries and Graeter's signature dark chocolate chunks.
While the flavor is new, the process remains the same: churned in a French Pot, two gallons at a time, and hand-packed by the pint.
Graeter's Ice Cream is brand new to me as I'd never heard of it before but was very excited to receive some samples to try out.  We love Ice Cream, and probably a little too much!
When the box arrived I was happy to see three flavors for our sampling pleasure – Black Cherry Chocolate Chip, Black Raspberry Chocolate Chip and Vanilla Chocolate Chip.  The girls immediately wanted to try the chocolate chip, I wanted to try them all!
My favorite ice cream is Peanut Butter flavored anything.  I don't normally get any fruit flavored ice cream, but that doesn't mean I won't eat it if I have it!  Well let me tel you something, I will certainly be reaching for different flavors in the ice cream cooler from now on as I'm in love with this ice cream!  The Black Cherry and Black Raspberry were to die for!  The ice cream is incredibly creamy and full of flavor.  The only thing I didn't like was some of the chocolate chunks were too big, I mean really big.  So I ate around those but other than that this ice cream is amazingly delicious.  If you haven't tried it yet I highly recommend that you do!
You can check the website to see if your stores carry it or you can order it online.  I'm happy to see I can find more of it at Whole Foods in Cranston, RI.  So for those of you local, head there to grab some!
Have you ever had Graeter's Ice Cream?  If so what is your favorite flavor?
Disclosure: I received a Free product for review. My opinions are 100% mine.