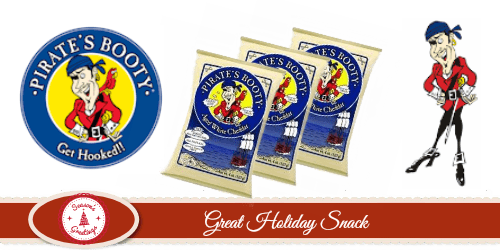 A Great Holiday Snack Idea
The snack table is the holiday hot spot at parties and I'm always looking for a great holiday snack idea. Make this year a little healthier by swapping out greasy fried potato chips or sugar-laden sweets for baked, all-natural Pirate's Booty.
Pirate's Booty has half the fat and fewer calories than regular fried potato chips and less fat and fewer calories than traditional candy (plus zero grams of sugar). Also, Pirate's Booty is gluten, peanut and tree-nut free, so it's great for guests with these common food allergies.
Pirate's Booty, made without trans-fats and ingredients you can't pronounce, will be a hit with everyone who crosses your threshold this season and guarantees you an invite back to any holiday potlucks you decide to share it with.
That is, if you decide to share.
Pirate's Booty is available at a retailer near you in family-friendly sizes and convenient multipacks, perfect for stocking stuffers.
Follow Pirate's Booty on Facebook and Twitter for fun food ideas and more!
My youngest daughter loves Pirate's Booty so when our packages arrived she was more than excited.  She immediately wanted me to open a bag and give her some.  She normally requests it for her snack at school and even afterschool.  I can't say I blame her because I really enjoy it as well and have for a long time.  It's very satisfying to me because it has a nice crunch and the Aged White Cheddar flavor makes me think I'm eating popcorn instead, but with even less calories and better for me!
We've been sharing it with friends and family all month long and they've all enjoyed it and I look forward to continue to share it through out the holiday season.  Definitely a good choice for entertaining guests and family.
Disclosure: I received a sample to facilitate my review. I did not receive any compensation to write this post, but there may be affiliate links that benefit me financially. Either way, the opinions are all mine!