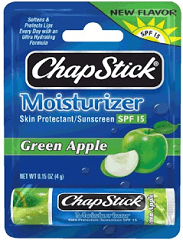 Green Apple Chapstick only $.23 each at Target
You can grab some Green Apple Chapstick at Target for only $.23 each with the Ibotta e-coupon.   The single packs sell for $.98 or less and I found them in the travel/trial section of my Target.  You only need to buy one for the Ibotta e-coupon but if you have the coupon I have listed below, it's worth it to grab two!
Here is the deal:
Green Apple Chapstick, $.98 each
$.50 Green Apple Chapstick  Ibotta e-coupons
Buy 2
Use (1) $1/2 Chapstick Pack, exp. 3/9/13 (RP 01/27/13)
Final Price: $.23 each after coupon & Ibotta Deposit!

Afterwards, just scan in the receipt and bar code from the ChapStick and you'll receive a credit in your Ibotta account for $.50!  That's it.   Super easy.  If you don't already have the Ibotta app,  You'll have to download it first. For more information CLICK HERE.
Such an easy deal!  And we can all use some Chapstick at this time of the year!