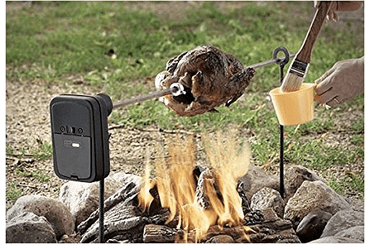 This post is Sponsored by Shop Chimney but my opinions are 100% my own!
Spring is here which means Summer is just around the corner.  Here in New England, we sometimes have a very short Spring and go into Summer full force before the kids even get out of school!  This is the time of year that I like to make sure we have everything we need for our summer to run as smooth as possible.  With the kids out of school, we tend to spend a lot of time outdoors with our friends.
If you like to camp or go fishing I recently came across a cool portable rotisserie that you can easily take with you and cook either your fresh catch or your campfire food.  The best part about this is your meat/fish will slowly rotate to give it a slow roasted flavor, while you are outdoors!  You don't need any electricity for it, just some batteries and a nice fire!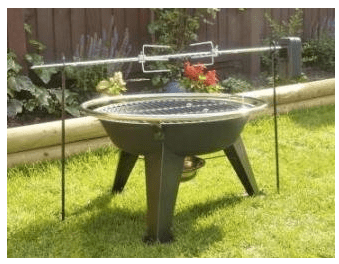 The Grizzly Spit Campfire Rotisserie System is a battery powered rotisserie that is perfect in your backyard or anywhere you'd like to take it!   Perfect for hunting, camping, fishing, boating, and even your backyard summer BBQ!  It has a three foot crossbar which comes with two spit forks that lock the food onto the crossbar and secures the food so it doesn't slip while turning.
Just set it up, add whatever you want to cook and then go about having fun with your friends and family.  It has a 1 gear reduction motor which can run 20 hours on the batteries and it can hold up to 20lbs at a time!   Super easy!!