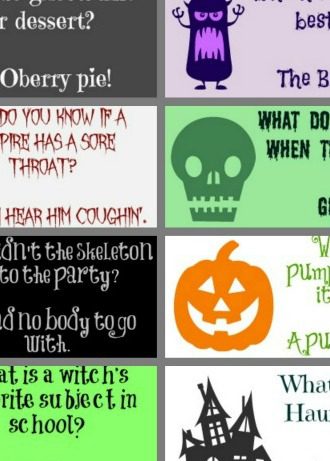 My kids love when I leave them lunch box notes.   It's usually something like "have a great day" or "I love you so much".  And sometimes a "to my favorite 2nd grader".  Simple, I know.  But they love them.
Halloween Joke Lunch Box Notes
Next week, I'm going to print out these fun Printable Halloween Joke Lunch Box Notes or Tags  because I know they will love them.   But that is not all I'm going to do with them.   We bought some Halloween Pencils for them to give their classmates.  I'm going to print these out and punch a hole in them, then string some orange ribbon through them and tie it to the pencil.  The girls can write on the back of them so their friends know who it came from.  The kids will all get a kick out of these jokes.
To see the complete tags and print them out, head on over to My Sweet Sanity to get them.
Also Trisha at MomDot.com has these cute Doggie Bag Tags that can also be used for the kids!