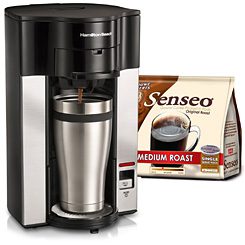 Product Name: Hamilton Beach Personal Cup Stay or Go POD Brewer
Product Information:For brewing an easy cup of coffee at home or on the go, nothing's better than a Single-Serve Coffeemaker. It lets you make coffee for one without the mess and hassle of brewing a whole pot. Equip your kitchen with one for day-to-day convenience – and consider putting one to work in your office, too.
* Brews into cups or travel mugs
* Fresh coffee made your way
* Easy, with no mess
* Includes 18 Senseo® coffee pods
* Brew basket is dishwasher safe
* Built-in stand for brewing into coffee mugs
* On light
* Other Senseo® coffee pod flavors available
Product Price: $29
Purchase Information: You can purchase it at most major retailers and online at Amazon. You can also purchase the Senseo coffee pods on Amazon
and they seem to have some great deals with subscribe and save.
My Thoughts: I love coffee.  If you've been reading my blog for a while you probably know that.  I'm the only one in my house that drinks coffee so a one cup brewer is a must in my house. Otherwise I waste a LOT of money on coffee that I toss down the drain.  If you've been reading for a while you also know that I've reviewed a couple of other single cup brewers so I was very excited to add this to my collection of single cup coffee brewer reviews!
When I received the Hamilton Beach Brewer I immediately opened it.  Set up was easy, there wasn't really much I had to do!  It was smaller than I figured but mostly because it doesn't have a removable water reservoir and that takes up a lot of space.   I cleared a path on my counter to make my first cup of coffee.
I grab the instruction manual…. I'm one of those types of people that actually does read the manual before setting it up!  But I quickly found there wasn't much to it.  No water reservoir to fill, only one button and no special discs for cleaning the brewer.  It was a straight forward one cup coffee brewer and I was ok with that.
Here's how it works…… You grab a coffee cup out of your cabinet and fill it up with water.  Put the water in the top (like regular coffee pots) and then put that cup under the drop part (not sure what that is called) for your coffee.  You use the same cup, less to clean up.  Then slide out the brewing basket (comes out super easy) and lift of the lever to put in a Senseo coffee pod.  If you like your coffee strong they suggest you add another coffee pod on top of the lever.  I only used one as i don't like strong coffee.  Then just hit the 'on' button.  That's it!  This is by far one of the simplest single serve coffee makers I've used.
What I love about it:
It's so easy to use.  I know I said this already a couple of times but I really want to stress to you how easy it is to use.  So for someone who maybe can't figure out all the digital stuff that others have, this would be perfect for them.
It has a rack you can use if you have a short coffee cup and it reverses if you have a tall coffee cup.  I do suggest you use it if you have a shorter coffee cup otherwise you'll have drips of coffee that spits out of the cup as it hits the bottom due to falling so far… all over your counter.  (But I have a great cleaner to clean that up!)
I love the Senseo coffee and the price isn't so bad either.  I used the breakfast blend and the medium roast while trying out this brewer and I loved them both.  I'm a bit of a coffee snob so that's a good thing that I liked them both.
The price of this brewer is awesome… only $29.99!  You won't find a price that low for any other single cup brewers.
The coffee comes out HOT!!!  –> Exactly the way I like it!
The brew basket is dishwasher safe.
What I don't love about it:
It takes soooooo long to brew a cup of coffee.  I know I don't have patience as it is, but really it's the longest single cup coffee brewer I've tried.   I'm not really sure the reason for this, perhaps it has to be in order for the brewing process to work best, I don't know but it drips so slowly!
Because it's so simple to use, there aren't many options.
WIN IT
(1) Koupon Karen reader will win a Hamilton Beach Personal Cup Stay or Go POD Brewer along with some Senseo Coffee pods.
Entry is simple! You just need to answer the question below by leaving a comment on this site! You can even gain up to 4 bonus entries for doing each additional item listed (just make sure that you leave one entry for each one — up to a total of 5 comments). As a reminder, comments left on Facebook, Twitter or other posts will not be included.
REQUIRED ENTRY
Visit the Senseo Store and tell me what Senseo Coffee you like most.
BONUS ENTRIES:
1. Follow @KouponKaren on twitter and tweet the following "I entered to #win a Personal Cup Stay or Go POD Brewer @KouponKaren You can too! http://wp.me/pMKCI-5ML #giveaway "
2. "Like" Koupon Karen on Facebook –> I have a new page so if you were previously my "friend on facebook" please like this page as well
3.  Blog about this giveaway.
4. Sign up to receive Koupon Karen daily emails or add me to your favorite reader.
Details: This giveaway is open to US Residents and will remain open until March 25th at 11:59 p.m. EST . Any comments left after this time will not be counted. The winner will be selected randomly and will be notified via email and will have 48 hours to claim their prize.
Disclosure: I received a Hamilton Beach Personal Cup Stay or Go POD Brewer for my review. This did not influence my post and as always, my words are my own.