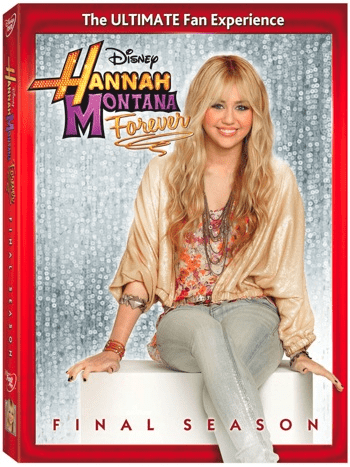 Product Name: Hannah Montana Forever: Final Season
Product Description: The Final Season of the Global Sensation among Kids 6-14, Hannah Montana Forever: Final Season, hit the stores on March 8, 2011.  It debuted on a 2-Disc DVD Set which includes all 13 final season episodes, an exclusive alternate ending to the series finale, a series retrospective, cast goodbyes & an all-new memory book.
Giving fans of all ages the chance to complete their DVD series collection, Hannah Montana Forever: Final Season beautifully concludes the laughter and fun of Miley Stewart's (Miley Cyrus) high school adventures while also unveiling her big superstar secret. For those who have followed Hannah Montana for four-plus amazing years and are ready to see how it all ends, Miley Stewart has found herself at crossroads during her senior year. After all these years, does she still have the best of both worlds? Can she continue her alter ego, Hannah Montana, or will she leave it all behind to be an ordinary girl? This exciting release invites viewers to come join Miley, Lilly, Oliver, Robby Ray, Jackson, Rico and special guest stars Sheryl Crow, Cody Linley, Dolly Parton and more as they bring the groundbreaking and beloved series to a close.
About The HANNAH MONTANA TV Series:
Since its premiere in March 2006, "Hannah Montana" has triumphed in television, music, concert tours, books, DVDs, consumer products and films. With themes spanning "express yourself" and "follow your dreams," the live-action comedy series introduced typical teen Miley Stewart, who lives with her older brother and widowed dad, a songwriter. But unbeknownst to her friends and classmates, Miley has a secret double life – she is the world famous pop star Hannah Montana. Combining a stage persona with creative costuming, Miley discovers she can have the best of both worlds – the fame and fortune of a well-known singer and the fun of middle and high school with her best friends, Lilly and Oliver, whom she has entrusted with her secret.
My thoughts: My oldest is a Hannah Montana fan and she's seen every episode at least 2 times if not more.  And since she's seen them that means I've seen them too as I monitor what she watches on TV.  And I will admit, I am a fan of the cute teeny bopper show and I was very curious as to how they would end it.  Therefore we watched every episode of the last season together especially the finale.  I will say this……… kudos to the Disney Channel for not giving away the ending in the previews.  I hate when they show enough previews before hand that you know what is going to happen.  I didn't figure it out (maybe you all figured it would end as it did, but I wasn't sure) and I was very happy with the ending.  I'm not going to say exactly what they did since some of you may not of seen it and I don't want to spoil it for you.
What I really enjoyed about the final season is the dedication the showed to friendship and also the ups and downs of friendships.  It wasn't always perfect between Miley and Lilly and their relationship was tested over and over, especially when it came to college. But I feel it's good for kids to see that nothing is easy and no one has the perfect friendship.  When I think back at being a teenager I wonder how I will get through it with my daughters.  I think about the friends that I made then and how few of them I still see.  But it's all a growing process.  One thing they touched upon in the final season was how much Lilly and the others had to sacrifice for Miley's secret.  But Miley never saw it, but she finally did and she realizes that friends and family may be more important to her.  I liked that!
I always love the 'extras' on the DVD's but my daughter was fascinated by the cast good byes.  It made her see how they were real people playing the characters, of course she knew this but it was still pretty cool for her.  And then there is the alternate ending.  I won't give it away but I'm sure they made the two endings so the real ending would be a surprise.   I love that they can include all those extras now on the DVD's and Blu-rays!
This DVD also comes with a 28 page memory book but what's really cool about it is it's  part of the dvd case, so I know this won't get lost!  I love the memory book, it's a nice walk down Hannah Montana "Lane".  It's funny to see how she's changed, she was so young looking when they started the show and her look really matured over the years.  It also has some character information and cast information as well.  It's a pretty need collectable book.  Holly really liked it, especally the picture which was included inside.
They've put together a nice little package for those heavy duty Hannah fans with this 2-Disc DVD.  Definitely a must have for the big fan!
BUY IT
Product Price: $29.99
Purchase Information: You can purchase it where most movies are sold including Walmart, Target, Best Buy and Amazon
.
WIN IT
The generous people of Walt Disney Studios Home Entertainment have offered to give (1) Koupon Karen reader a copy of Hannah Montana Forever: Final Season DVD!

Entry is simple! You just need to answer the question below by leaving a comment on this site! You can even gain up to 4 bonus entries for doing each additional item listed (just make sure that you leave one entry for each one — up to a total of 5 comments). As a reminder, comments left on Facebook, Twitter or other posts will not be included.
REQUIRED ENTRY
Leave a comment and share with us who you'd like to win this for and why?
BONUS ENTRIES:
1. Follow @KouponKaren on twitter and tweet the following "I entered to #win Hannah Montana Forever: Final Season @KouponKaren You can too! https://wp.me/pMKCI-5OC #giveaway "
2. "Like" Koupon Karen on Facebook –> I have a new page so if you were previously my "friend on facebook" please like this page as well.
3.  Blog about this giveaway.
4. Sign up to receive Koupon Karen daily emails or add me to your favorite reader.
Details: This giveaway is open to US Residents and will remain open until March 28th at 11:59 p.m. EST . Any comments left after this time will not be counted. The winner will be selected randomly and will be notified via email and will have 48 hours to claim their prize.
Disclosure: I received a copy of Hannah Montana Forever: Final Season DVD for my review. This did not influence my post and as always, my words are my own.