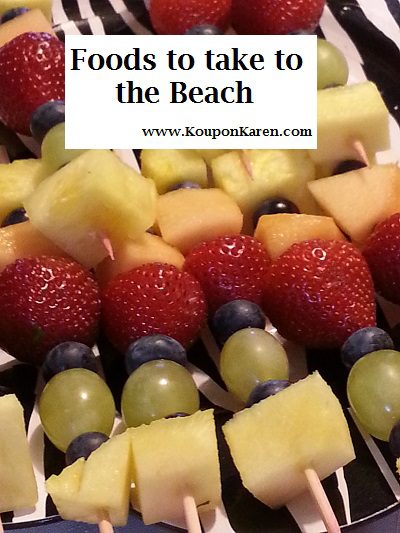 Heading to the Beach This Week?  Here are 5 Foods that are Perfect for the Beach
One thing I will be trying to do with my family is head to beach this summer. Playing in the water, building sand castles and looking for sea shells are such fun ways to make summer memories with your children.  Now, the downside of going to the beach is figuring out what to pack for lunch and snacks.  In the past I have tried bringing stuff to make sandwiches and that didn't work out so well.   My family wasn't a fan of my turkey sandwich with a side of sand!  I decided that this year I'm going to plan out my beach trips a little better. I'm going to strategically pack food that will be a hit at the beach.
5 Foods Perfect For The Beach
Fruit Kabobs – I love eating fruit at the beach and these kabobs will be a hit with my kids! No more packing up bowls of fruit, I can easily put these together the night before our beach trip. You can even customize these fruit kabobs to each person in the family.

Veggies in a Jar – Such an awesome way to pack vegetables and dipping sauce for a beach outing. You could do carrots and ranch, celery and peanut butter, hummus and broccoli or anything else that your family enjoys. You can make a jar for each person in your family. Easy to store and you won't have to worry about getting sand inside.

Jelly Rolls – This site had several good recipes but my favorite was the jelly rolls. The jelly rolls look like they would be a lot of fun to make and kids would love them. You could add any flavor jelly and even add in some peanut butter.

Petal Pushers – These Petal Pushers are adorable and so creative! If you are taking them to the beach I would put a toothpick through them to hold them together. You can use any kind of fruit your family enjoys. These would be really good with watermelon!
Do you have any each Beach Food items you can share with us?  I know there are so many more great ideas!