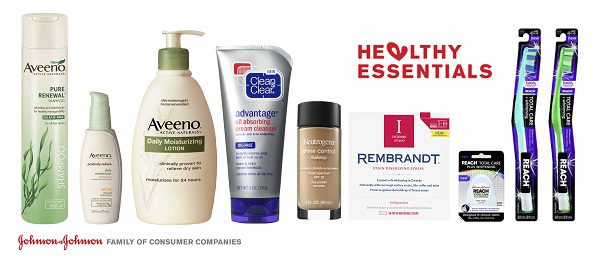 Did you know that 81% of Americans are likely to make a New Year's resolution to save more money this year? Surprisingly, 65% admit to breaking that New Year's resolution!* We know it's not always easy for the ladies with all our primping and personal care needs, that's we're the Johnson & Johnson Family of Consumer Companies comes in with their "New Year, Renew You" products.  On Sunday, January 6th, the special Healthy Essentials coupon insert will be in your local newspaper and also online at www.healthyessentials.com where you'll find over $175 in savings on many of your favorite products.  These are products your family needs and uses so it's like money in your pocket!
There is nothing better than starting the new year off to a new start.  Every year I try to avoid actually making a new years resolution because I know I can't keep them.  They are usually very unrealistic.  Instead I try to make a plan of what I'm going to do that year to improve either myself or perhaps our home.  Something very realistic.   For example, two years ago I said I was going to purge and get rid of unneeded things in our house.  I'm happy to report that over the past year I have done exactly that and it feels good!   This year I'm going to work on fixing some dental issues I am having.  It's going to be a huge commitment but in the long run it'll be worth it because I had to have a tooth pulled last year and I hated it so I'll do whatever I can to stop that from happening again.  But it won't be easy!  However, that being said using some Rembrandt and Reach products will help in the year long process!  They are both great products that deliver results.
New Year, Renew You Giveaway (valued at approximately $95) products include:
REMBRANDT® INTENSE STAIN® Stain Dissolving Strips ($24.99):  Leave stains in 2012 because just a few minutes a day is all it takes to achieve noticeable whiter teeth in two weeks! These strips dissolve in just 5-10 minutes with nothing to remove or rinse following application, for enamel-safe use on-the-go to tackle stains
REACH® TOTAL CARE™ + Whitening Toothbrush & Floss ($6.98-$8.58): Talk about multi-tasking! Whiten teeth while brushing and flossing with the only toothbrush that delivers whitening power with MICRAWHITENING™ Calcium Carbonate bristles, and floss that combines the power of baking soda with MICRA-GROOVES™ Technology (it works like a mini squeegee to grab and remove plaque!)
AVEENO® Pure Renewal™ Shampoo ($6.49-$6.99): Winter doesn't have to mean dull, dry hair. Fight the environment's damaging effects with AVEENO® Pure Renewal™ Shampoo! It's formulated with ACTIVE NATURALS® Balancing Seaweed Extract, which cleanses hair without over drying or over moisturizing – perfect for cold weather!
AVEENO® Daily Moisturizer (6.99-$7.99): Clinically proven to relieve dry skin and double skin moisture, so it keeps working overtime, even if you have to skip a day.  Ideal for harsh winter months to keep skin soft, smooth and protected!
AVEENO® Positively Radiant® Moisturizer SPF 30 ($14.99-$16.99): Give your skin the confidence boost it needs! AVEENO® Positively Radiant® Moisturizer SPF 30 is formulated with ACTIVE NATURALS® Total Soy Complex to boost the 5 FACTORS OF RADIANCE® – tone, texture, dullness, blotchiness and brown spots. You're glowing, darling!

(1) Koupon Karen reader will win a New Year, Renew You Healthy Essentials Prize Pack valued at approximately $95!!!

To enter the giveaway, use the rafflecopter widget below. You can now sign in with Facebook and it will remember you each time you enter another rafflecopter giveaway. Of course Facebook is in no way associated with this giveaway, the people of rafflecopter just want to make it easier for you to enter giveaways now.
As a reminder, comments left on this blog post, Facebook or Twitter will not be included.  You must comment within the Rafflecopter Widget below.
Disclosure: I received a Free product for review. My opinions are 100% mine.