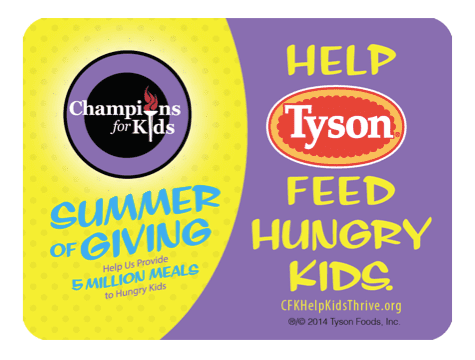 This post is Sponsored but my opinions are 100% my own!
You may have noticed the sign above at your local Walmart this month.  That is because Tyson, along with Birds Eye and State Fair is working with Champions for Kids this summer in the Summer of Giving program.   Through this program and your help, they will provide 5 million meals to hungry kids!  Did you know that 10% of U.S. children live in food insecure homes? That's millions of children who don't know when, or if, their next meal is coming.  And now that it's summertime and they don't have those school meals, it's even worse.  This makes me so sad and especially in a country where we have so much and so many people are willing to share.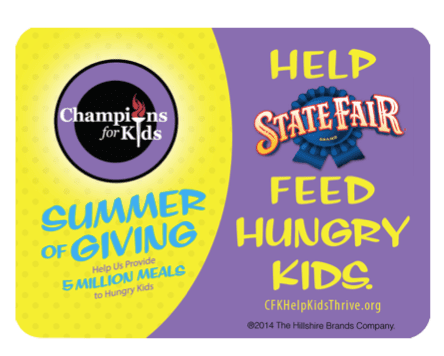 Helping others does not have to come in large doses. Champions for Kids seeks to ignite generational change by fostering a 'habit of giving' among youth and parents in America.  I try to help others  whenever I can, and I make sure my kids see it happen.  This way they will learn to do the same as I do.  It'll be natural for them if it's something we always did.  My parents were always there for those that were in need so I have to say I certainly learned it from them.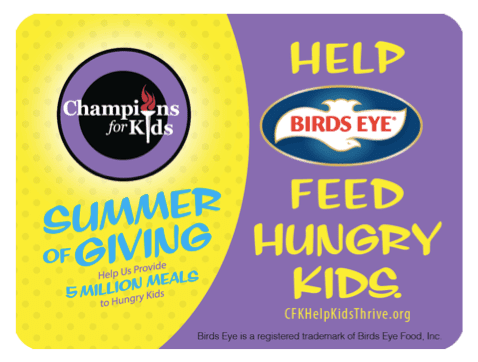 We can't always help, but when we can – we do!  One way that's always easy is when companies like Tyson, State Fair and Bird's Eye contribute with our purchases.  Then all we have to do is buy for our family, and we'll help another.   And Champions for Kids makes it simple to give children in local communities the resources they need to thrive.
So what can you do? Just visit your Walmart freezer aisle June 9 –July 9 and purchase products for children in need, then share your story
using the link on the Champions for Kids website. You could be one of seven finalists featured on their Facebook page and in the running for $25,000 for your school!!
Disclosure:  I participated in this program on behalf of Champions for Kids and The Motherhood. All opinions are my own.