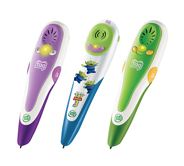 Earlier this year Leap Frog donated 1.5 million dollars to give Tag Readers and books to the classrooms of 10,000 Kindergarten students nationwide.  And after using them for a few months, it turned out to be a success and here is what the teachers had to say:
99% of them said they'd recommend Tag systems to other teachers and to parents, because it makes a real difference.
96% said their students' attitudes about reading improved
95% said their students wanted to spend more time reading
97% said their students' reading skills improved
…… so they are now trying to get the Tag Reading Systems to more classrooms. Because teachers have made it clear that Tag helps them and their students, LeapFrog has launched the Tag. Give. Read. program, empowering anyone to "give the gift of reading" by putting Tag materials into the hands of 30,000 more students.
In order to do this they have teamed up with DonorsChoose.org, an organization that people can request donations through and other people actually donate to those requests.   Kindergarten teachers can put in a request for a tag reading system and then send people to the site to donate money for the request.  What Leapfrog is doing is matching what people donate, up to 100,000 to give these teachers the tag systems so really only half the cost needs to be donated and Leap Frog will pick up the rest.  You can read more at DonorsChoose.org.
LeapFrog will also donate a Tag Book to a teacher for every new fan they get on their facebook page up to 25,000 books.  So head on over to the LeapFrog facebook page and "Like" them so you can help a Kindergarten teacher.  Then send all your friends and family there too!  So now those who can't afford to give a financial donation, can help too!
I am so excited about this program and since I've worked with LeapFrog in the past, they asked me to help spread the word.  One reason why this excites me is because my oldest daughter is in Kindergarten this year and I get to designate a Tag Reading System to her Kindergarten teacher for helping LeapFrog spread the word.  Isn't that awesome!
Tell everyone you know and send your Kindergarten teachers to DonorsChoose.org and they too can request a system.

And they are also letting me do something else!!  They are letting me give a Tag reader one of  my readers another Kindergarten teacher for their classroom too!  Isn't that awesome!  I liked LeapFrog already, but now I LOVE THEM!
Here's the deal…………….
Giveaway: One lucky Koupon Karen reader will win the following:
Tag Reading System + US Map and 2 additional books
The oppertunity to choose a Kindergarten teacher to receive a Tag "kit" for classroom use, consisting of 2 Tag School Readers and headphones, plus 2 copies each of 15 Tag books.
How To Enter: Leave me a comment and tell me why you'd like to win and what teacher you would like to receive the Tag Kit.
Once you do the above mandatory entry, you can do any of the following for up to 4 more entries.
"Like" LeapFrog on Facebook and suggest to at least ten friends that THEY "like"them, too! The more "likes" they get, the more books they get to give away!
Share information about the Tag. Give. Read. program with the teachers and parents in your communities and leave me a comment telling me who you told.
Sign up to receive Koupon Karen daily emails or add me to your favorite reader
Tell me what your favorite child's story is
Details: This giveaway is open to US residents and will end October 10th at 11:59pm. The winner will be randomly picked and announced shortly after and will have 48 hours to claim their prize or I will randomly pick another winner.
Disclosure: In exchange for sharing this with my readers, LeapFrog is letting me give a Tag Reading System to the Kindergarten teacher of my choice.  They will also supply the winner with a Tag Reader along with the supplies noted above and they will also be able to give a Tag Reading System to the Kindergarten teacher of their choice.  My opinions remain my own and were not affected by this!