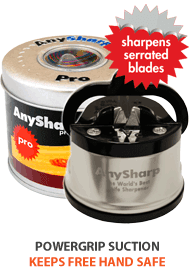 This post is Sponsored by AnySharp but my opinions are 100% my own!
I know I keep saying this but the holidays are coming and you need to start getting ready.  We only have a couple of weeks left before Thanksgiving arrives and then after that it's the Christmas rush!
Part of getting prepared for our big Thanksgiving meal, is getting everything ready to prepare, cook and serve the meal.  In about a week, I'll be pulling out my best dinner plates and washing them all to use for Thanksgiving day.  Since they sit in my cabinet all year long, I like to run them through the dishwasher before we use them.  I also dig out all my knives, serving plates, bowls and gravy boat.   It's a lot of stuff for one meal, but it's the only meal my entire family is together for, so we go all out!
I mentioned knives above and one thing you may want to do is make sure they are all sharp enough to cut through the turkey.  It would really stink if Thanksgiving day, your best knife was too dull and you made a mess of the turkey.  I know I'd be very upset.
So now is a good time to sharpen them.    I'll admit, I've never sharpened them myself before so I had no idea how dull my knives were.   There are a lot of knife sharpeners on the market and I'm really excited about the one I had the change to recently try – AnySharp PLUS.  It works amazing and my knives are all super sharp now and I notice a huge difference!
AnySharp PLUS
The unique, patented AnySharp PLUS uses tungsten carbide technology to extend the life of almost any knife. Available in two colors (dark grey and carbon fiber), AnySharp Plus works on virtually any knife, including expensive hardened steel knives and even serrated blades (like bread knives and hunting knives).
The AnySharp PLUS sells for $28.00 and you can purchase it online at www.anysharp.com.
It's small so it fits in your knife draw so you always have it handy.  I love how it will sharpen straight blades and serrated blades too!  And the suction cup on the bottom works amazing so you don't have to worry about having any accidents.
The AnySharp PLUS would also make a great holiday gift for the foodie on your list.
Disclosure: I received a Free product for review. My opinions are 100% mine.