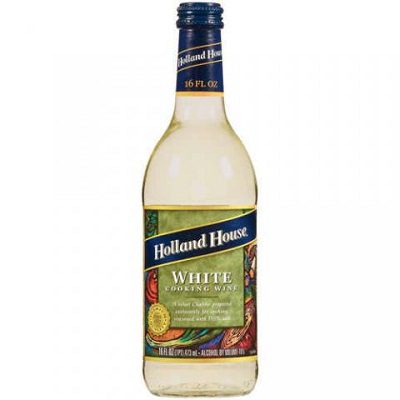 Did you know that you could brine with Holland House Cooking Wine?  The Holland House Cooking Wine brining technique, called "flavor infusion," is an ideal mix between hot-start and cold-start brine methods.
Why Brine? Why Cooking Wine?
Brining makes meat and poultry juicier; salt in the brining liquid coaxes cells to absorb and retain moisture
Holland House Cooking Wine adds fabulous, rich wine flavor not found in plain water-salt brines
Using Cooking Wine is cost-effective; avoid opening an entire bottle of wine and allow for rich taste using less expensive cuts of meat
Holland House cooking wines come from traditional wine vineyards where most drinking wines start
Once you open a bottle of wine, the flavor will change if you don't drink it soon; Holland House Cooking Wines provide consistent flavor from the first time you open a bottle until the last
About Holland House Flavor Infusion:
Hot brines impart the best flavor, but can take hours to cool down before you can begin to brine. Cold brines are faster, but don't impart enough flavor. Our "flavor infusion" combines the best of both methods: A small amount of richly seasoned brine is heated, cooled and stirred into the rest of the brine. That rich, concentrated flavor then infuses the poultry or meat as it brines. The result is tender, juicy meat with delicious wine overtones.
My family is big on chicken and we have it at least 2 times a week.  I'm always looking for new recipes so I tried this recipe below andwe loved it.  Not only did it taste good, but it was super easy to prepare.  We like our chicken breast thin so it was done in no time.  The girls even liked it.  My husband has asked that I make this more often and I have!  Since the first time I made this I've made it 3 times since.   I even did it on the stove top once.  While it wasn't as good as grilled, it certainly was better than plain chicken!
Grilled Brined Chicken with Garlic and Thyme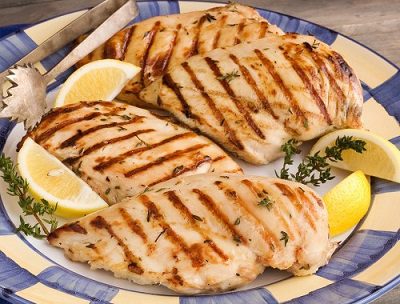 Brine time 1 to 2 hours. Grilling time 10-14 minutes. Makes 4 servings.
Nutrition information per serving (8 oz breasts): 180 calories, 36g protein, 0g carb, 4g fat, (1g sat. fat), 100mg chol, 990mg sodium, 0g fiber
INGREDIENTS:
1 bottle (16 oz.) Holland House White Cooking Wine with Lemon
3 Tbsp. chopped fresh thyme or 1 rounded Tbsp. dried thyme, crushed
2 large cloves garlic, pressed through a garlic press
2 Tbsp. kosher salt See salt substitutions below
Pour about 2/3 cup cooking wine into a glass. Stir in thyme and garlic. Microwave on high 1 minute. Cool to room temperature — at least 30 minutes, stirring once or twice. Or place glass in an ice water bath to chill faster; stir occasionally. Meanwhile, stir salt into remaining cooking wine until completely dissolved. When cooled, stir brine "flavor infusion" and add to remaining cooking wine; stir.
Place chicken in a seal-able plastic bag or non-metallic bowl. Pour brine over chicken so it is completely submerged. Cover and refrigerate 1 hour if chicken is thin, 2 hours if it is thick (1-inch or more).
Preheat grill to medium heat. Drain chicken and discard brine; do not rinse chicken. Grill thin chicken breasts 6 minutes (8 minutes for 1" thick breasts) over direct heat with cover closed. Turn chicken, close cover, and grill 2-4 minutes more (about 4 minutes more for thick breasts). Serve immediately.
KITCHEN TIPS
Salt Substitutions – For this grilled chicken recipe use: 2 Tbsp. Diamond Crystal kosher salt, or 1 Tbsp. + 1/2 tsp. Morton kosher salt, or 1 Tbsp. Morton table salt.
Large Chicken Breasts – If parts of the chicken breasts are more than 1-inch thick, use a sharp knife to cut the thick end horizontally to make a smaller second piece. This ensures more even brining and cooking.
Cooking Wine – If you cannot find Holland House White Cooking Wine with Lemon, add a teaspoon fresh lemon juice to Holland House White Cooking Wine.
Disclosure: I received a Free product for review. My opinions are 100% mine.